Grenada, also known as Spice Island, is a great place to visit if you want a less crowded beach vacation. This little slice of Caribbean heaven is one of the lesser visited islands but is just as beautiful as any other island in the Caribbean. You'll still get the beautiful blue waters and warm white sands near St. George (the island's capital), but you'll also get more opportunities to get an entire beach in the middle of nowhere, all to yourself.
There is much more to do in Grenada other than visiting the beach, especially if you are a history buff. You'll find old ruins, petroglyphs, and colorful colonial houses stacked on the hillsides. There is also quite a bit to do inland, like hiking to waterfalls and lagoons. But alas, we are here for the beaches, for which I will go over the best beaches in Grenada today.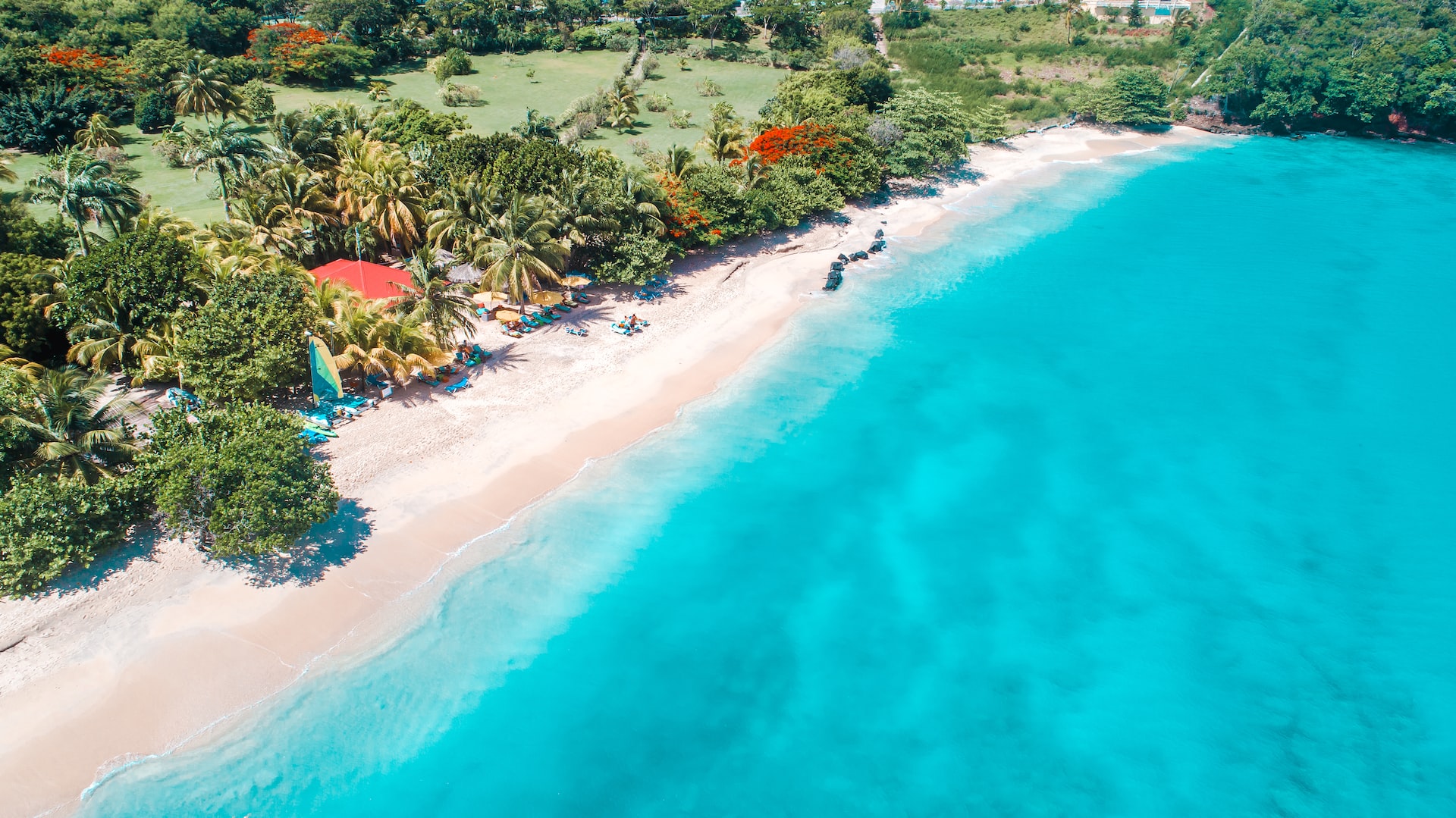 The Best Beaches Up Front
Grenada is where you want to go if you want a beach vacation that will never be overcrowded. My favorite beaches on the island are Morne Rouge for picturesque relaxation, Sandy Island for marine life, and Levera Beach for the turtles and view. There are many other beautiful and unique beaches in Grenada for you to check out.
The Islands of Grenada
Grenada has a few islands you can stay on and a few smaller islands sprinkled around that you can visit. I'll be going over the three larger islands you may be interested in staying on during your Grenada vacation. These three islands are:
Grenada
Grenada is the largest island and home to the capital St. George. You can find rich history, waterfalls, botanical gardens, and, of course, beautiful beaches on Grenada Island. This is where most of the large resorts are and where most people stay during their visit due to the international airport on this island.
Carriacou
If you love the beach for what's under the sea, Carriacou is the island for you. Grenada's best reefs are located off of this island. You can also find a few old shipwrecks along the shores of Carriacou and a history museum inside an old cotton mill. There is an airport on this island, but it is tiny and probably only accessible by nearby lands.
Petite Martinique
This is the smallest of the three islands and is only accessible by boat. There are only about 900 people that live on this island, and you'll get a real taste of Grenadine culture here. You can experience some local festivals, like the Cultural Petite Martinique Heritage Festival, and calmer beaches.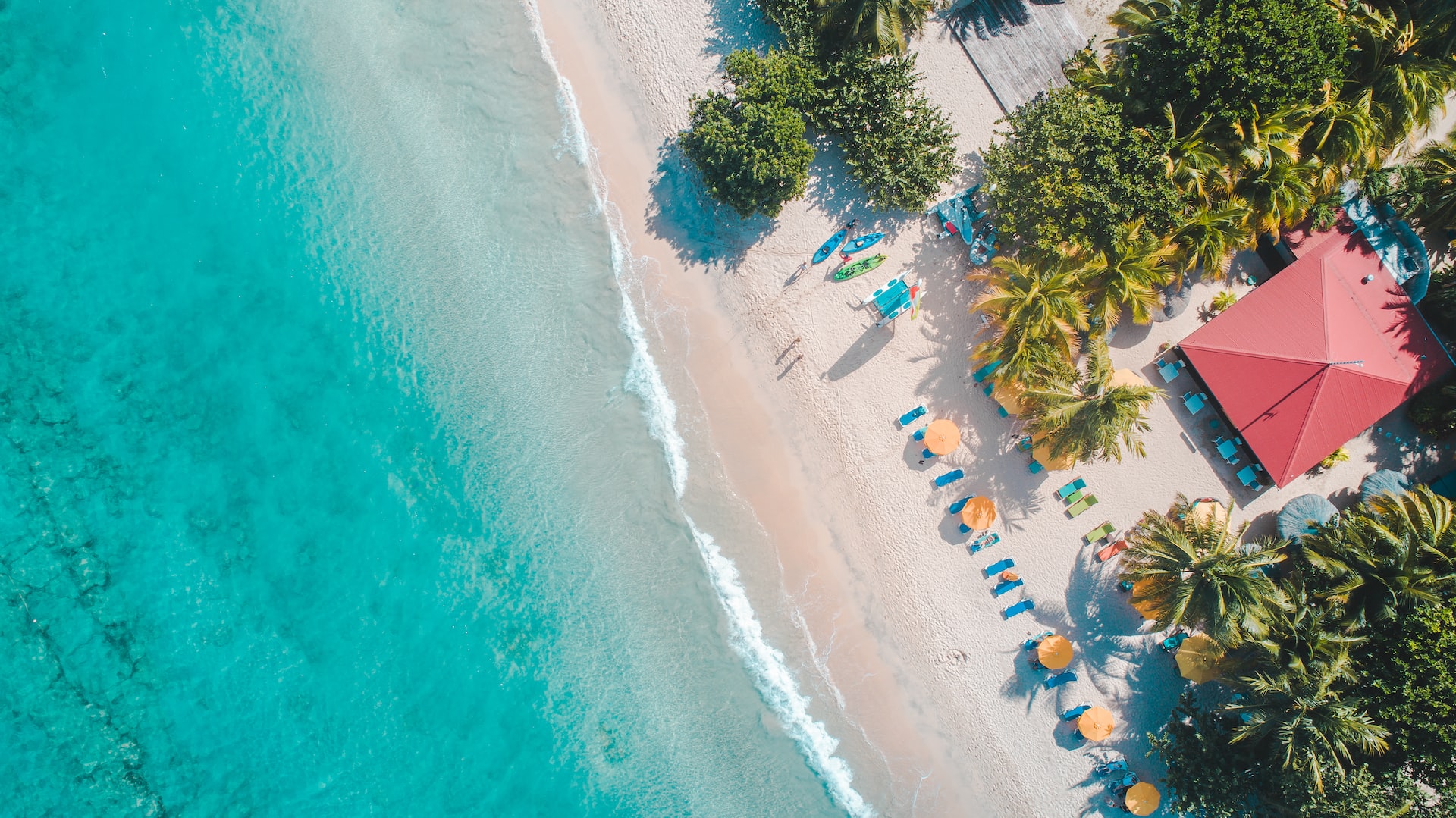 How I Choose the Best Beaches
While most of the beaches in Grenada are beautiful and relatively uncrowded, there are a few other things I like to look for when finding a good beach. Below are the criteria I typically use when looking for the best beaches.
Clean Beaches
Not only do I like my beaches to be clean from trash, but also seaweed, rocks, and other not-so-pretty stuff that comes out of the ocean. Seaweed can make a beach smell bad, and challenging to find a nice spot to relax. Certain parts of any island are more prone to these things, and I tend to avoid those areas.
Something for Everyone
You can do many things at a beach, including snorkeling, stand-up paddle boarding, boogie boarding, or simply lying on the soft sand. No matter what you enjoy doing on the beach, I've added one that you will be able to enjoy. You can find all types of beaches, from ones you'll have all to yourself to beaches with colorful reefs offshore.
Easily Accessible
All the beaches I have included are easily accessible, with the most difficult-to-access ones being due to some stairs or a $30 boat ride. You should be able to drive to a parking lot and step out of the car onto the beach at most of these recommendations, and some of them may even be right in front of the resort you book.
8 Best Beaches in Grenada
With over 40 beaches in Grenada, narrowing them down to the best of them was quite a feat. Luckily there are beaches for every type of beachgoer, so here are the best depending on what you are looking for.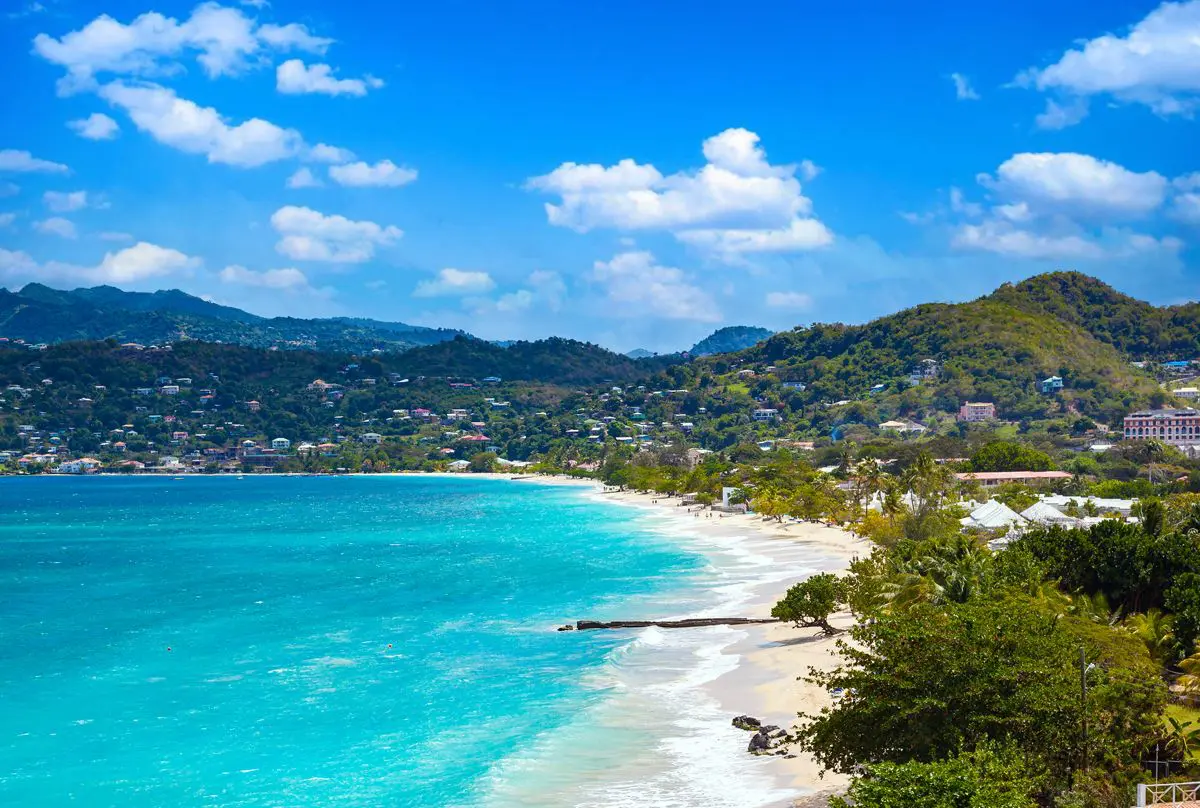 Look no further if you are looking for those white sands and clear blue waters associated with the Caribbean. Not only is this beach extremely picturesque, but it is also the longest beach on the island, giving you over three kilometers to walk or find a clearing to lay your beach towel. You'll also find plenty of activities to do on this beach, from boat tours to stand-up paddle boarding.
With this beach being close to the most popular city in Grenada, St. George, it's easy to get to from whatever accommodation, but it's also the most popular beach on the island. It is also home to most beachfront resorts you will find on the island, which is excellent for you if you're staying in one of them. However, there are usually more people on this beach than any other on the islands.
Pros
The Longest beach in Grenada
Where most of the beachfront resorts are located
Whitest sands and most transparent waters in Grenada
You have access to lots of water sports from this beach
The closest beach to St. George
Cons
It can get crowded due to its popularity
---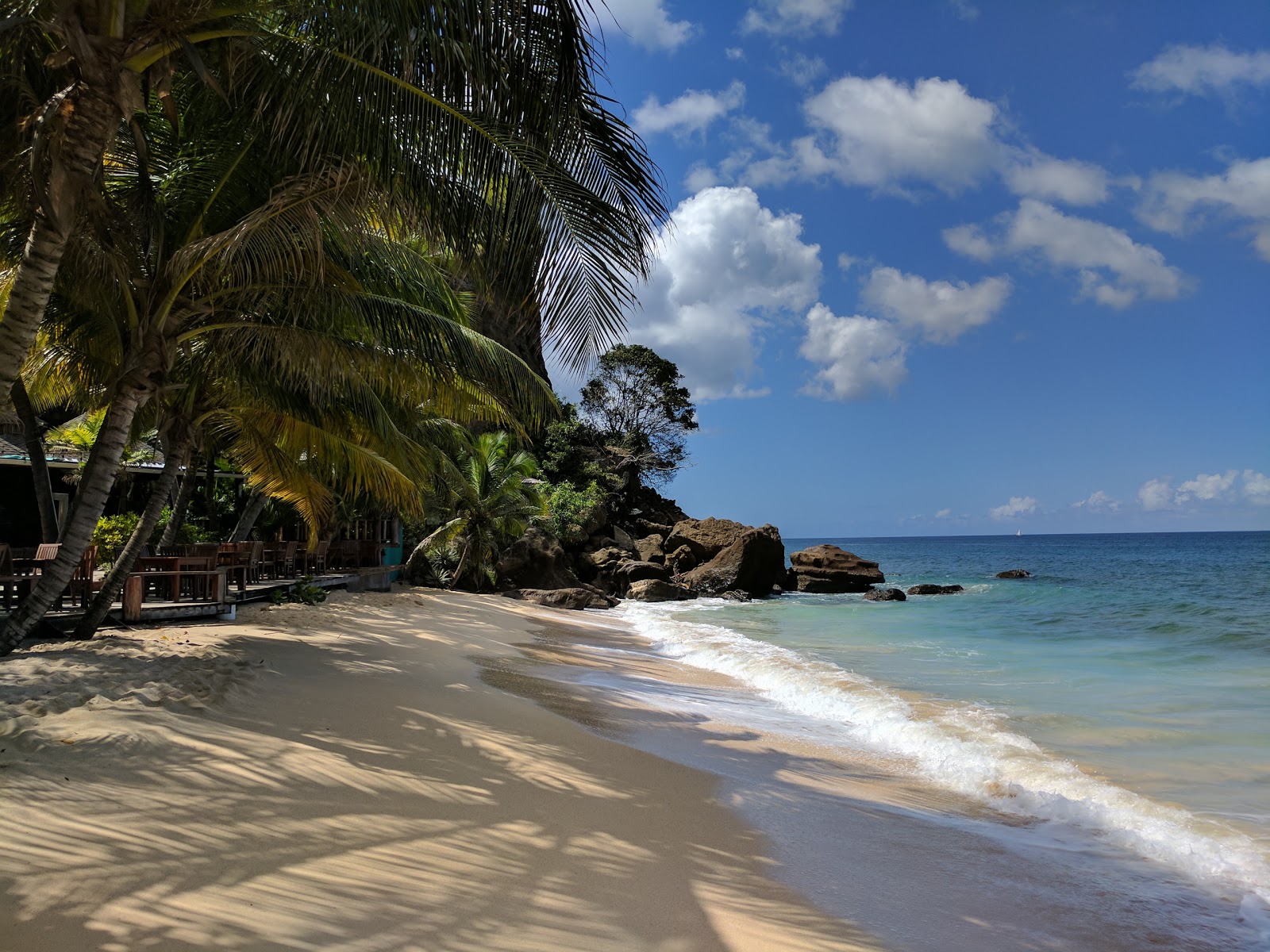 Located a couple of beaches down from Grand Anse is Magazine Beach, and it brings you a little more lively entertainment. Live reggae music is played on the beach daily, plus a fantastic beach BBQ every Sunday at the Aquarium restaurant with grilled lobster and other Caribbean favorites! It is also located at the end of the bay, so you get a great view of the rest of Grenada.
There is equipment at this beach for snorkeling, kayaking, and other water sports. However, this beach is close to where the Gulf and Atlantic oceans meet, so the water can sometimes be a bit rough. If you do happen to go on a calmer day, it is a fun area to explore the water.
Pros
Beach BBQs every Sunday
Live music on the beach every day
You can snorkel and kayak here
Located semi-close to St. George
Nice view of the rest of the island
Cons
The waves can get a bit choppy
---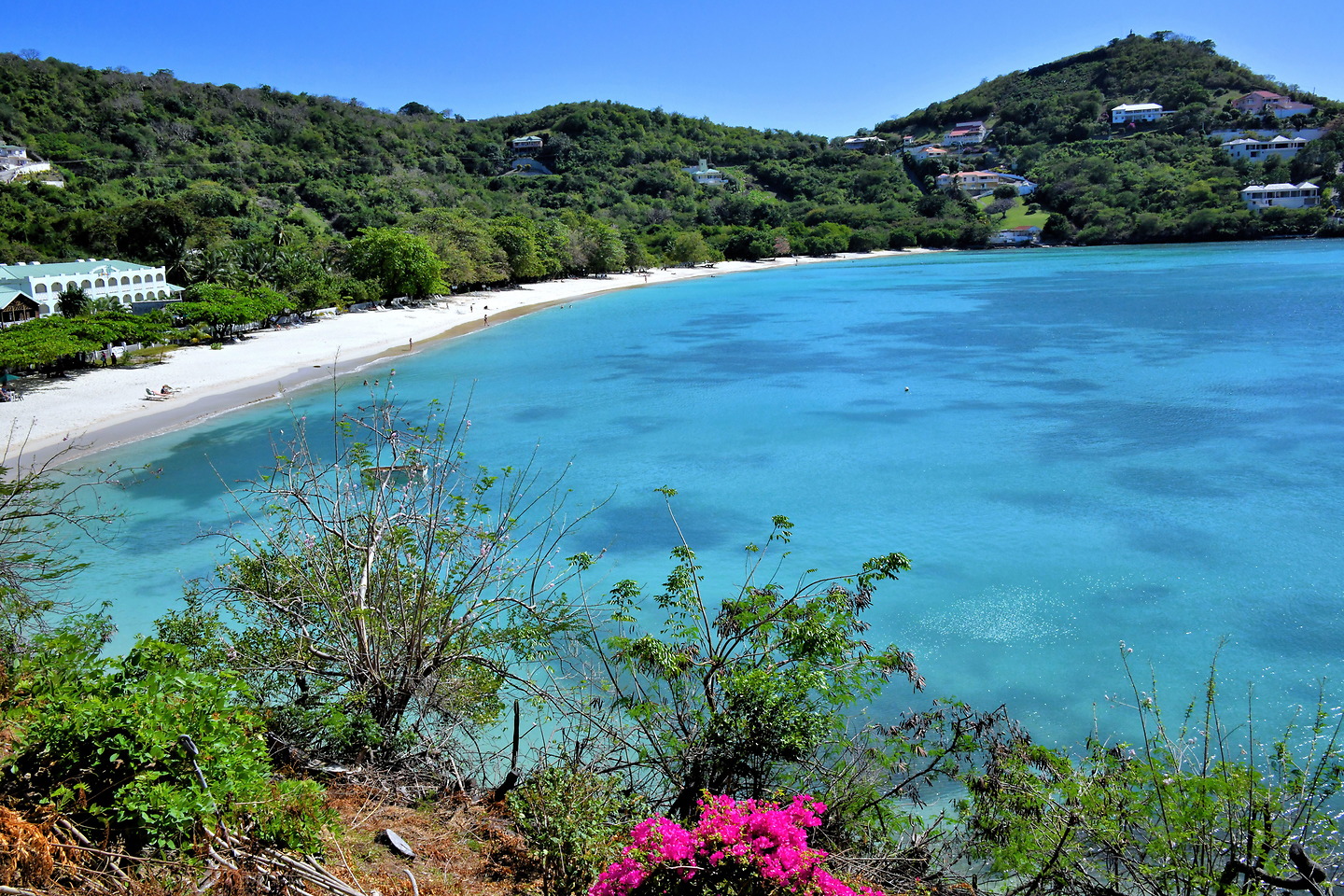 Morne Rouge is one of the three main beaches near St. George but is less frequented by tourists than Grand Anse or Magazine Beach. This is because it is a relatively small beach, and there isn't much in terms of food and beverage nearby. If you want somewhere to set your beach chair and umbrella and enjoy the peacefulness of warm sands and blue waves crashing at your feet, this is the place for you.
It is also an excellent beach for doing some calm ocean floating because the waters are shallow, making them slightly warmer. I would love this beach if I were a parent because you wouldn't have to worry about your kids getting lost in crowds or being overtaken by rough waters.
Pros
Similarly beautiful to Grand Anse Beach
Smaller and less crowded
Shallow and calm waters for swimming
Within walking distance from Grand Anse Beach, where most resorts are located
Cons
No beachfront restaurants
---
Best for Snorkelers and Divers: Sandy Island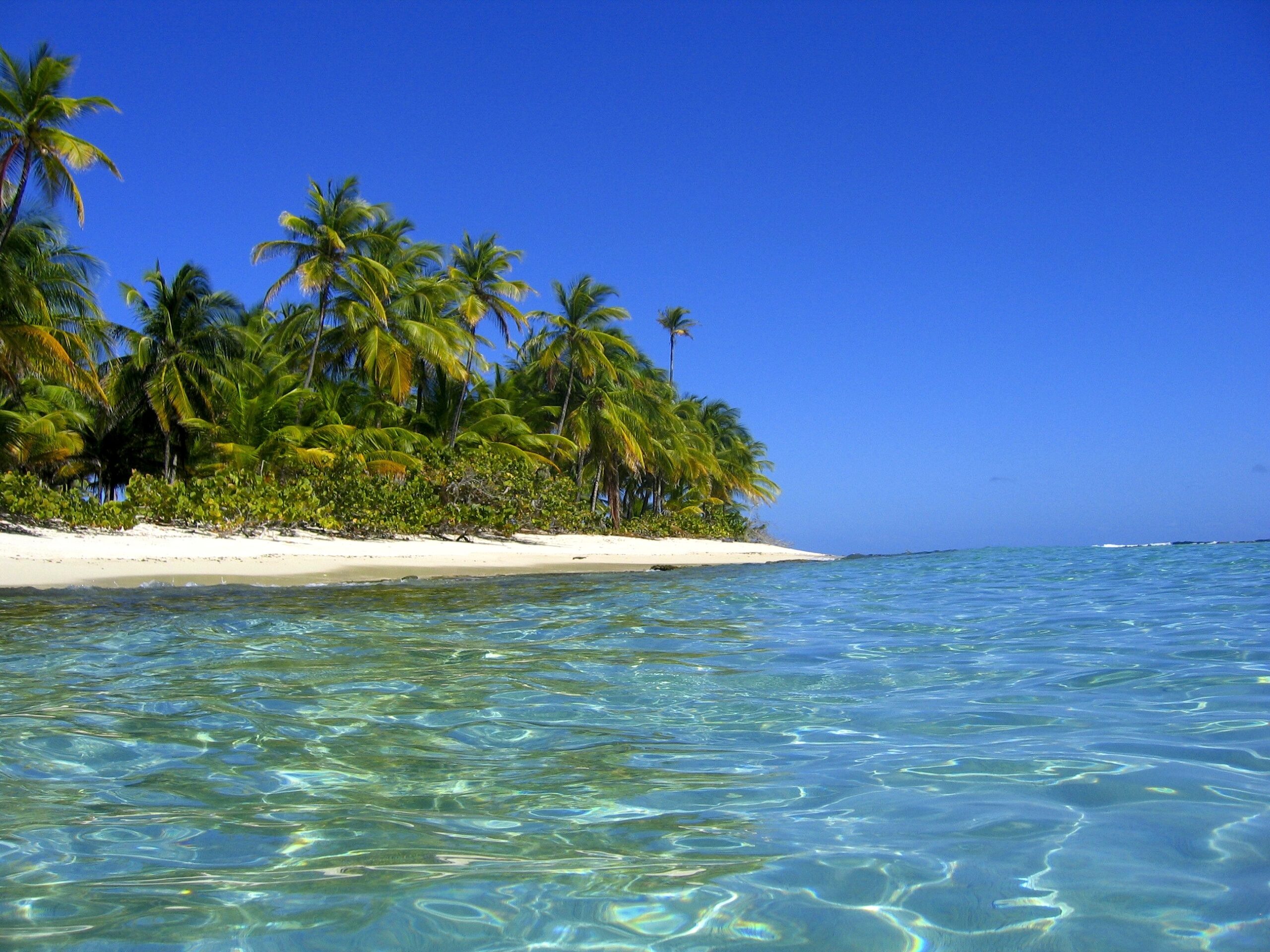 Sandy Island is a small sand bar located off Carriacou that was turned into a nature reserve after a hurricane in 2004 destroyed the area. These events resulted in a pristine beach that naturally regrows into one of the best snorkeling sites and makes you feel like you're on a private island instead of a touristy beach. You can snorkel from the beach and see plenty of marine life, like corals, sea turtles, sting rays, and small reef fish.
Since this entire island is a nature reserve, you must take a boat to get here. However, it is not as big of a deal as it sounds. The easiest way to get to Sandy Island is by taking a water taxi for about $30 (less if you can bargain) from the nearby Paradise Beach. You can also get dropped off here with any of the diving companies at Paradise Beach.
Pros
It turned into a nature reserve after a hurricane in 2004
One of the most natural settings you will see in Grenada
A tiny sand bar that makes you feel like you're on a private island
You'll see a ton of coral and sea life right offshore
Soft white sands and clear turquoise waters
Cons
You have to take a boat to get here
---
Best Views: Levera Beach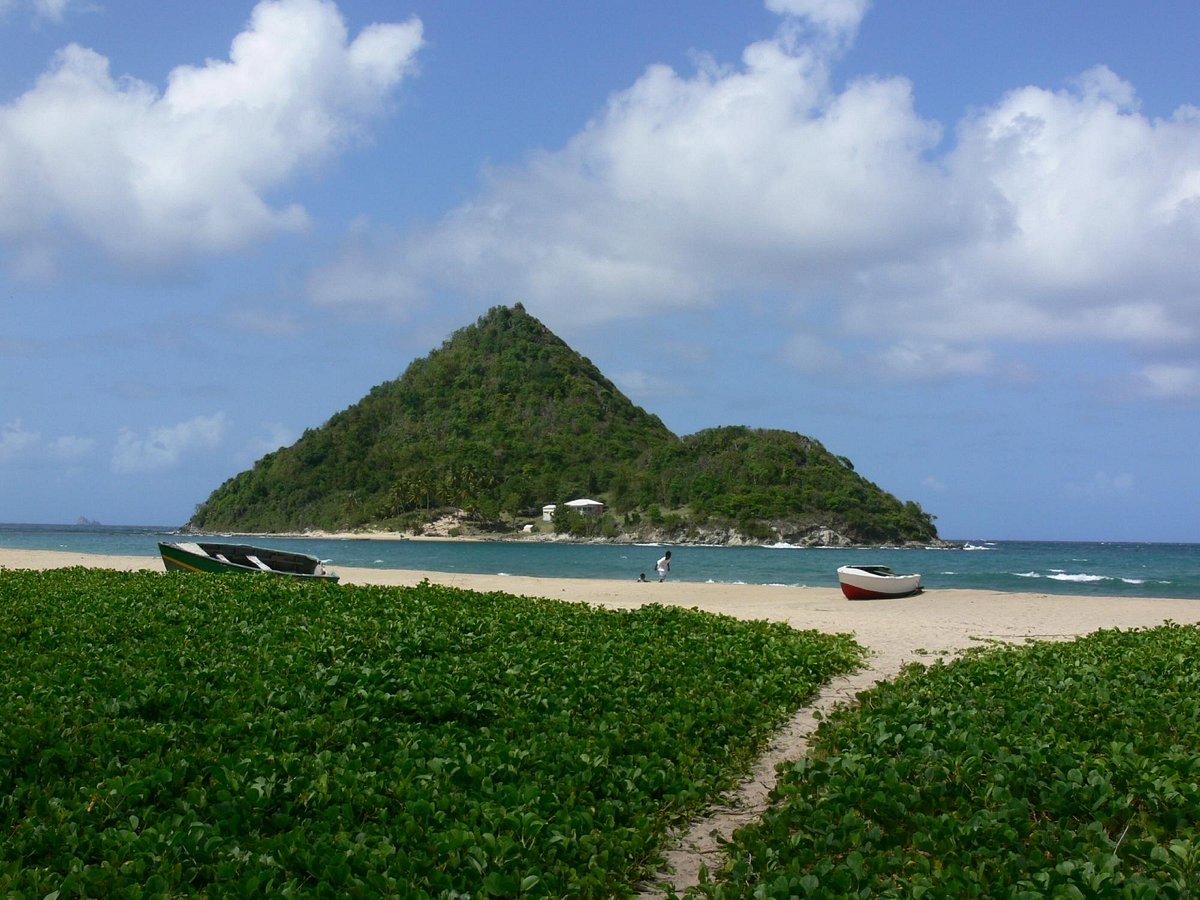 This beach is located in Levera National Park, and they don't give a piece of land that title without reason. You have a fantastic view of Sugarloaf Island, Green Island, and Sandy Island from this beach. If that isn't enough for you, from the beginning of April to the end of June, Leatherback sea turtles lay their eggs on this beach, and you can see them come ashore during these months.
The only downside to this beach is you don't really want to swim here because of the large waves and crazy currents. I could still spend hours at this beach without swimming because of the wildlife that could be found in the surrounding mangroves. If you get bored of the beach, take a hike throughout the national park.
Pros
Located in Levera National Park
Leatherback sea turtles' nesting site
Views of Sugarloaf, Green, and Sandy island
Surrounded by mangroves full of local wildlife
Cons
Swimming is dangerous here because of the strong waves and currents
---
Best Secluded Beach: Petit Bacolet Bay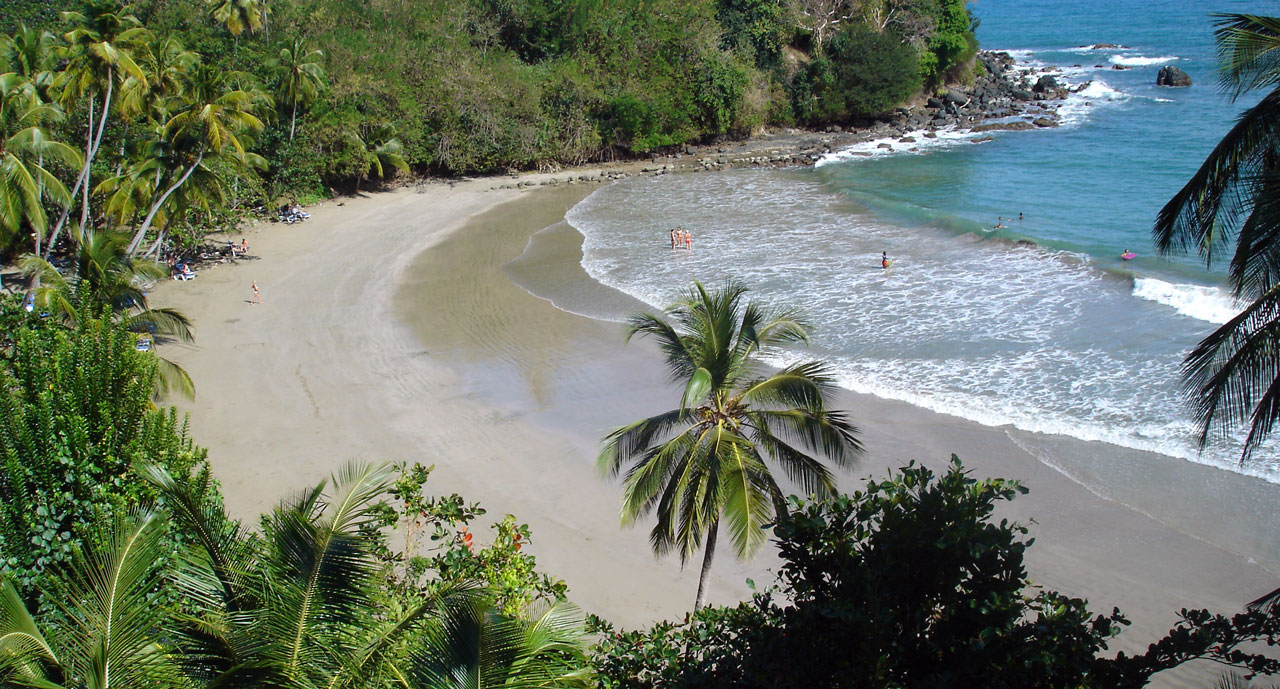 If you are the type of person that enjoys going off the beaten path, try Petit Bacolet Bay. This beach is located on the less popular Atlantic side of the island and has no facilities except for a resort on top of the nearby sea cliffs. Because this beach is on the Atlantic Ocean, there are quite a few more waves, but the beach is shallow, so it is an excellent location for beginner boogie boards or body surfing along the waves.
Getting to this beach is slightly more complex than other beaches, which is what we want if we want it to stay secluded. You must climb down several stairs to get to this beach from the Barcolet Bay Resort. Once you make it down there, you can see some unique features like ruins built into the cliffs and beautiful driftwood washed ashore.
Pros
One of the least crowded beaches on the island
Great waves for boogie boarding or body surfing
There are ruins built into the sea cliffs
Darker sands and waters make it warmer swimming
Lots of cool driftwood on this beach
Cons
You have to climb down some stairs to get to this beach
---
Most Unique: Black Bay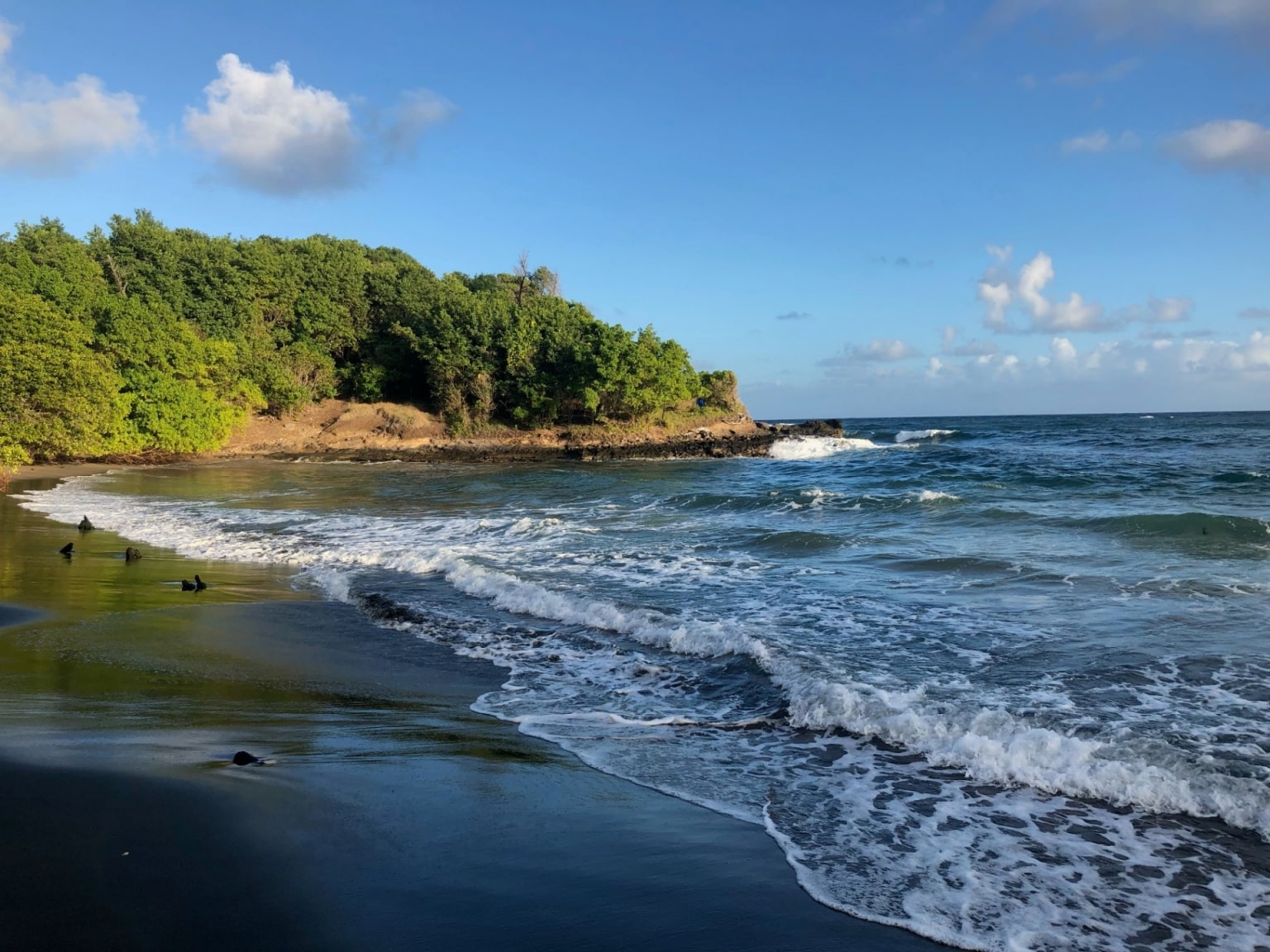 There are only a few black sand beaches in the Caribbean, and this is one of them. Black sands like this come from volcanic activity years ago, and lava rock breaks down, mixing in with the sand. The Balck Cave is near this beach, with a few petroglyphs visible.
This is a beach for the more adventurous because of the hike to get to it. A rough road leads to the beach, so if you don't have a high-clearance vehicle, I recommend hiking the road, which is about a quarter of a mile. Along the hike, you walk through dense jungle where you may see some local flowers, bananas, and other vegetation.
Pros
Unique black sands
Near the Black Cave
Pretty secluded with no facilities on site
Surrounded by dense jungle where you can see some unique vegetation
Cons
You have to walk some distance to get here.
---
Best Local Beach: Duquesne Bay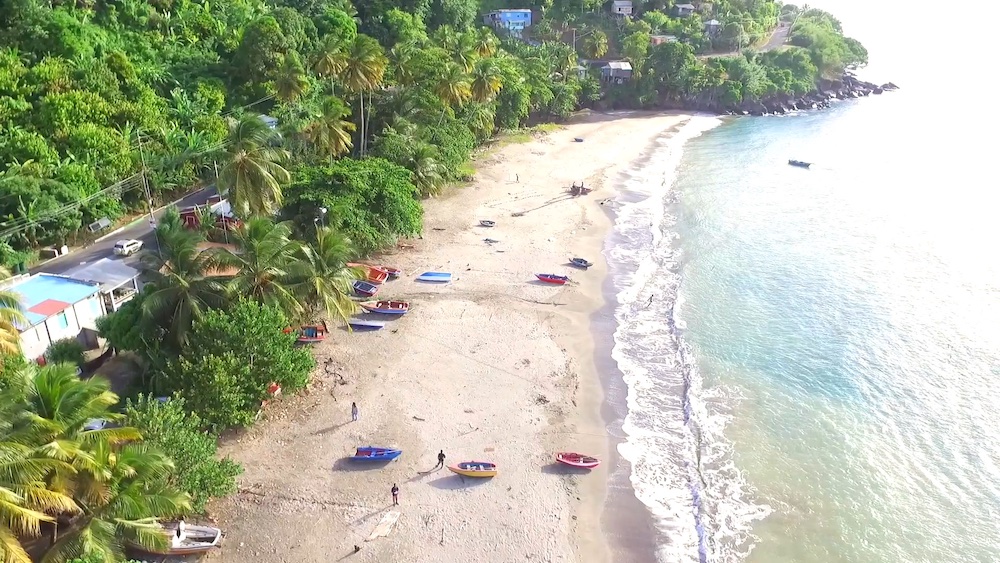 For those of you that like to dive into the culture while traveling, Duquesne Bay is an excellent beach for you to visit. You'll see a little local history, with Amerindian petroglyphs carved into the sea cliffs. You also will see lots of locals here fishing in their brightly colored boats and fishing boats lining the shore, making for some fantastic cultural photos.
Another thing that you might find interesting while visiting this beach is you may hear some people talking Patois. The official language of Grenada is English, but there are still quite a few locals that speak this French language. If you are looking for a place to lay a beach towel and relax, this isn't it. The shoreline is pretty small, and boats are most likely placed anywhere you would lay and relax.
Pros
Petroglyphs located on the sea cliff walls
Where the locals take their fishing boats out
You may get to hear some local language, which is rare in Grenada
Surrounded by palm trees and lush vegetation
Cons
FAQ's
Question: What country does Grenada belong to?
Answer: Grenada is a part of the West Indies, which gained independence from the United Kingdom in the '60s. Grenada was actually the first of six West Indie Islands to do so. They still receive some support from the United Kingdom, such as defense and external affairs.
Question: Does Grenada have private beaches?
Answer: Some resorts claim to have private beaches in Grenada, but there is a law in Grenada claiming all beaches to be public. If your resort says they have a private beach, it is probably a tiny roped-off section right off the resort. All resorts on the island must provide access to the beach they are sitting on, so if an employee says you can't enter, tell them you know Grenadine law.
Question: How many days do you need in Grenada?
Answer: This depends on what type of vacation you want to have. Five days should be plenty if you want to unwind on a beautiful Caribbean beach. For those wishing to explore a bit more and visit some other islands, you could hit most of the main points in Grenada in about ten days.
Question: What is the best month to visit Grenada?
Answer: The best months to visit Grenada are January to April. There are fewer tourists, less rain, and the temperatures stay pretty even year-round. I highly recommend going in April. You may get a few more spring breakers, but this is also when the leatherback sea turtles start nesting at Levera National Park.
Question: Is Grenada cheap?
Answer: Grenada is relatively cheap compared to other islands in the Caribbean. People, on average, spend about USD 120 per day visiting Grenada, including their stay, food, and cheaper entertainment options. This price can go up or down depending on where you stay, what you eat, and what you do. The cheapest place to stay is in St. George.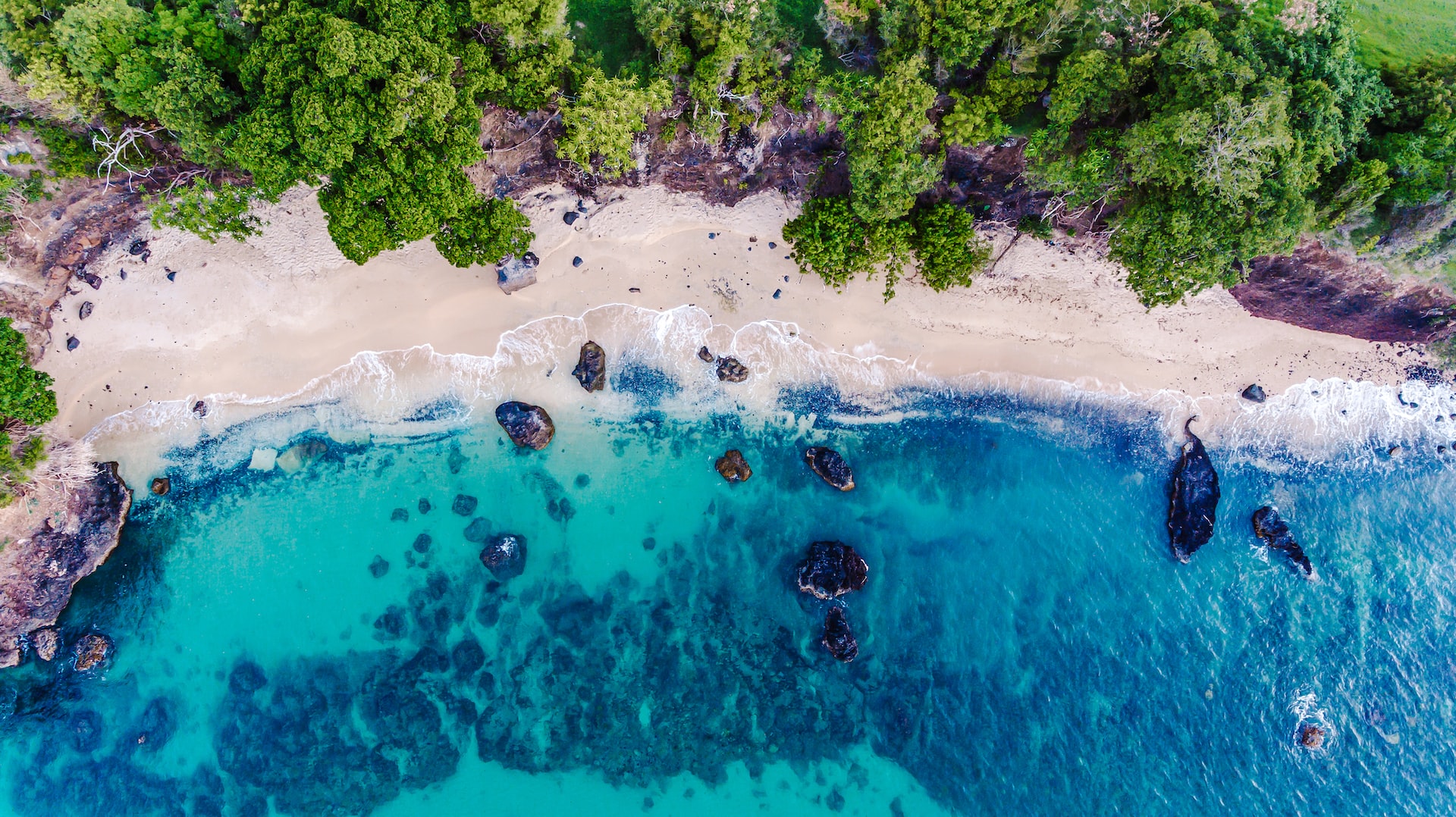 Which Beach Is for You?
Which beach to choose is totally up to what you want to do on your beach vacation. I'm more of the adventurous type who loves a good view, so my favorite is Levera Beach. I can only dream of having a chance to see those leatherback turtles come ashore to bury their eggs.
If you are looking for a little bit of everything, I recommend staying in St. George and visiting the three nearby beaches, Grand Anse, Morne Rouge, and Magazine Beach. Although, I feel everyone should take a trip to Sandy Island because of its pristine remoteness and offshore reefs.