Aruba, Jamaica, ooh, I wanna take ya! Ok, now that I've gotten that stuck in your head, let's dish about the hottest honeymoon suites in the most desirable destinations across the Caribbean!
The Caribbean exudes romance with its stunning white shores, aquamarine water, and airy vibes. Many resorts offer vacation packages for newlyweds with benefits like couples massages, private sunset dinners, and secluded villas. Tropical drinks and sunscreen are a must, but only the bare minimum is required when it comes to clothing.
Planning your honeymoon is an exciting task, but that doesn't mean it's not exhausting after months or sometimes years of wedding planning. After the nuptials are all said and done, there's nothing you need more than a restful vacation and quality time with your newlywed.
I celebrated my honeymoon in beautiful Puerto Rico and couldn't have enjoyed it more. We opted to rent a gorgeous oceanside Airbnb for the ceremony and a week-long stay afterward with friends and family, but this option came with its own set of challenges that a luxury resort would be quick to handle.
While I don't regret our choices one bit, it required a bit more work on our end to plan a relaxing vacation. Nonetheless, if your budget is tight after planning your dream wedding, consider Airbnb or VRBO as an option.
Keep scrolling to read about the best honeymoon suites in the sexiest destinations across the Caribbean that will make you weak in the knees after saying, "I do."
TLDR; Ready to Jetset
If you're anxious to book your trip, here are my top honeymoon resort picks that will further illuminate that newlywed glow. Book any of these options, and you are guaranteed to have the honeymoon dreams.
Consider what you and your partner like most about traveling before booking. Is it staying in or adventuring endlessly? Would you mind kids being around, or would you prefer an adults-only resort? Once you've got those things in mind, the choice will be a bit easier. No matter your breathtaking location, you're sure to be in paradise.
Selection Criteria
Choosing a destination that is a quick flight away from your nearest major airport is always something to consider. Puerto Rico was ideal for us since it was a two-hour flight from our home base in Atlanta and after many stressful weeks leading up to the big day, making our travel plans as easy as possible was a blessing in disguise.
The key factors I've considered in my selection below are value, accommodations, and amenities that make every couple feel extra special. Not each of these options is all-inclusive. I want to provide you with variety and choices that allow you to create your own experiences if you so wish.
We always prefer to choose our own adventures, restaurants, and beaches, but I completely understand the allure and convenience of having everything you need right at your fingertips. If you're looking specifically for an all-inclusive resort, check out Epic Caribbean's extensive collection of helpful all-inclusive articles.
---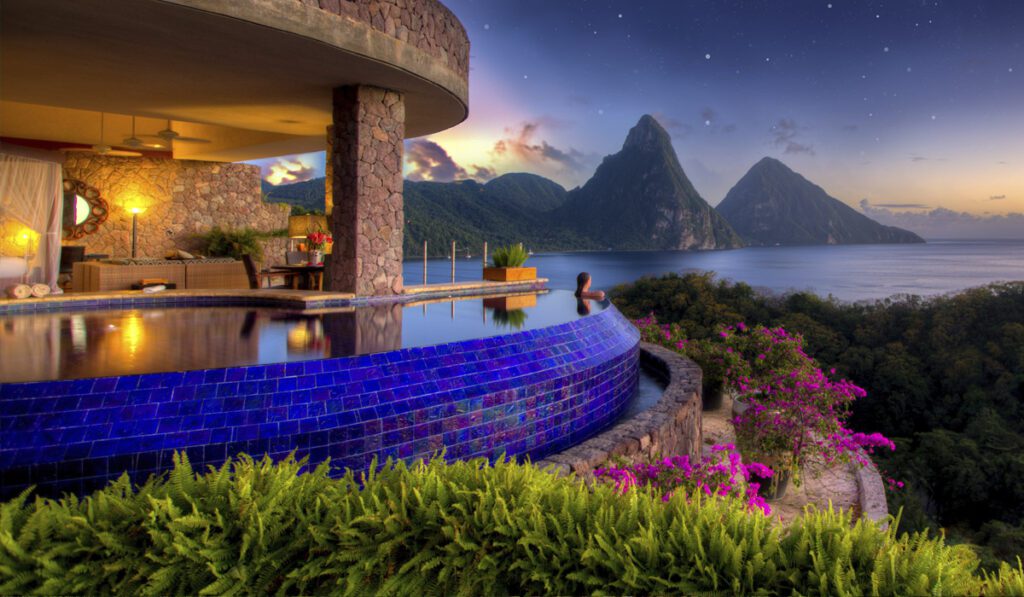 This is, without a doubt, the most epic honeymoon location across the Caribbean. While most places can serve up beachside drinks and clear blue water, not everywhere will have the views that are offered by this absolutely majestic location.
The resort's architecture highlights the natural beauty of St. Lucia and has the most picturesque views of the Piti and Gros Piton mountains. Their Total Romance package includes food and beverage service, airport transfers, excursions and tours, spa services, and more, so you don't have to sweat the details.
You also get your 5th night free when you select the Total Romance upgrade. This is the one time in your life an extravagant upgrade is easily justified, so go big and leave with no regrets.
Spend quality time with your partner in your own private plunge pool and venture to the beach to enjoy the tranquility of a mountain view and fruity drinks. I'm not sure it gets any better!
Pros
Once in a lifetime views
Most rooms have private infinity pools
All-inclusive options
Adults-only
Cons
No swim-up bar
No air conditioning
---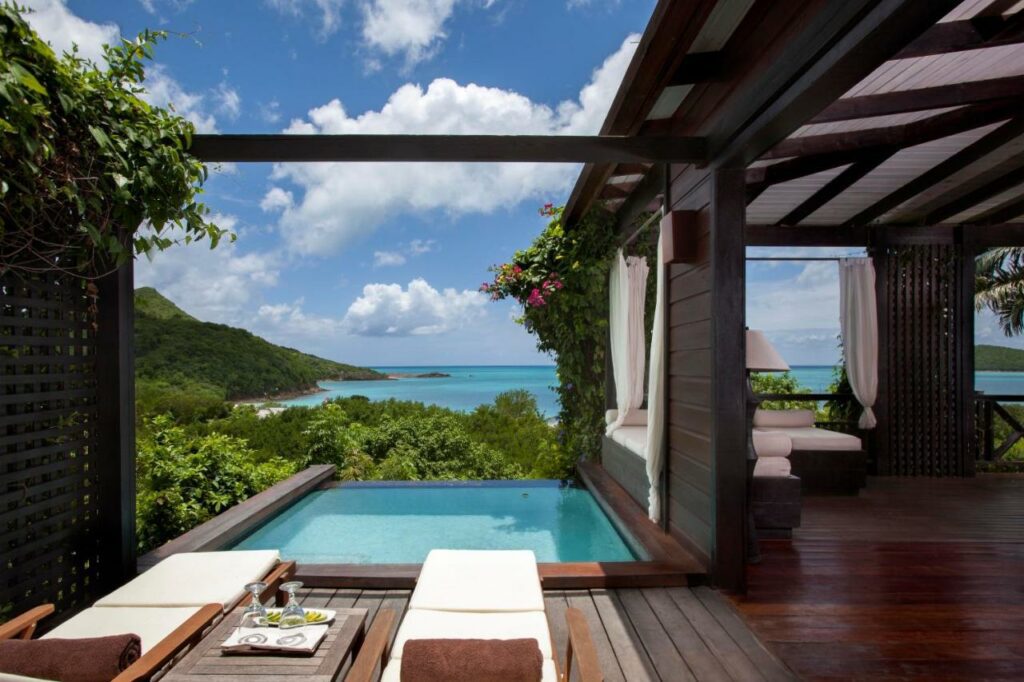 Antigua is a tropical paradise that is ideal for every lovey-dovey couple. Bright, fragrant flowers and fresh fruit leaves you with a renewed sense of energy, and the sun's warmth on your kiss invigorates your spirit. Exploring the beauty of Antigua cannot be accomplished in just one vacation, but when you choose to stay at Hermitage Bay, you can rest easy knowing that you are getting the whole island experience.
With 30 suites that are either hillside, beachside, or garden-side, the views are never-ending. Each suite has a large outdoor deck, and several have private plunge pools for a midnight dip with your new Mrs. or Mr. Excellent food and top-notch service make you feel like the Rockerfellers. While the hotel is not all-inclusive, this option is great for couples who enjoy discovering the local cuisine.
If Hermitage Bay is as far as you venture into Antigua, no worries! While you're there, you'll have the opportunity to snorkel, bird watch, and soak in the natural elements of stunning Antigua without ever having to go elsewhere.
Pros
Air conditioning
5-star hotel
Accommodating staff
Private boat charters
Cons
Not all-inclusive
Mosquitos can be pesky
---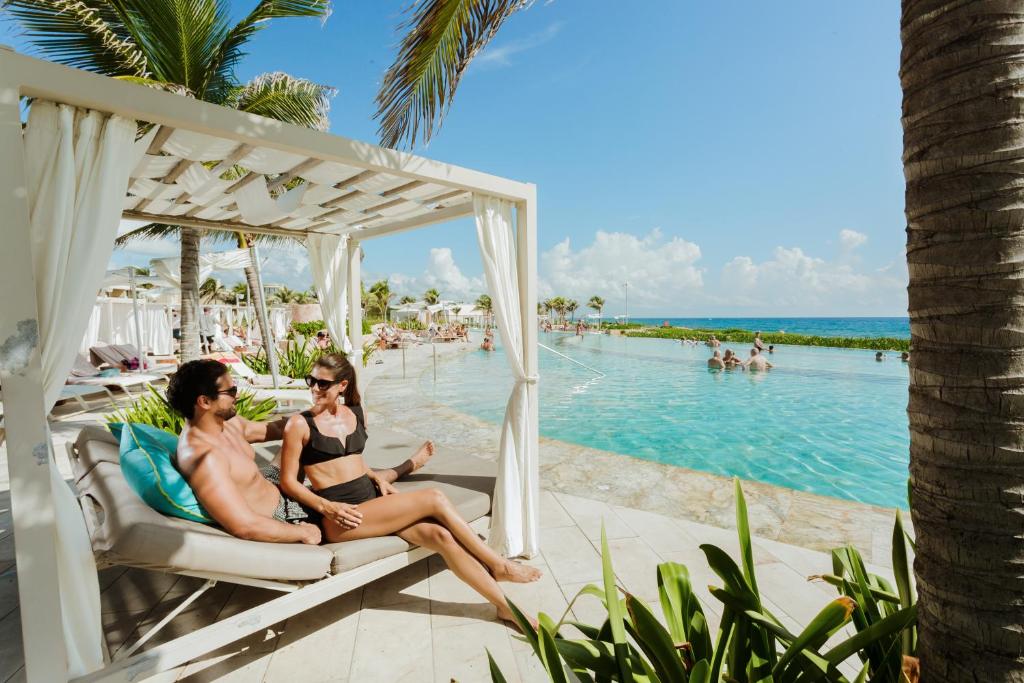 Don't let a whistle-blowing lifeguard scolding running children turn your heavenly oasis into a schoolyard recess. If avoiding children during your romantic getaway is important, opt for an adult-only experience.
The TRS Yucatan Hotel has private plunge pools, in-room soaking tubs, and off-season rates that will appease most budgets. Their sister resorts within the Grand Palladium complex are fair game with your all-inclusive access; however, only the TRS hotel is adults-only.
Additional services include sunset dinners, poolside breakfast, and fun nightly entertainment like a spicy cabaret show. The TRS Yucatan also has over 20 restaurant options that are sure to satisfy even the pickiest eater. The facilities are gorgeous, and some rooms even have terrace jacuzzis.
You don't need to plan a thing when you opt for the TRS Love In Paradise package. This upgrade exclusively for couples includes a terrace jacuzzi room, welcome gift, romantic five-course dinner on the beach, cabaret tickets, spa services, late checkout, and all-inclusive dining and drinking options.
From laid back and beachy to dressed up and lavish, you and your forever plus one will enjoy impeccably chic facilities that suit every vibe.
Pros
Affordable rates
All-inclusive
Adults-only
Stylish rooms
Cons
No elevators in the building (stairs required)
---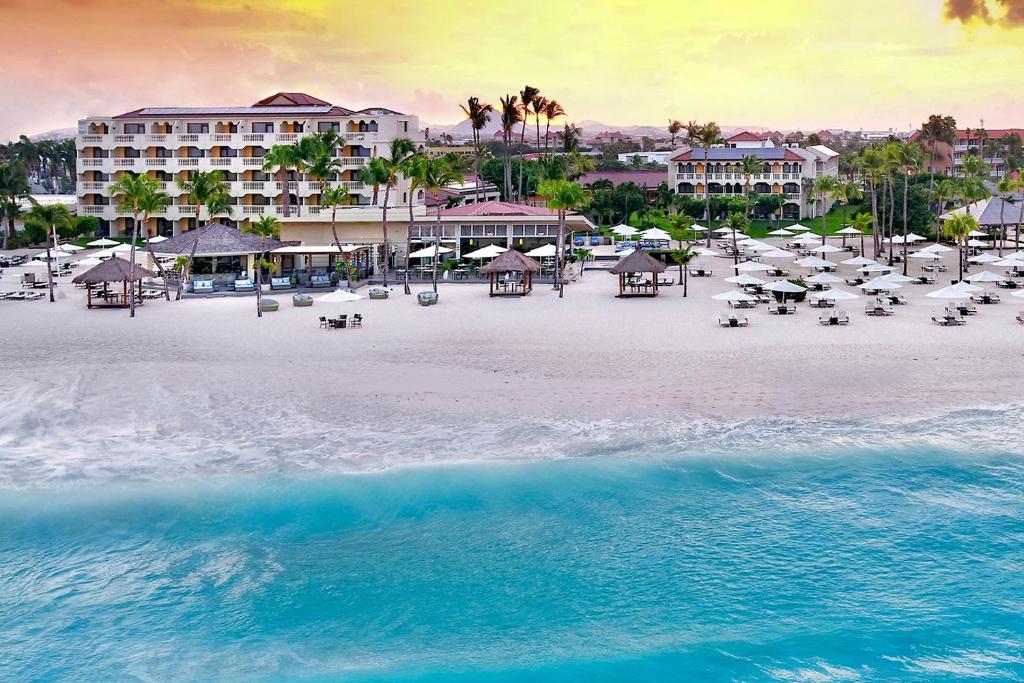 Aruba is a true oasis that features the juxtaposition of the desert alongside the vibrant and idyllic waters of the Caribbean. Spend your days lounging on the white sand beaches or take an ATV ride through the desert to the famous Conchi Natural Pool and enjoy a refreshing dip. We absolutely loved our time in Aruba and found dozens of hidden gems off the beaten path.
Bucuti & Tara is focused on providing couples with a romance-focused getaway unlike any other. Experiences like horseback riding, VIP airport concierge, private palapa dinners, and white glove champagne service are the perfect additions to any honeymoon. While Bucuti is not all-inclusive, the resort's on-site dining options and available excursions don't require you to leave the property if you don't want to!
I encourage anyone who visits Aruba to eat at Zeerovers. Perfect for lunch or dinner after a day spent in the sun, you'll sit on the water while enjoying the most delicious fresh seafood and spectacular sunsets.
Pros
Adults-only
Honeymoon specific suites
romance focused
Private
Cons
Not all-inclusive
Small resort
---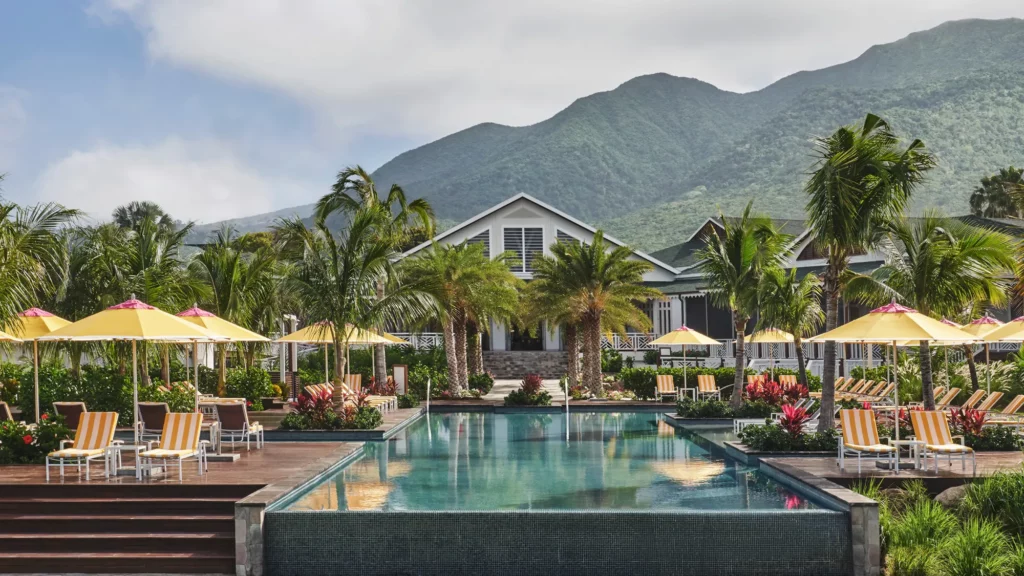 The Four Seasons has earned its reputation as being a staple in the five-star hospitality industry. You cannot go wrong when you choose a well-known brand that prides itself on taste, luxury, and comfort. The Four Seasons Nevis is no different. Imagine a perfect paradise tucked right beneath a stunning mountain called Nevis Peak in the West Indies. Fly into St. Kitts and take a quick ferry ride to an even more remote destination. The extra effort is well worth it.
If privacy is your ultimate goal, a private beachfront villa with its very own plunge pool should do the trick. You and your loved one will tune the entire world out as you enjoy modern rooms, amenities, and special romance upgrades. The 350-acre resort sits along three miles of pristine beaches that are prime for sunbathing and evening strolls. They have great offers like 25% off when you book in advance or a fourth night for free.
Four on-site restaurants mean you don't have to venture far for a decent meal, and premier spa services will replenish your skin after weeks of stress leading up to the big day.
Pros
Discounts on bookings
Spa services for couples
Multiple dining options
Private villas available
Cons
Not all-inclusive
Not adults-only
---
While many of the resorts shared above will cost you a premium, I like Point Grace for its level of affordability without compromising its boutique hotel promise. Ideally situated on the award-winning Grace Bay beach of Turks and Caicos, you will enjoy twelve miles of white sand and crystal-clear blue waters.
With only 28 luxury suites, just getting in the door means you're unique. Daily scuba, snorkeling, boating, and fishing trips will excite the adventurer spirit within you, while championship golf courses allow you to unwind. Try your hand at paddleboarding or kayaking on extremely calm water and get plenty of perfect pictures for your grid.
Visit the Thalasso Spa for a superb oceanfront experience. The spa is a full-service European-style Thalassotherapy spa. Thalassotherapy uses seawater, sea mud, and select seaweed to rejuvenate your body.
Two on-site restaurants and many delicious room-service options will leave you well-fed from your penthouse room.
Pros
Affordable luxury
Multiple dining options
Easy to travel to
Cons
Not all-inclusive
Not adults-only
---
Conclusion
A Caribbean honeymoon is the epitome of romance and relaxation, but what makes the vacation magical is sharing it with your very best friend. No matter where you choose to go, focus on savoring all the special moments shared between you because, ultimately, that's all that matters.
Nonetheless, the pressure to choose the perfect destination may still weigh on you. If you're especially torn, try choosing your top two and turning it into a game of chance. Have your partner hold out a hand for each option and pick one! If your choice leaves you underwhelmed, then you'll know which option is right for you.
I find that options with the right amount of adventure and relaxation are the perfect middle ground. Having the choice to plan a fun-filled day in the water is always appreciated, just in case you decide to live life to the fullest or see another couple on a fun excursion. Some days may be better spent at a poolside cabana, but there is truly no wrong choice.
Let your love (and this helpful guide) steer you towards your ultimate Caribbean destination. You can always save your runner-up destination for your first anniversary 😉
Safe travels, and don't forget your sunscreen!
FAQs
Question: Is Barbados good for honeymoon?
Answer: The Caribbean has no shortage of perfect honeymoon locations, and Barbados is one of many picturesque places to go.
Question: Is Caribbean Good for honeymoon?
Answer: The Caribbean is a popular honeymoon destination for many reasons. White beaches, clear blue water, and dozens of upscale resorts make it tourist-friendly. However, there are many other ways to experience the Caribbean other than staying at a resort. Explore Airbnb to discover adorable bungalows and casitas for a fraction of the price.
Question: Which is the most romantic Sandals resort?
Answer: Awarded the Caribbean's Most Romantic Resort several times over, Sandals Grande Antigua has made lasting memories for thousands of happy couples. Sandals is a trendy chain for a reason; they must be doing something right. These resorts typically have great booking deals available for budget travelers, but if you can splurge for a more exclusive resort, you will find that the level of luxury offered is simply unmatched.
Question: Is St Barts a good place to honeymoon?
Answer: St. Barts is the epitome of luxury and sophistication. Maybe you'll even see a celebrity! It is a wonderful honeymoon destination but will cost a pretty penny due to the remote nature and exclusiveness of the resorts. This option is perfect for couples who want to live life to the fullest during their honeymoon.