Who wouldn't want to spend their honeymoon in a place as dreamy as the Caribbean? The Caribbean islands are incredibly romantic: They've got powdery sands, crystal-clear water, and amazing food to boot. If you're looking for Caribbean honeymoon tips and ideas, this article is for you.
8 Tips To Help You Choose Your Honeymoon Caribbean Island
Planning for just about any honeymoon isn't always a breeze. We'll help you out with these eight must-know Caribbean honeymoon planning tips.
1. Set aside a budget
Though you will be busy planning and spending for your wedding, don't forget to allocate a budget to help you make your dream honeymoon a reality.
2. Set your expectations right
The Caribbean has a tropical climate all year round. Make sure you research the prevailing conditions during your stay. But don't worry, some islands have low chances of rain, and even if it does rain, sunny skies often return quickly.
3. Consider the activities you want to do
Are you more of a beach bum or an adventurer? Does food play a huge role in your travels? How about nightlife? Each Caribbean island has its own appeal — choose one where you can do what you love most with your spouse.
4. Ask for recommendations within your circle
Experience, as they say, is the best teacher. If you're not the first one within your circle to have a Caribbean honeymoon, it's best to ask for advice from others.
5. Know your timeline
If you want your honeymoon to follow your wedding closely, you must prepare well in advance. Also, make sure you free up both of your schedules so you won't have to worry about work matters while in the Caribbean.
6. Book as early as possible
You don't want to be disappointed that there's no room or flight available on your honeymoon date. To avoid this frustrating situation, pick the best Caribbean island to visit for your honeymoon as soon as possible and arrange your accommodations, flights, and itinerary early on.
7. Have a checklist of all requirements
Double check with your airline and hotel all the necessary documents you need to present — for instance, vaccination cards and travel insurance.
Also, take note that your passport name should match what's on your ticket. If your honeymoon follows your wedding right after and you won't have the time to change your passport name, it's advisable to put your maiden name on your bookings and reservations.
8. Tap a travel agent
To make things smoother for you and your budget allows, invest in a travel agent familiar with the Caribbean.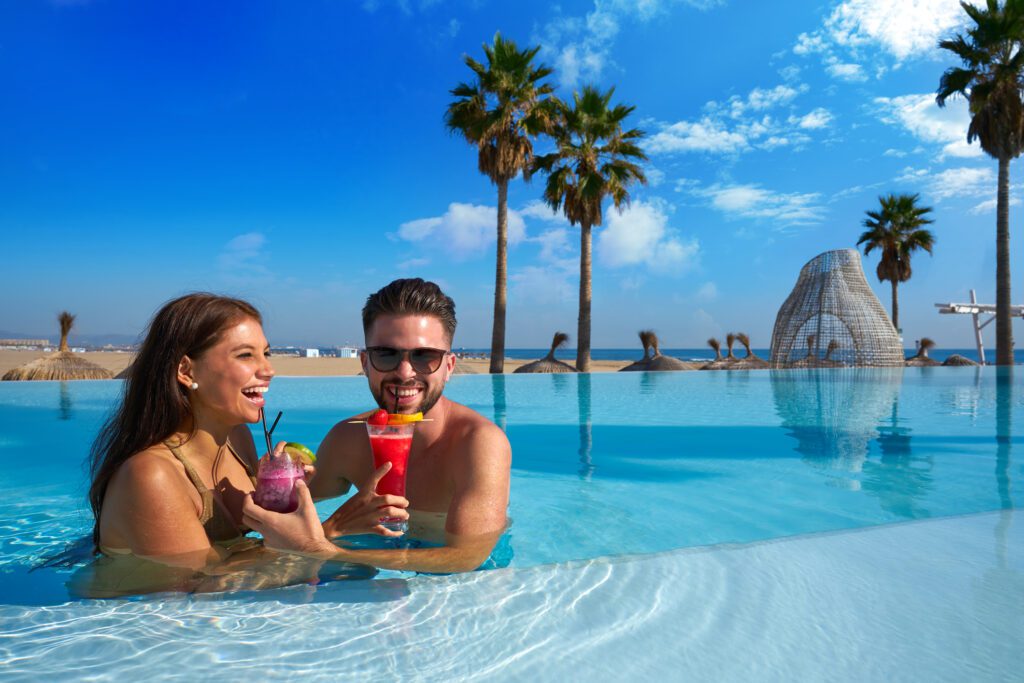 Caribbean Travel & Honeymoon FAQs
Here are some quick FAQs before we delve into our list of top honeymoon destinations Caribbean Islands have to offer.
When should we start planning for our Caribbean honeymoon?
After you've finalized your wedding date, you'll have an idea about which month your honeymoon will fall. For example, if you're going on your honeymoon in July, commence your honeymoon planning as early as January or October of the previous year (that's 6 to 9 months in advance).
What is the average cost?
Honeymoons in the Caribbean typically cost between $5,000 to $7,500. You can snag better deals if you're going there during the low season. You can also choose a Caribbean honeymoon all-inclusive resort to optimize your budget. The rates of these resorts range from $3,000 to $5,500.
How long can we stay in the Caribbean?
U.S. citizens don't need a visa to enter the Caribbean. So your stay in one of its islands actually depends on you — your budget, your schedule, and your itinerary. Most resorts offer 7-stay packages, while some travel agencies have up to 14-day offerings.
Best Honeymoon Destinations In The Caribbean
The Caribbean is composed of over 700 islands, so you have a myriad of choices. If you're tying the knot and planning to go on a honeymoon soon, we'll help you narrow down your choice with this list.
Antigua and Barbuda
Antigua has a quaint appeal and boasts hundreds of azure beaches. On the other hand, its sister island Barbuda is known for its pink-tinged sands.
Aruba, Bonaire, and Curaçao 
Collectively known as the ABC Islands, these three sure have plenty to offer for honeymooners and casual travelers alike. Aruba has cruise ship stopovers, Bonaire has diving spots, and Curaçao has a touch of Europe — thanks to its colonial houses.
Cayman Islands
This group of three islands boasts gorgeous beaches and colorful corals. It has a mellow vibe that newlywed couples look for in their honeymoon destination. But make no mistake: these islands also have exotic wildlife and interesting caves.
Jamaica
The third-largest island in the Caribbean, Jamaica warmly welcomes lovers with its palm tree-fringed beaches, picturesque sunsets, and lively music. Not to mention, it has a wide array of accommodation options to suit your budget and preferences.
Grenada
Are you in for a unique Caribbean adventure? Grenada has an underwater sculpture park you can explore with your significant other. This island is also recommended for honeymooners who want plenty of privacy.
Welcoming your married life in one of the best romantic destinations in the world is a great experience, and your choice of Caribbean island ultimately depends on you and your beau. You just have to plan and budget well. All-inclusive resorts like Sandals are popular because they have all you need for a honeymoon and a generally friendlier price.
Once you're there, relax, have fun, take snaps — and live some of the best days of your lives.