If you're planning a romantic getaway or honeymoon in Mexico, Puerto Vallarta might be on your list of top destinations. It is a fun place to visit with a myriad of activities you can do with your partner or spouse. Puerto Vallarta also boasts picturesque coast, rich culture, and tasty local delicacies. However, with all the negative news coming out of Mexico, it is fair to ask, "Is Puerto Vallarta Safe?
Is It Safe To Visit Puerto Vallarta In 2023?
To address the elephant in the room that's a concern of every traveler, Puerto Vallarta is safe. Equipped with the right information and taking the usual travel precautions, you can have an enjoyable trip to Puerto Vallarta in 2023.
Puerto Vallarta is one of the safest destinations in Mexico for tourists visiting the country. It is one of the friendliest, too, as hailed by various travel magazines and publications. This can be attributed to the consistent and constant efforts of local authorities to ensure travelers– families, couples, or solo– are safe in Puerto Vallarta. You'll see local enforcers around town and at busy intersections. They also do patrols to make you feel safe and warn people who intend to do something bad.
Aside from the negative press, one might worry about the weather since Mexico is also prone to hurricanes. Fortunately, Puerto Vallarta offers excellent weather throughout the year. The Siera Madre Mountains shield the top tourist destination in Mexico from the impact of bad weather systems.
Puerto Vallarta Travel Warning And Advisory
More often than not, the Mexico travel advisories issued by the US are often summaries for the whole country. It is best to check your country of origin and local authorities' reminders for specific Mexico destinations. As of writing, Puerto Vallarta is tagged with no travel restrictions.
Crime Rate In Puerto Vallarta
Just like any other place on the planet, Puerto Vallarta is not immune to crimes. However, it is safe to assume that Puerto Vallarta is a safer destination compared to other Mexican cities such as Cancun and Playa del Carmen.
The crime rate in Puerto Vallarta is 38.72 as of writing. This is a lot lower than other popular honeymoon destinations like Cancun (61.05), Playa Del Carmen (54.17), Miami (59.6), or Paris (61.39). The worries of cars getting stolen, getting attacked, or being insulted while walking on the streets are low.
If you are exploring areas frequented by travelers, such as the Romantic Zone or Malecon, you don't have anything to worry about. However, it is best to avoid going way too inland that's far from the beach, as these are considered some of the most dangerous streets in the city.
Is Puerto Vallarta safe? In terms of efforts of local authorities, check. In terms of crime rates, check. And in terms of weather, also check.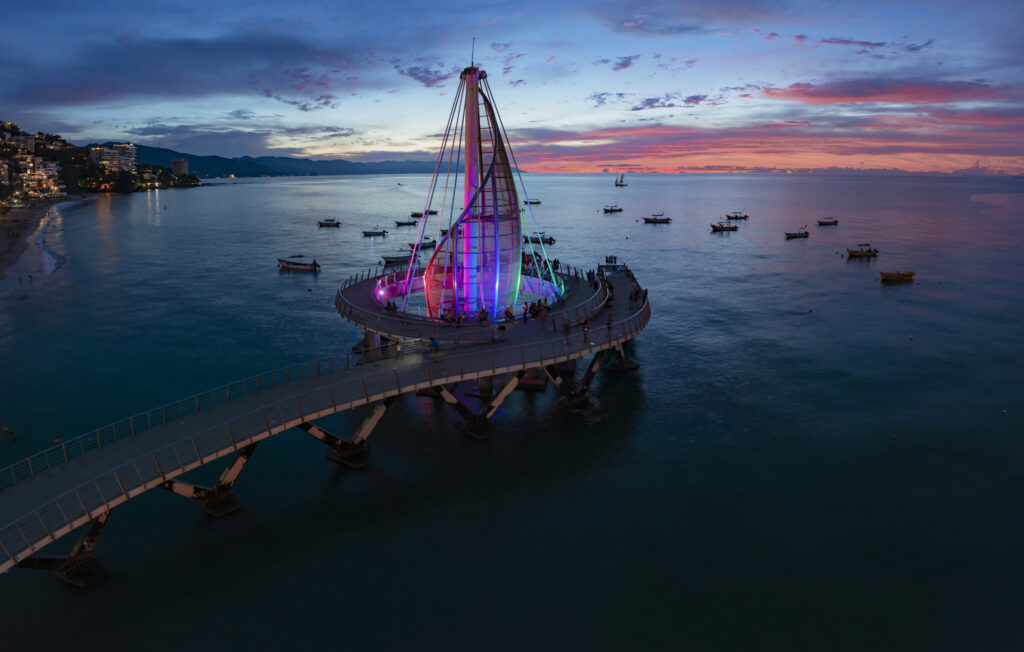 Best Neighborhoods To Explore In Puerto Vallarta
Puerto Vallarta is a beautiful city with a vibrant culture and warm people. Below are some of the best neighborhoods to explore if you want to enjoy the place as a couple.
Downtown Puerto Vallarta
If you want to unwind while exploring the gastronomic offerings of Puerto Vallarta, you should head Downtown. It is a safe area for tourists, with various restaurants offering local delicacies and global cuisines. The beautiful beaches are also just a few hops away, as well as the Municipal Market.
Romantic Zone
The Romantic Zone is perfect for couples, newlyweds, and members of the LGBTQ community. It's one of the most gay-friendly spots in the whole of Mexico. The area is lined with quaint boutique hotels, art galleries, restaurants, and bars. When in the area, don't forget to check out the creations of local artisans, like colorful dinnerware, Mexican-style fabrics, blankets, and more in the flea market.
Hotel Zone
Many tourists nod their heads in approval when asked, "Is Puerto Vallarta safe?" because of the Hotel Zone. The area is dotted with all-inclusive resorts, shopping centers, malls, and condo buildings. It has a reputation for having a high level of safety for tourists and travelers.

Marina Vallarta
Just south of the airport, Marina Vallarta came to be known in the 1980s as an excellent alternative to Cancun and Acapulco. It is a perfect area where you can stroll, enjoy the breeze, and spot luxury sailboats or yachts. Marina Vallarta is well-loved by older ex-pats in the country.
Nuevo Vallarta
Located just next to Puerto Vallarta, this neighborhood is another great neighborhood for tourists. It is a haven for travelers who want to enjoy quiet night strolls. It is more tranquil in this corner, with a few gaps that offer some amazing fauna and fresh air.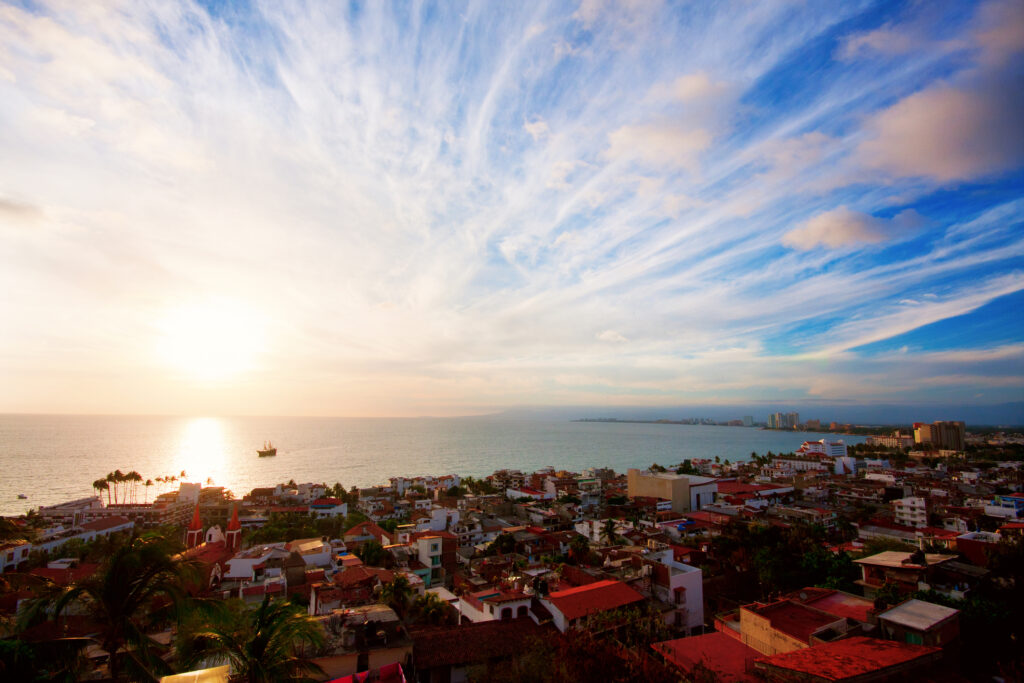 Best Things To Do In Puerto Vallarta
Whether you're a couple on a romantic getaway or newlyweds spending your honeymoon in Puerto Vallarta, you'll never run out of things to do in this romantic city.
1. Sand And Sea
Puerto Vallarta is one of the top honeymoon destinations in Mexico because of its beautiful beaches. Whether you just want to relax and sunbathe all day, engage in exciting watersports, or dive to explore the underwater beauty of the region, Puerto Vallarta has much to offer. You can design what kind of Mexico romantic holiday you want and check every item on your list of best things to do in Puerto Vallarta to fall in love over and over again with the love of your life.
2. Enjoy Sunsets
What can be more magical than watching the sun slowly setting down on the horizon amid the calming colors of the sky? Puerto Vallarta is famous for its most beautiful sunsets. Enjoy the moment while having a romantic dinner or while your feet are touching the sand.
3. Malecon
Immerse yourselves in some cultural experience by exploring the Malecon. Visit the Art Walk to see the works of local and international artists. You can also join the sculpture tour that will give you an idea of how the boardwalk and its artsy vibe came about.
4. Explore Nature
The Sierra Madre Mountain is an enchanting place. If you want to explore beyond the beaches, head to the Vallarta Botanical Gardens. Its sections let you see various cacti, tropical fruits, orchids, and native plants. You can go deeper into the forest when you're done with the gardens and greenhouses.
5. Romantic Experiences
Puerto Vallarta hotels and resorts such as Iberostar offer couples complete romantic experiences that will take you and your partner to the top local attractions, the best Puerto Vallarta restaurants, beaches, and adventure activities.
Things To Consider When Visiting Puerto Vallarta
Is Puerto Vallarta Safe? While Puerto Vallarta is considered safe for all types of tourists and travelers, it is important to take precautions to ensure safety. Enjoy your Puerto Vallarta travel while keeping these reminders in mind:
Before traveling to Puerto Vallarta, know the safest zones and don't go far from tourist areas.
While you want to be friendly, do not talk to strangers (or over-friendly individuals) in risky places. Engage with the locals in safe spaces like your hotel or tour group.
Only book a tour with a reputable company. Always check reviews online or asks friends who have visited Puerto Vallarta before.
Don't drink too much. Excessive drinking might make you vulnerable and target for crimes.
Public transportation is generally safe in Puerto Vallarta. However, it is best to ride official taxis or hail rides from safe mobile platforms. If you rent a car and want to explore areas outside Puerto Vallarta, drive only during the day.
Be attentive when exploring or while walking on the streets.
Spread your money, credit cards, and other valuables out so you have a backup, just in case.