Jamaica is a hot destination for tourists — and vacationers across all ages will surely find their experience in this tropical wonderland, well, one for the ages. Beaches, a family-oriented, all-inclusive resort chain, is known for having the best Jamaica best resorts for families. We're giving you a helpful comparison between its two resorts situated in Negril and Ocho Rios.
Why Beaches Is The Best All-Inclusive Resort For Families In Jamaica
Beaches Jamaica belongs to the same company that owns and operates the adults-only Sandals resort brand. While the latter gives the ultimate experience for couple holidayers, Beaches is the place to be if you want to enjoy the Caribbean with the whole family.
This is not a random pick among the best resorts in Jamaica for families. Beaches has consistently garnered top awards from reputable platforms such as Trip Advisor, U.S. News, and Parents magazine.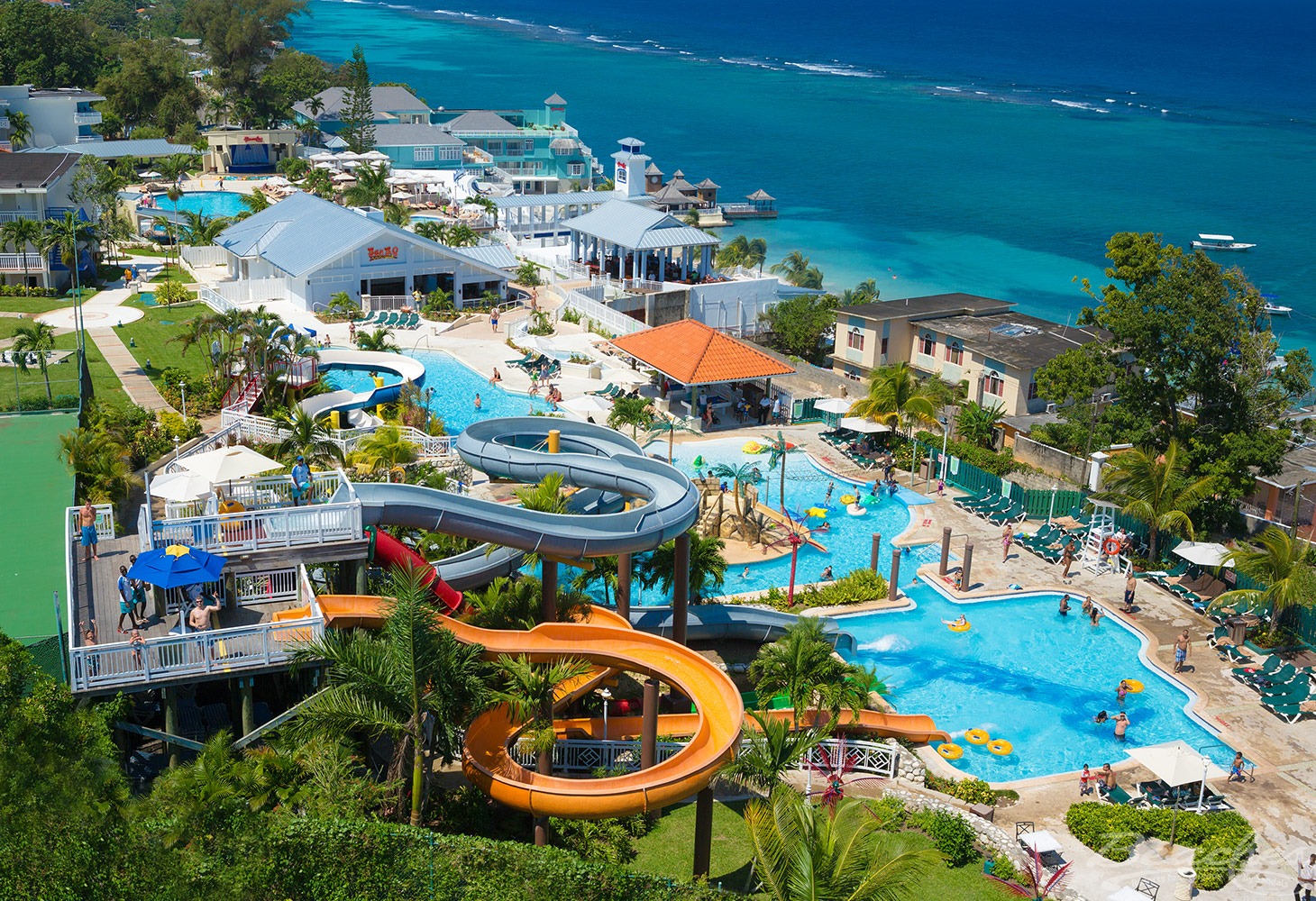 Rooms in the resort are generally divided into two levels: the basic Concierge Level and the premium Luxury Level. They also have a Together Nest suite specially designed for couples.
If you book your stay in any of their two resorts in Jamaica, here's what you'll get:
Unlimited world-class gourmet dining
Unlimited premium liquors and Robert Mondavi Twin Oaks wines
Breakfast, lunch, dinner — plus snacks available any time
Bars, including swim-up ones
Stocked bars in all Beaches rooms
Pirates Island Waterpark (complete with awesome waterslides and kid-friendly pools)
Kids Camp (with nannies certified by the International Nanny Association; these are also the first-ever Certified Autism Centers in all of the Caribbean, highlighting the brand's goal of being a place for just about everyone)
Caribbean Adventure with Sesame Street (the resort has exclusively teamed up with Sesam Street to let youngsters play with their favorite characters from the franchise)
Liquid, a nightly teen club
Water-based activities such as PADI-certified scuba diving, snorkeling, Hobie Cat sailing, paddleboarding, and kayaking (equipment and professional instructions included)
Land-based activities such as day/night tennis, croquet, beach volleyball, and lawn chess
Fitness center
Xbox Play Lounge
Day and night entertainment (including live shows, bonfire parties, and thematic events like Reggae Fest, Jamaica Day, Family Fiesta, and Pirate Beach Party)
Free WiFi in rooms and common areas
Free weddings (if you book for at least three nights)
Direct, roundtrip, and non-stop airport transfers
Tips, taxes, and gratuities
With all these inclusions, it's not hard to wonder why Beaches properties are consistently included in the list of best family resorts Jamaica has to offer. 
Another great reason to stay either at Beaches Ocho Rios or Beaches Negril is that they offer many special deals. If you book within the resort's indicated 7-day booking period, you can enjoy 7% off in 7 select rooms. You can get 1 free night if you stay for 3 or 4 nights via their Last Minute Travel Deal.
When you pay for 6 nights or more, you also get instant credit worth $335. An additional $25 credit will be added if you book via their website. If you want to avail of up to 65% discount on their rack rates, simply book a minimum of three nights.
Jamaica Best Resorts For Families: Beaches Ocho Rios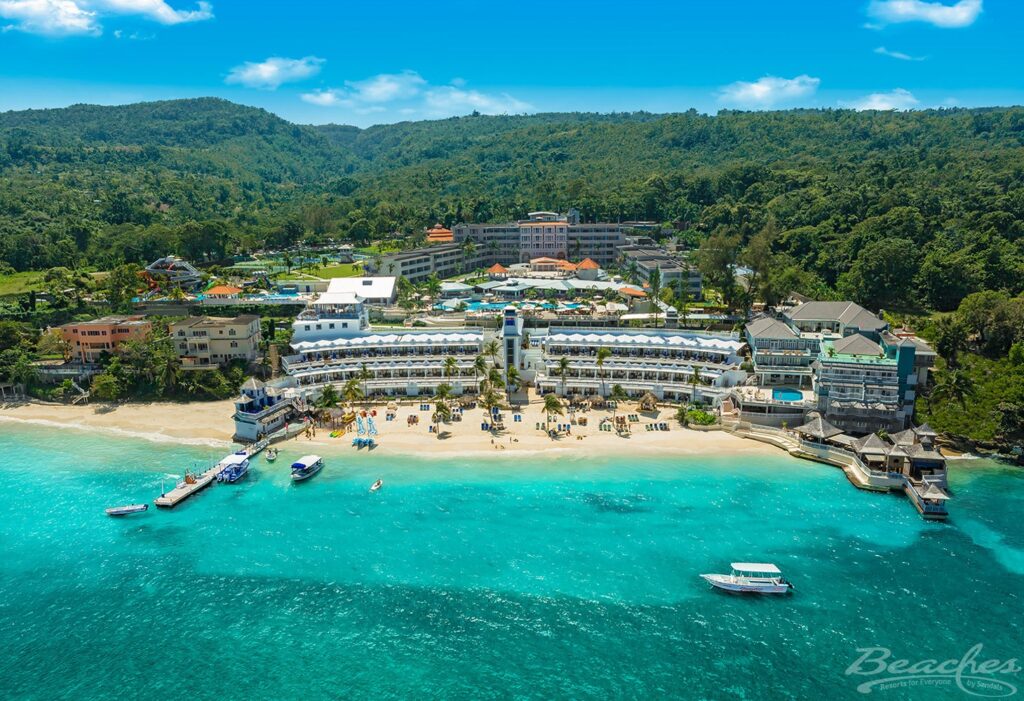 Where Is It Located
Ocho Rios is a popular resort town nestled on the north coast of Jamaica. If you spend around half an hour behind the wheel from downtown Ocho Rios, you will reach Beaches Ocho Rios. Accessible via the Old Main Road, it's a go-to all-inclusive Jamaica family vacation resort set on lush 22 acres of land.
What It Offers
Beaches Ocho Rios has something for everyone. After all, it's got verdant tropical gardens and its own private beach gifted with powdery sands and pristine waters. On top of these (and besides the inclusions mentioned in the previous section), it has 2 whirlpools and 5 freshwater pools — one of which is a dedicated scuba practice pool.
Though their waterpark lacks a lazy river (present in Beaches Negril), it has 11 waterslides to have fun in. Additionally, it has water cannons and a treasure chest to boot.
You and your family can also enjoy 5-star gourmet dining at 7 restaurants. Adults will get up to 6 choices for bars (including swim-up ones). If any of you is a golf enthusiast, the resort offers roundtrip shuttles to Sandals Golf & Country Club. The 18-hole golf course is set on the magnificent Ocho Rios hills and offers beautiful vistas of the sea and the mountains.
If you want to get married in this place, one delightful feature is its over-the-water gazebo. It's the only Beaches property that has this amenity. 
There are three villages with over 220 rooms on the cliff-located resort: the Beachfront Greek village (complete with a wooden boardwalk), Oceanfront French Village, and the Caribbean Village (located in the back and on a higher level, thus providing you with unparalleled views).
Price
Adults: Starting from $260 (USD) pp/pn
Children: Starting from $45 (USD) pp/pn
Best Things To Do For Families In Ocho Rios
The northern town of Ocho Rios isn't just home to one of the best all-inclusive family resorts in Jamaica. You can enjoy different excursion options, but the most in-demand among vacationers is the trip to the stunning Dunn's River Falls and the alluring Blue Hole. Though you can enjoy many aquatic adventures, you can also go on an ATV tour of the area or hike through the Mystic Mountain.
Jamaica Best Resorts For Families: Beaches Negril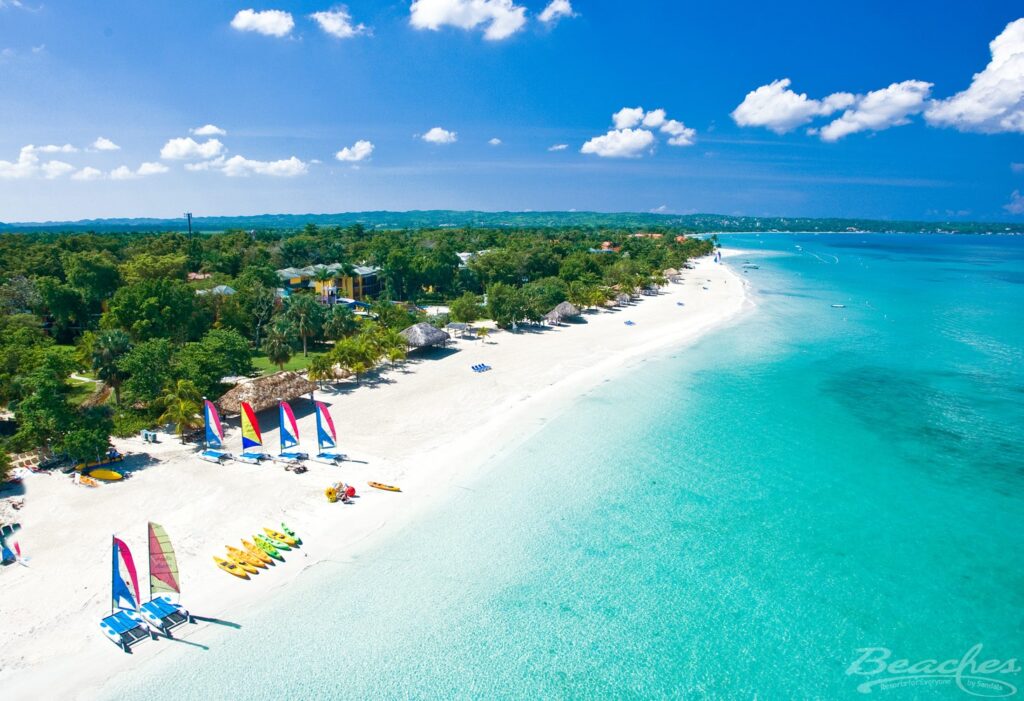 Where Is It Located
Compared to Beaches Ocho Rios, a two-hour drive from the airport in Montego Bay (Jamaica's capital), Beaches Negril is slightly nearer as it's a one-hour-and-20-minute drive away from the said transport hub. The resort is strategically set along the widest stretch of the popular Seven Mile Beach. It's on the island's west coast, so you and your family will get memorable sunsets.
What It Offers
Though it's the smallest Beaches property (around 20 acres), Beaches Negril is still one of the best resorts in Jamaica for families with kids. 
You get premium access to Seven Mile Beach and the resort's 3 freshwater pools and 3 whirlpools. Its waterpark also has better amenities: Apart from the abovementioned lazy river, you have a swim-up bar, an ice cream machine, a beach grill, and even pop-up jets.
You also have 10 gourmet dining and 7 bar choices. You can also enjoy a golf game with their mini-golf course or sweat it off at any of their two tennis courts.
While it doesn't have an idyllic above-water gazebo, you can tie the knot by the beach under the beautiful Jamaican sunset.
It has over 180 rooms across three villages: the Island Village (found behind the waterpark), Reggaeville (situated between the waterpark and the resort's main pool), and Calypso Cove (located further from the pool and waterpark). However, unlike the one in Ocho Rios, BEACHES Negril has butler-class service in top-tier rooms.
Price
Adults: Starting from $366 (USD) pp/pn
Children: Starting from $45 (USD) pp/pn
Best Things To Do For Families In Negril
If you're looking for Jamaica best resorts for families, look no further than the one set along one of the best beaches in the world. But apart from Seven Mile Beach, you and your loved ones can take advantage of the gorgeous sunset by booking a catamaran cruise. If you want to swim with friendly dolphins, it's worth taking a trip to Lucea. Other popular tourist spots include the Royal Palm Reserve, The Caves, and Mayfield Falls.