A tropical paradise at its finest, the Bahamas is a classic Caribbean destination. It's composed of 700 islands and cays and abounds with amazing beaches. There's plenty to admire and things to do in the Bahamas. We've rounded up 21 of them in this ultimate travel guide.
5 Useful Travel Tips For First Timers In The Bahamas
We'll make planning your debut trip easier with these top Bahamas travel tips.
Go when the weather is fine
The hurricane season here kicks off in June and lasts through November. Though you can still take advantage of the off-season's low prices and less crowded spaces, check local weather reports.
Ready your vacation money
The main currency here is the Bahamian dollar. But since it's equivalent to one US dollar, most establishments also accept the US currency. Expect, however, to receive Bahamian dollars for your change. If you want to exchange notes, banks are open Mondays through Thursdays from 9:30 a.m. to 3 p.m.
Take note of their laid-back kind of living
A generally relaxed atmosphere is one of the best reasons vacationers choose the Bahamas as their Caribbean destination. But the downside is that locals may not be as prompt as you'd expect. Guided tours may start late, and restaurant staff may be slow to serve dishes.
Plan your itinerary well
Taking the previous tip into account, it's essential to have a planned itinerary before going on your Bahamas holiday. Doing this is vital, especially if you're taking flights or a ferry to another island (e.g., from Nassau to Exuma).
Know that they follow a right-hand drive system
If you're renting cars, this is a must-know tip. But if you don't want to trouble yourself adjusting to this system, you can take alternative transportation options like buses and taxis. When hailing taxis, make sure not to choose unmarked, unlicensed ones.
21 Things To Do In The Bahamas For Every Type Of Traveler
Are you a solo traveler? Traveling with the love of your life? Or are you bringing the whole family? Here are the 21 best things to do in Bahamas.
Fun Things To Do For Solo Travelers In The Bahamas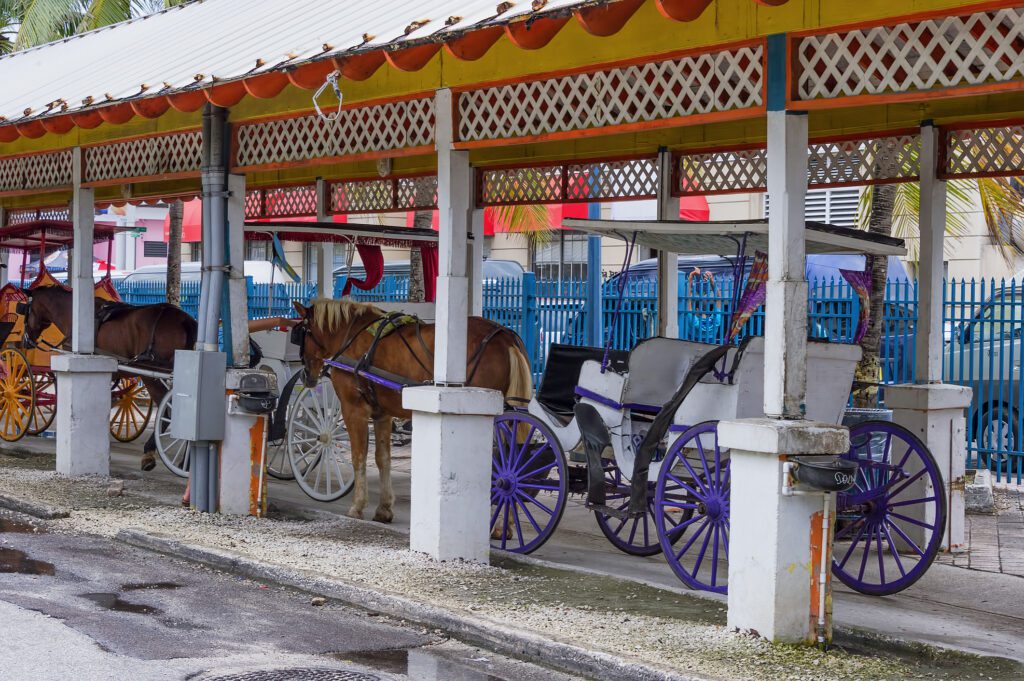 1. Soak up the sun at Cable Beach
Cable Beach, located six miles off the western part of Downtown Nassau, is one of the best beaches in the Bahamas for all the right reasons. It's conveniently accessible and offers two miles of powdery sands — plus, amenities run aplenty here. You can rent chairs, umbrellas, and water sports equipment.
2. Explore Downtown Nassau on a bike
If you want to leisurely get around this historic part of the island country's capital, go on a bike tour that lets you explore many important tourist spots. These include the Queen's Staircase, Bahamas Heritage Museum, National Art Gallery, and Fort Fincastle.
3. Shop at the Nassau Straw Market
Patronize local arts and crafts and shop at The Nassau Straw Market. Considered one of the biggest open-air markets on the island, the market is best explored during weekdays as it attracts lots of people — tourists and locals alike — on weekends.
4. Get friendly with Caribbean flamingos at Ardastra Center
Nestled at the heart of Nassau, the Ardastra Center boasts a lush tropical hideaway. It's home to various native species of flora and fauna — including the famous Caribbean flamingo.
5. Dive into the Tongue of the Ocean
Make your solo Caribbean adventure more thrilling by diving into the so-called Tongue of the Ocean. This ocean trench is found between New Providence Island (where Nassau is found) and Andros Island.
6. Enjoy the festivities of Junkanoo
Junkanoo is the national festival of the Bahamian people. It takes place every Boxing Day and New Year's Day. But if you're traveling in June, they also hold a mini-festival that's still fun to attend.
7. Take a Bahamian food tour
No Bahamas holiday would be truly satisfying if you don't indulge in their savory local cuisine. So if you're traveling solo and don't mind spending a lot of time tasting their dishes, add a Bahamian food tour to your to-do notes.
Romantic Destinations and Activities In The Bahamas For Couples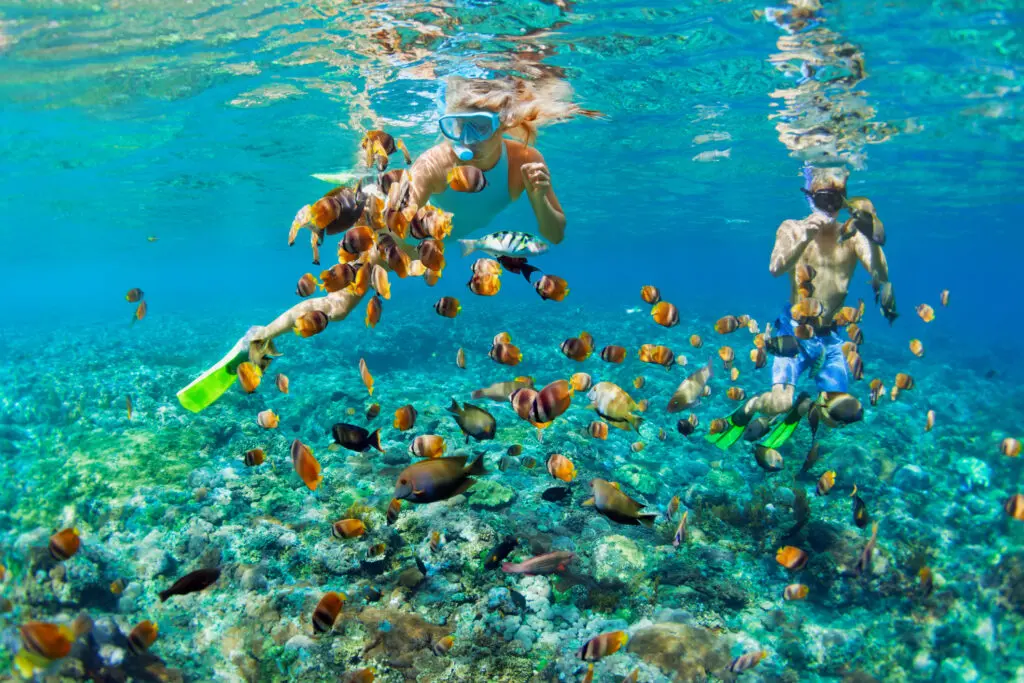 8. Relax at Pink Sands Beach
This unique beach on Harbour Island is as romantic and enchanting as it sounds. Dip your toes into its pink-tinged sands and swim on its azure, gentle waters.
9. Take a trip to a private island
The Bahamas is a Caribbean beauty sitting on a land area of 5,400 square miles. As it's bountifully gifted with postcard-worthy views, it tends to attract too many tourists. Enjoy a quiet, romantic getaway by visiting an uninhabited island. Consider booking your accommodation at Sandals Royal Bahamian Spa Resort & Offshore Island, the only resort with a private island in Nassau.
10. Kayak or snorkel at Exumas Cays Land and Sea Park
This land and sea park offers 176 square miles of fun. You can kayak or explore its underwater world and meet tropical fish and coral life.
11. Be mesmerized by Thunderball Grotto
A location of two James Bond films, this underwater cave system is a place to visit if you want to get away from the crowd at the abovementioned park. You can snorkel, explore its formations, and discover hidden entrances leading to stunning views.
12. Visit Clifton Heritage National Park's underwater sculpture garden
Want to see something surreal with your partner? Don't miss out on this unique underwater attraction, located on the western part of New Providence Island.
13. Go on a catamaran cruise
You'll never go wrong when you add a sunset cruise to your Bahamas holiday itinerary with your beau. See the island's beauty as the sinking sun casts a golden glow on its crystal-clear waters and lush greenery.
14. Spend quality time at Versailles Gardens
This multi-terraced garden is lush with foliage. Mixing European influences with the Bahamian tropical vibe, just strolling around here offers a breath of fresh air if your itinerary is filled with water-centric activities.
Things To Do In Bahamas During Your Family Vacation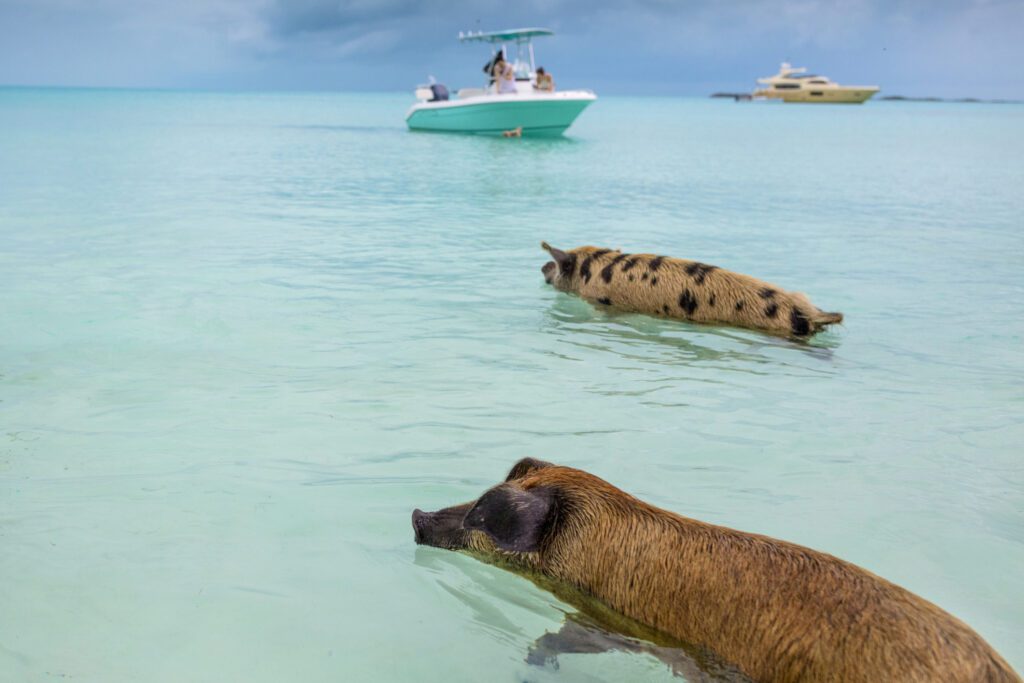 15. Learn about pirates at the Pirate Museum
In the 17th century, pirates once inhabited Nassau. This museum is a well-designed space where you can take a peek into the lives of these pirates.
16. Visit Gold Rock Beach
If you and your kids still want to go on a Pirates of the Caribbean-like adventure, visit no other than Gold Rock Beach, where the popular movie franchise was filmed.
17. Swim with pigs at Pig Island
Add a unique twist to your typical beach day. If you want to swim in the Bahamas' crystal-clear waters with your family, why not do it with the island's pigs?
18. Have a special encounter with dolphins at Blue Lagoon Island
If you're all more into dolphins, make your Bahamas family vacation extra interesting by taking a day trip to this island. Here, you can meet these mammals and even get a chance to propel through the waters, courtesy of their snouts. You can also snorkel, water bike, and ride on a kayak.
19. Have fun at Aquaventure Water Park
Offering a Disney-like vibe, this water park has many attractions that are sure to capture your and your kids' hearts. Plunge into the water via Mayan pyramid-themed slides or go through an underwater tunnel and say hello to sharks.
20. Book a fishing tour at Andros Island
If your family members are certified seafood lovers, it's a must to book a trip to the largest island in the Bahamas. Andros is known for its bounty of fish, and you can go on deep-sea and fly-fish tours here. After spending time on the water, don't forget to check out their local delicacy: land-crab dishes.
21. Go on a jeep safari
Take a break from your water-themed explorations and appreciate the island's charm on land. One of the things to do in Bahamas when you're with your loved ones is to go on a Jeep safari tour. Spread those arms wide and feel the refreshing breeze of this tropical gem.