Planning a perfect holiday, wedding, or honeymoon takes a lot of work. If you do not have the time to take care of all the details, there are all-inclusive resorts that are more than willing to take care of everything for you. One such popular brand is Sandals. However, if you're an adult working hard to earn money, are Sandals Resorts worth it?
5 Reasons Why Sandals Resorts Are Worth The Cost
When it comes to a Caribbean holiday for couples, a Caribbean wedding, or a Caribbean honeymoon, Sandals Resorts are always on top of the list and reviews. Because the cost of staying at Sandals Resorts sounds high, many ask, "Are Sandals Resorts worth it?"
While the bills may initially seem a splurge, the benefits and value of the all-inclusive, stress-free experience are really, really worth it. Here are seven reasons why.
1. Beautiful Locations
The Sandals Resorts have been a household name for people looking to have an unforgettable Caribbean getaway. It has been leading the all-inclusive resort offering in the region since the 1980s. As of 2023, Sandals Resorts have 17 properties in the following locations:
While Sandals is undeniably a big brand in Caribbean tourism, you will not feel that they take shortcuts or a cookie-cutter approach to offering a memorable vacation for couples who want to get away from the everyday hustle and bustle or for those who want to have a Caribbean wedding or honeymoon.
2. All-Inclusive Experience
What makes your stay at Sandals Resorts worth it is this. The all-inclusive experience. It makes sense from whatever perspective you look at it.
Sandals cover all the bases when it comes to a Caribbean holiday or life event.
Guests are VIPs from the moment you inquire, book your stay, and arrive at the resort. It will always be a stress-free experience with Sandals. They provide roundtrip airport transfers, give you a personal butler in top-tier suites, and have a fast internet connection in their resorts. You also don't have to worry about taxes and tips when you stay with them.
Aside from the picture-perfect backdrops of the Caribbean waters and landscapes, Sandals Resorts treat you to a 5-star gourmet dining experience. They have up to 16 restaurants per resort they own and operate. These restaurants serve breakfast, lunch, dinner, and snacks. There are also enough bars to have a great time with your partner or friends.
In terms of activities, you will not run out of choices at Sandals Resorts. There are myriad water sports you can try. From scuba diving, snorkeling, kayaking, paddle boarding, and more. You can also play golf, basketball, beach volleyball, or pool. Their fitness centers are also complete with state-of-the-art equipment.
They also have live shows to entertain guests, plus you can also enjoy private offshore island getaways at specific locations.
Are sandals resorts worth it? With what's included when you stay at a Sandals Resort, it is worth every penny. You will not have to worry about hidden fees.
3. Romantic Ambiance
The Sandals Resorts have been specifically designed for an all-adult experience. From the architecture, and holiday inclusions, to the different experiences, they all please the senses with a good dose of intimate ambiance.
This is why Sandals Resorts are also among the top choice for destination weddings and honeymoons.
Weddings at Sandals Resorts
Sandals Resorts offer guests a free wedding if you decide to stay with them for at least three nights. This already includes wedding essentials so you, your partner, and your closest friends can promise forever to each other. They also have all-inclusive wedding packages that fits different budgets and styles. They have the perfect wedding venues, including overwater bungalows at certain properties, with the pristine waters of the Caribbean as the backdrop.
Honeymoon at Sandals Resorts
Just like how they offer free weddings to guests, Sandals can also give you a free honeymoon when you book a stay at one of their resorts. This package includes welcome drinks, a special turndown service, and a breakfast-in-bed service. Plus, there are many ways to make your honeymoon uber romantic: from spa experiences, candlelight dinner to adventure tours.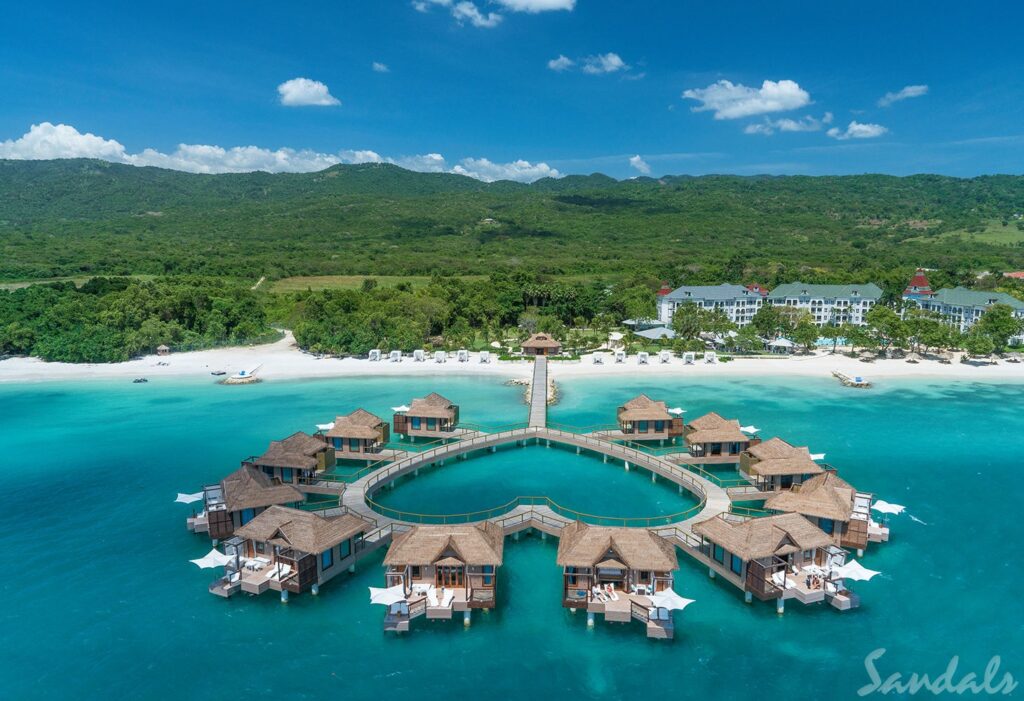 4. Luxury Accommodations
Sandals Resorts is first class through and through. The Sandals all-inclusive experience starts the moment you arrive. You will be treated to the warm Caribbean hospitality at affiliated airport lounges in specific locations or once you hop into the airport transfer.
You can never go wrong with your choice of accommodation at any Sandals Resort. Aside from spacious rooms and butler suites, they also offer private villas and over-the-water bungalows. The most affordable rooms at Sandals start at below $300 per person per night.
They have world-class facilities and amenities, but are Sandals Resorts worth it? The brand gives you another good reason to stay with them with a special perk that gives you access to all of their properties. When you visit Caribbean locations where they have multiple properties, such as Jamaica or Saint Lucia, you will be given access to hop to the other resorts they own. You'll have the good problem of where to dine in or what to do since these resorts offer different experiences.
5. Excellent Service
Sandals Resorts are known for its excellent service across the board. This is the very reason why Sandals get excellent reviews from guests. These vacationers are even willing to recommend them to other friends or members of their families.
The amazing culture of the brand shows through how the staff members are so friendly, professional, and always ready to help you with your needs or special requests. You can always tap them to help or guide you when making restaurant reservations, arranging transportation, or choosing the best activities to make the most of your stay.
How Much Do You Need To Enjoy Your Stay At Sandals Resorts?
The cost of your stay at Sandals will vary depending on the accommodation you book, the time of the year, and the activities you will do. Typically, a couple will spend between $600 to $1,200 per night for their stay. While this may sound high, note that you are in an all-inclusive resort and enjoy the perks you must pay for at other resorts.
Your Sandals Resorts wedding or honeymoon may set you back around $4,000 to $12,000 or higher, depending on the details you want to include.
If you want to make the most of your stay, Sandals Resorts have special offers and promotions all year round that can make your great Caribbean escape even more amazing. They have resort specials, service personnel offers, last minute deals, 777 deals, and more.
Conclusion
Are Sandals Resorts worth it? Yes, without a doubt.
Sandals Resorts are worth the hard-earned money for couples and adults wanting a memorable all-inclusive holiday in the Caribbean. Whether you are a couple looking to have a vacation, tie the knot, or enjoy your honeymoon, there's always an ideal Sandals all-inclusive resort you can book today to turn your dream of paradise into reality.