Jamaica is one of the biggest islands in the Great Antilles and the Caribbean. It offers several accommodation options, making it tough to choose what's best for your upcoming vacation. For an excellent all-inclusive resort experience, book your stay at the best Sandals resort in Jamaica.
With a presence in the most beautiful parts of the island, any Sandals Resorts will give you a memorable Caribbean holiday in Jamaica.
Why Go To Jamaica
A Jamaican holiday is a wish come true for anyone who wants to indulge in pure tropical greatness. It's a complete package that boasts the following:
It has great weather and even greater beaches
It offers awesome culture, rum, and food (jerk chickens, anyone?)
It is home to the reggae and dancehall music genres
It has several UNESCO World Heritage Sites
There's a wide variety of things to do in Jamaica — from swimming to rafting to hiking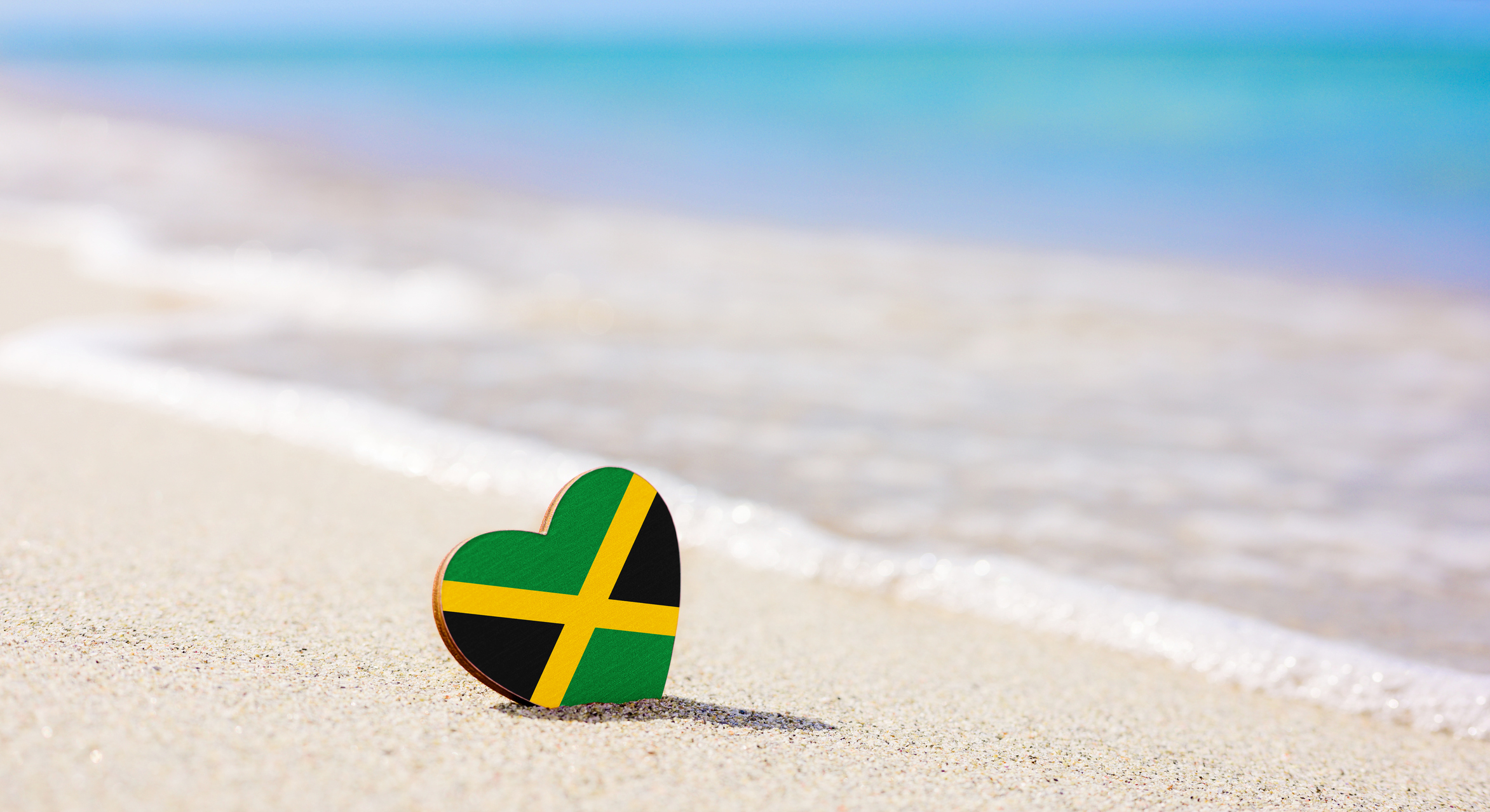 Why Stay At Sandals Resort Jamaica
Wondering where to stay in Jamaica? At Sandals Resorts, it's not only white-sand beaches that are endless. You can enjoy unlimited food and drinks. And it's not just any other hotel food and beverages — each resort offers 5-star gourmet dining and premium liquors.
Apart from access to different amenities and water activities, you can take many burdens off your shoulder with their complimentary services. They offer free WiFi, roundtrip airport transfers, and even an exclusive airport arrival lounge (if you're traveling to Jamaica).
Which Is The Best Sandals Resort In Jamaica?
Sandals' flagship and first-ever all-inclusive resort
Exclusive stretch of pristine coastline and azure waters
Free and quick access to Sandals Royal Caribbean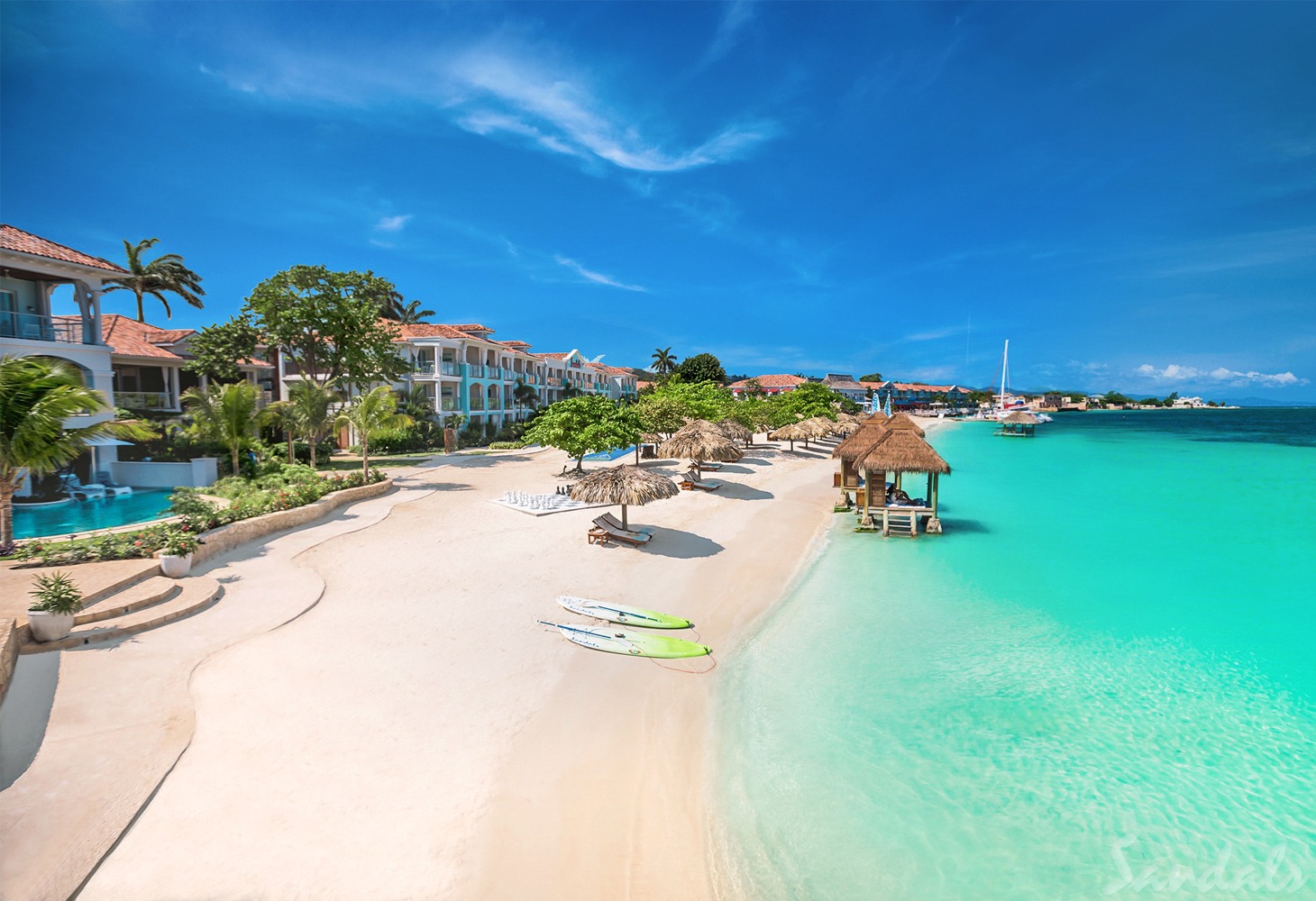 What To Expect
The redesigned Sandals Montego Bay is the nearest Sandals in the airport. Because of its strategic location, many choose this venue for their Caribbean destination wedding. Have we mentioned it has an Over-the-Water Chapel? Additionally, it has an over-the-water bar, 12 gourmet eateries, and over 260 rooms and suites (including swim-up rooms).
It's also located just 5 minutes from another Sandals resort — the Sandals Royal Caribbean, which has its own private island.
Pros and Cons
The Pros
Near the airport
Beach is exclusive to guests
Redesigned as a modern, open-concept resort
Sandals Royal Caribbean is nearby and amenities there are free to use
The Cons
Airplane noise can be bothersome
There could be jellyfish and stingrays on the beach
The pools are not as large
Room service is only for certain rooms
What Vacation Experiences It Offers
The resort that started it all is the best Sandals resort if you want a hassle-free Jamaican holiday. Optional vacation experiences include a private candlelight dinner, a catamaran cruise tour of Montego Bay, and a relaxing Red Lane Spa experience.
---
Has a private offshore island for an intimate getaway
Free and quick access to Sandals Montego Bay
Takes influences from Britain and Bali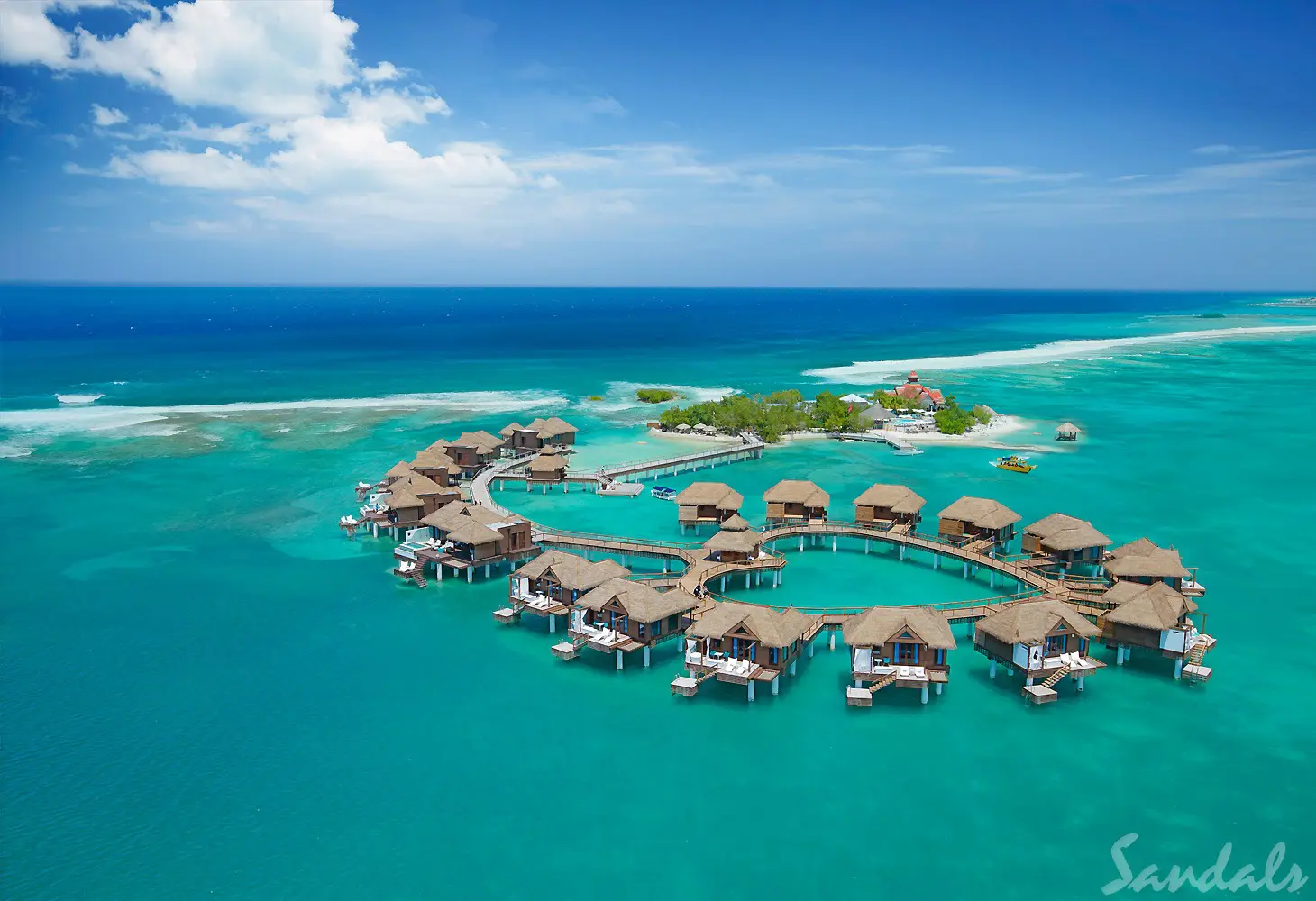 What To Expect
Though it's one of the smaller resorts on the island, a certain air of luxury and elegance surrounds the Sandals Royal Caribbean Resort & Private Island. The main resort touts British elements like the Georgian-style Great House, manicured lawns, and afternoon tea times. Its offshore island has Bali written all over it — from the beach cabanas to the pool.
Pros and Cons
The Pros
Beautiful architecture
Only Jamaican resort with a private island
Wide range of cuisines (including Caribbean, Thai, and French)
Quick drive to its sister resort, Sandals Montego Bay
The Cons
Airport and entertainment noises are some common complaints
Smaller beach area
Can be a little too quiet
Looks more dated than other Sandals resorts
What Vacation Experiences It Offers
This resort is ideal for holidayers who prefer to enjoy a more intimate time in the Caribbean. Like its bigger sister and neighboring resort, it offers an under-the-sky private dinner, a Montego Bay cruise tour, and the popular Red Lane Spa experience. 
---
The largest and most affordable Sandals resort
Has the most number of restaurants (16!)
Premier access to one of the best golf clubs in the Caribbean, Sandals Golf & Country Club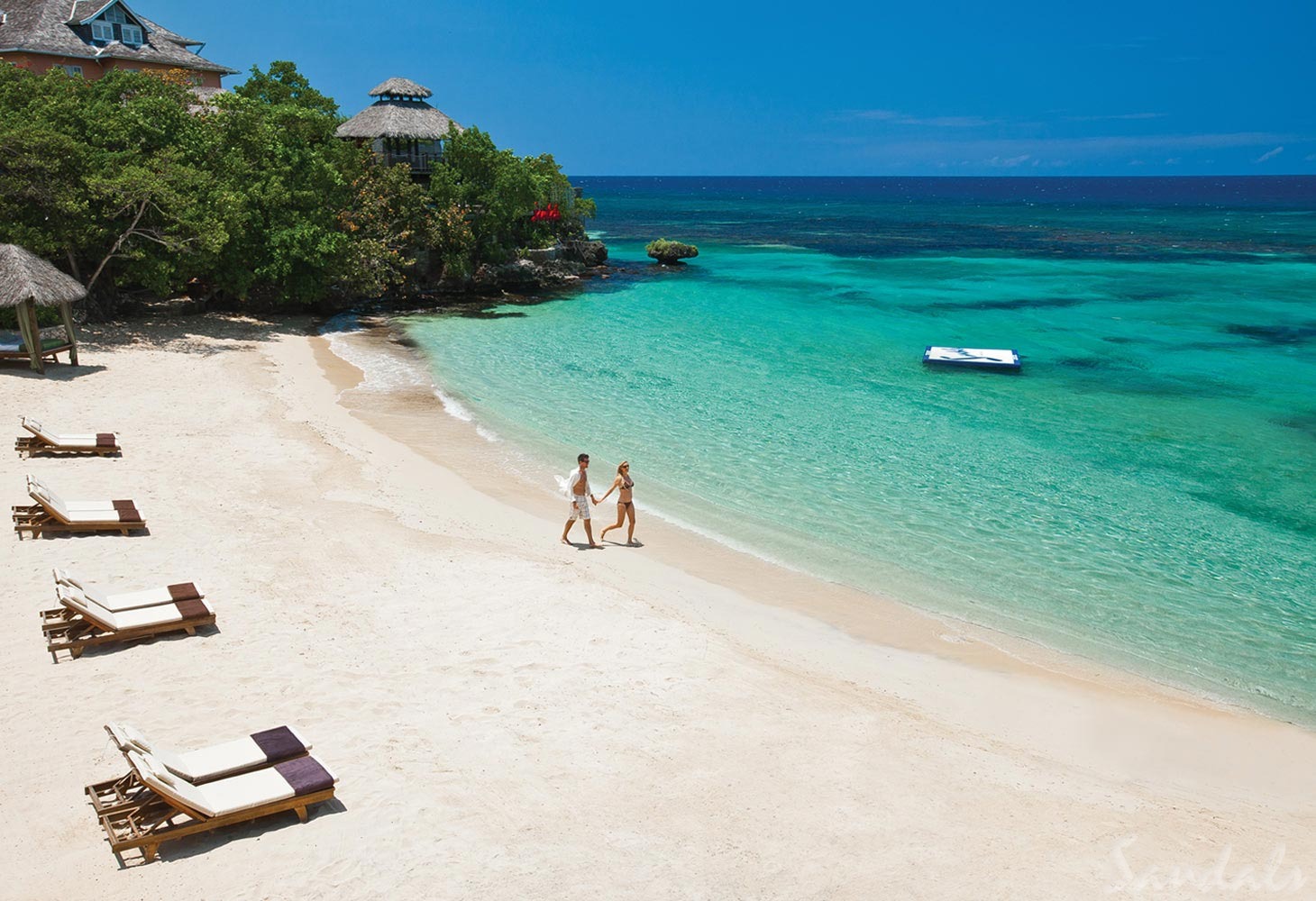 What To Expect
Can't decide if you want to have a peaceful Caribbean holiday in Jamaica or one that's full of partying? You can enjoy both worlds when you stay at Sandals Ochi Beach Resort. One side has 11 bars — including the first speakeasy in the Caribbean; on the other is a lush garden that sits on over 100 acres of land. Another great highlight is its proximity to an 18-hole golf course. 
Pros and Cons
The Pros
Budget-friendly
Green fees for the Sandals Golf & Country Club are already included in the cost of your stay
Has over 100 pools
Largest among all Sandals resorts
The Cons
Because it's the largest, it can be exhilarating to explore
Smaller beach area
Can be too lively on one side
What Vacation Experiences It Offers
For honeymooners on a budget, this is the resort to be. It has great nightlife, awesome pools, and remarkable food. You can also opt to have a private dinner (complete with candles and set under the stars), enjoy a Red Lane Spa experience, or have zip-line adventures.
---
In front of Seven Mile Beach, which is one of the best beaches in Jamaica
Boasts great snorkeling and scuba diving spots
Offers gorgeous sunset views and an overall chic, carefree Caribbean experience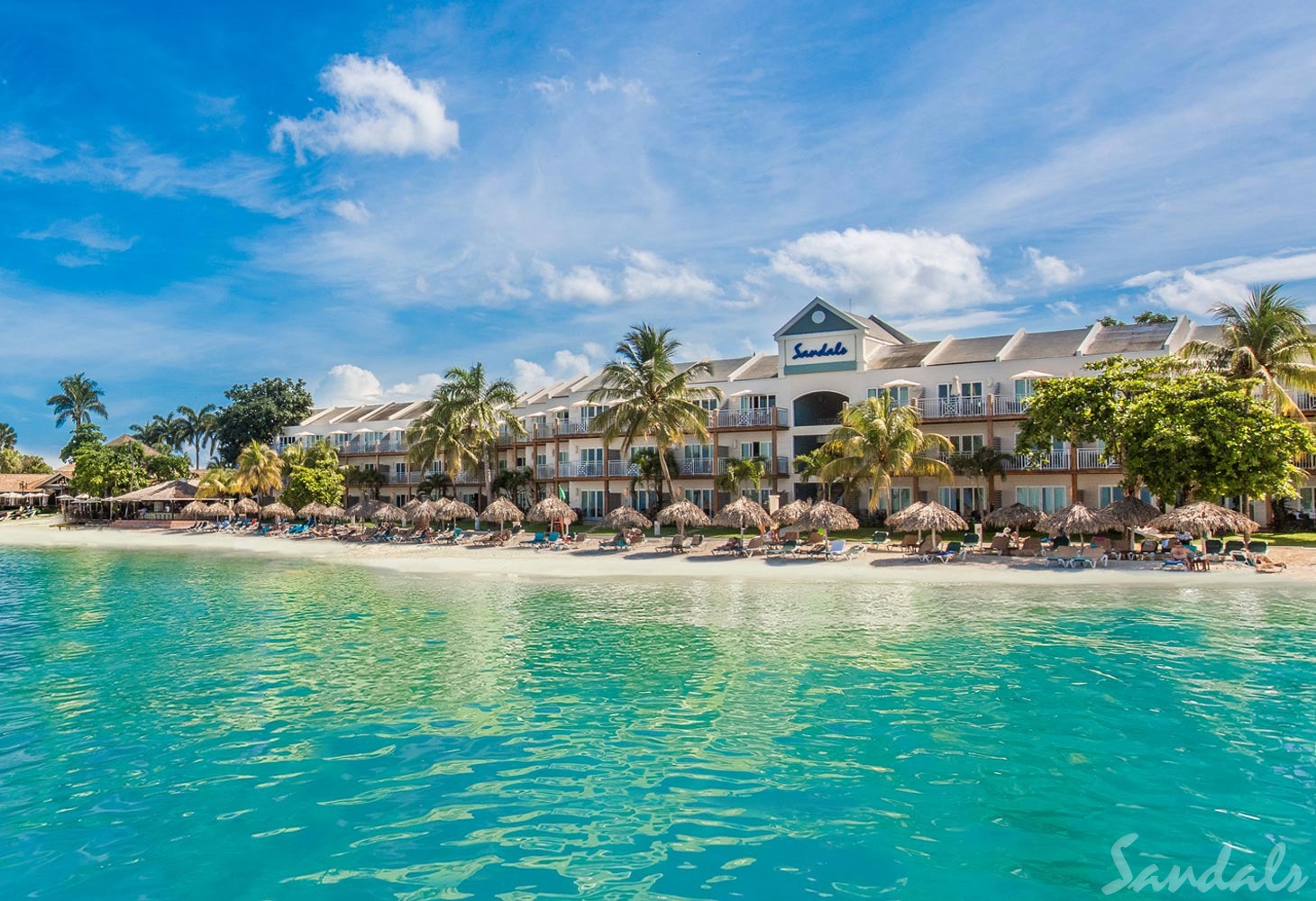 What To Expect
Want to stay in the best Sandals resort in Jamaica with the best beach? Look no further than the Sandals resort nestled in the tropical paradise of Seven Mile Beach. The Sandals Negril Beach Resort & Spa beachfront accommodation gives you the best access to fun-filled water adventures and awe-inspiring views.
Pros and Cons
The Pros
Location is ideal for beach lovers
Variety of watersports
On-land activities like horseback riding and tennis
World-class dining (has 7 gourmet restaurants)
The Cons
An overall smaller property than other resorts
Properties down the beach can be noisy at night
Non-ocean view rooms face the highway
Not as lively nightlife
What Vacation Experiences It Offers
As it's situated in front of what is called the seven-mile-long stretch of fine sands and turquoise waters, the beach experience at Sandals Negril is unparalleled. If you want to try Red Lane Spa experience or share a candlelight dinner with your beau. To get that adrenaline pumping, you can book an ATV safari tour.
---
Has over-the-water bungalows, chapel, and bar
Offers one of the largest swimming pools in all of Jamaica
World-class amenities are spread over 500 acres of land and set along 2 miles of beach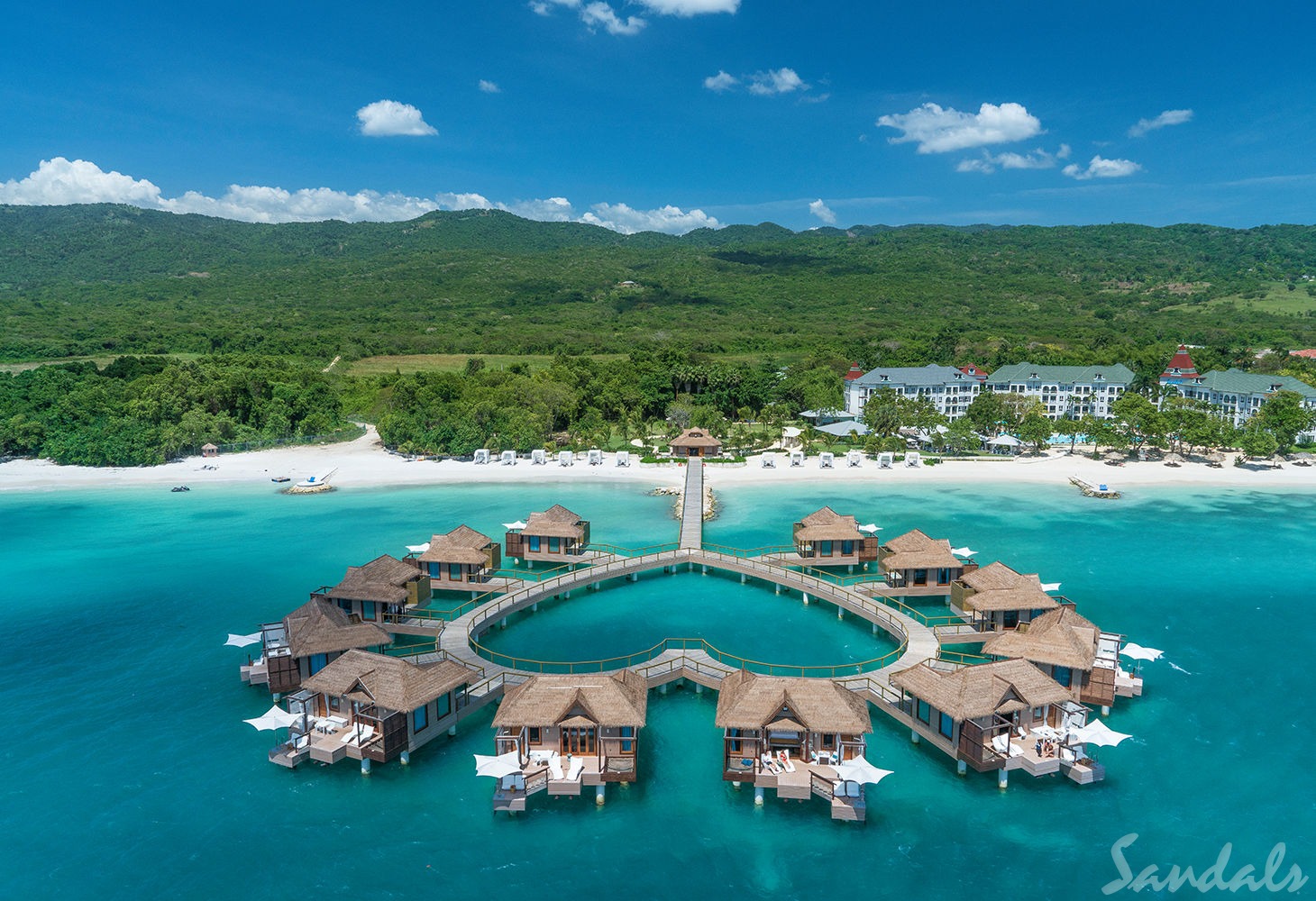 What To Expect
Sandals South Coast wouldn't be called the Sexy South Coast for nothing: It boasts a good 2 miles of mesmerizing Jamaican southern waters. It's on a vast private nature reserve, so there's plenty to do here even when you're on land. No all-inclusive resort offers tranquil seclusion as seductively as this place.
Pros and Cons
The Pros
Long stretch of private beach
Gets you closer to water with its over-the-water amenities and bungalows
European-style villages
Secluded
The Cons
Longer transfer from the airport
Exhausting to explore
The water has some mucky sand and seagrass
What Vacation Experiences It Offers
If your idea of a Jamaican holiday is spending great days living literally above the water, this resort has to be on the top of your list.  Its seclusion also makes it a great honeymoon destination. Apart from pools, restaurants, and water- and land sports, you can enjoy a candlelight dinner, a Red Lane Spa experience, or a trip to the majestic YS Falls, courtesy of the resort.
---
Acclaimed all-butler beach resort
Smallest Sandals resort: It offers 74 oceanview suits exuding retro-chic luxury
Located near Sandals Ochi and Sandals Golf & Country Club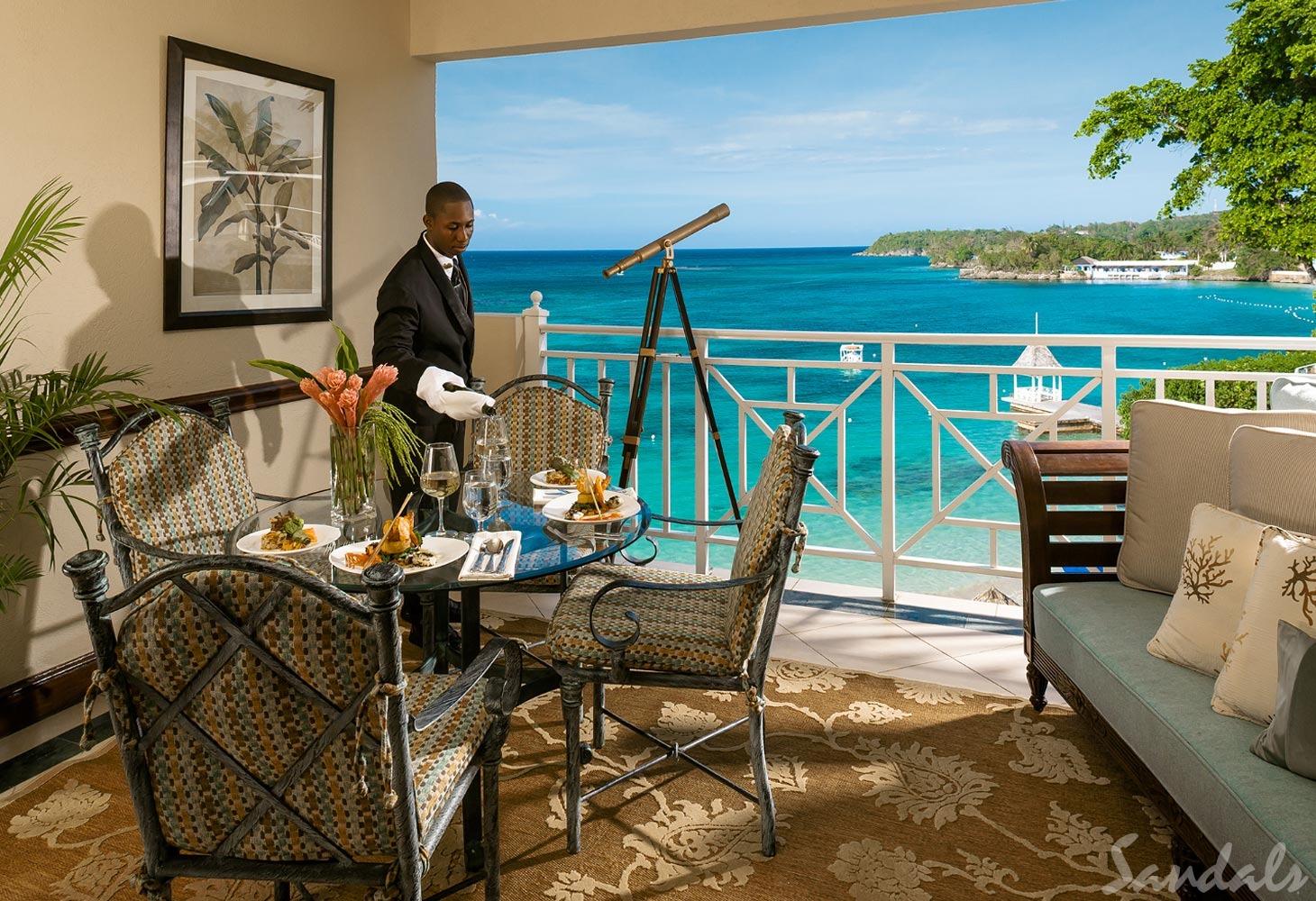 What To Expect
Sandals Royal Plantation is a top-rated resort that guarantees a worry-free stay with their stellar butler service. Its steeped-in-vintage sophistication is matched by its stunning front-row views of the Caribbean Sea. Enjoy the quiet, have a sporty escape at the Sandals Golf & Country Club, or explore more amenities at the nearby Sandals Ochi Resort.
Pros and Cons
The Pros
All-butler property
Uncrowded and intimate
Unrivaled ocean view
Quick access to other Sandals properties and Jamaican gems (like Blue Hole and Dunn's River Falls)
The Cons
Fewer dining options (though they have the only caviar & champagne bar on the island)
Fewer choices of activities
Rooms are a bit dated
What Vacation Experiences It Offers
Be treated like royalty at this all-butler resort in Ocho Rios. This is a beautiful sanctuary for tourists who want a relaxing and intimate retreat over anything else. You can experience dining under the stars and say goodbye to stress with Red Lane Spa. But if you're up for an adventure, the resort also arranges tours of the famed Dunn's River Falls. 
Best Sandals Resort In Jamaica: Conclusion
If you're looking for the best Sandals resort in Jamaica, you've got six top-rated all-inclusive resorts to choose from. With this guide, our goal is to help you decide which resort will make your dream Jamaican holiday an unforgettable reality — whether that holiday is a quiet, romantic getaway or one packed with adventures.