Sandals Resorts are one of the largest luxury resorts in the Caribbean Islands. Sandals Resorts have properties throughout the Caribbean Islands, including the Bahamas, Barbados, Antigua, Jamaica, Turks & Caicos, and Grenada. Sandals Resorts are known for its amazing all-inclusive offering. Sandals golf resorts are home to world-class events but are also welcoming to beginners. So whether you are a scratch golfer or just a beginner, Sandals golf resorts are a wonderful, fun, and worthwhile destination.
Some of these properties have carved a name for themselves in the sport of golf. They have some of the finest golf courses in the Caribbean, attracting thousands of players and tourists from all over the world. 
In this post, we are going to look at some of the top Sandals Resorts that you can pick for golfing this year. 
Best Sandals Golf Resorts
Here is our pick of top Sandals Resorts for golfing in the Caribbean: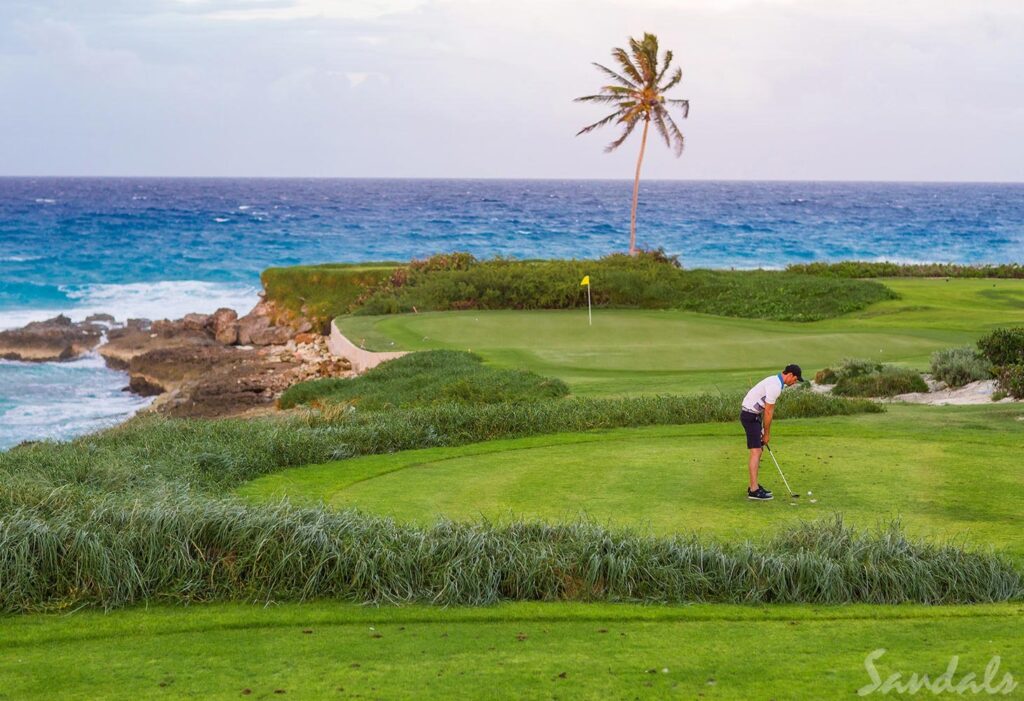 Sandals Emerald Bay is one of the prized gems of the Bahamas and is a popular destination for avid golfers. This luxury resort comes equipped with a verdant 18-course golf course designed by the Australian golfer Greg Norman. The scenic coastlines of the peninsulas elevate the beauty of this golf course. 
The golf course also offers some of the most incredible views of this island nation. All guests get two rounds of plays, while those staying in the Butler Suite can enjoy unlimited plays throughout their stay. Like Regency La Toc, this resort also offers complimentary food and drinks while you are golfing. 
---
Located in St. Lucia, this luxury resort has a dedicated 9-hole golf course on its premises so that guests can access it anytime. The Sandals Regency La Toc Golf Club is one of the premium golf courses in this region and is considered a challenging one for beginners. 
The golf course is surrounded by villa-studded hills and measures a whopping 3141 yards. The unique layout of this golf course makes it difficult to play, even for the most advanced players. Unless one has mastered their club-selection skills and sharpened their aim to laser-like accuracy, it's hard to play here.
Since the golf course is located on-site at the resort, all your food and drinks while golfing are included in your accommodation cost. If you need a refreshing change in landscape, you can get a free transfer to the nearby 18 holes, St. Lucia Golf and Country Club at Cap Estate. 
---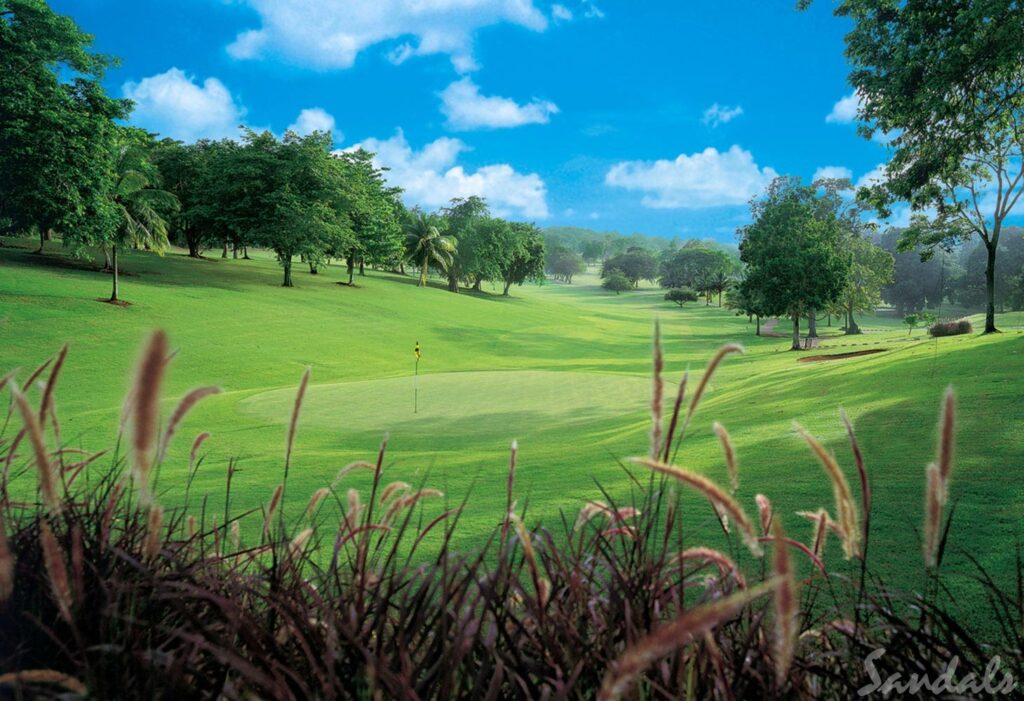 This resort is nestled in the picturesque and romantic town of Ocho Rios in Jamaica. The resort is only a stone's throw away from the Championship golf course of Sandals Golf and Country Club. 
This 18-hole golf course comes adorned with sweeping views of the majestic mountains and roaring seas. It is manicured beautifully with the help of narrow fairways that have been resurfaced with lush Bermuda grass. While at the golf course, you can access the practice range, a romantic restaurant, and a rustic snack shack for a time when you are not playing an actual game.
---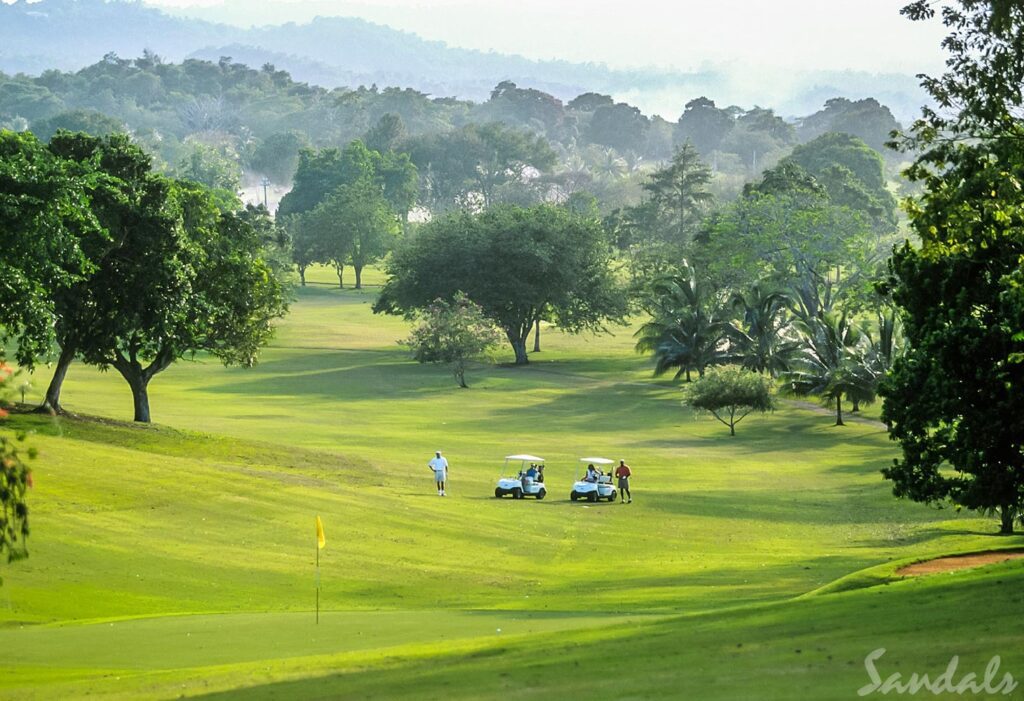 This 5-star beach resort is located on the vibrant island of Jamaica. You can either spend your days lazing around the large pool or tee off at the nearby Sandals Golf and Country Club. Golf Digest, the worldwide golf authority, gave this Par-71 course a 4-star rating, which is one of the best ratings a golf course can get. 
This only-adult all-butler luxury resort has 74 ocean view suites that let you relax looking at the vast ocean in front of you after a long game at the golf course.
All guests in the resort get a complimentary transfer to and from the golf resort. When you book a stay at this resort, your green fees for accessing the golf course are included.
---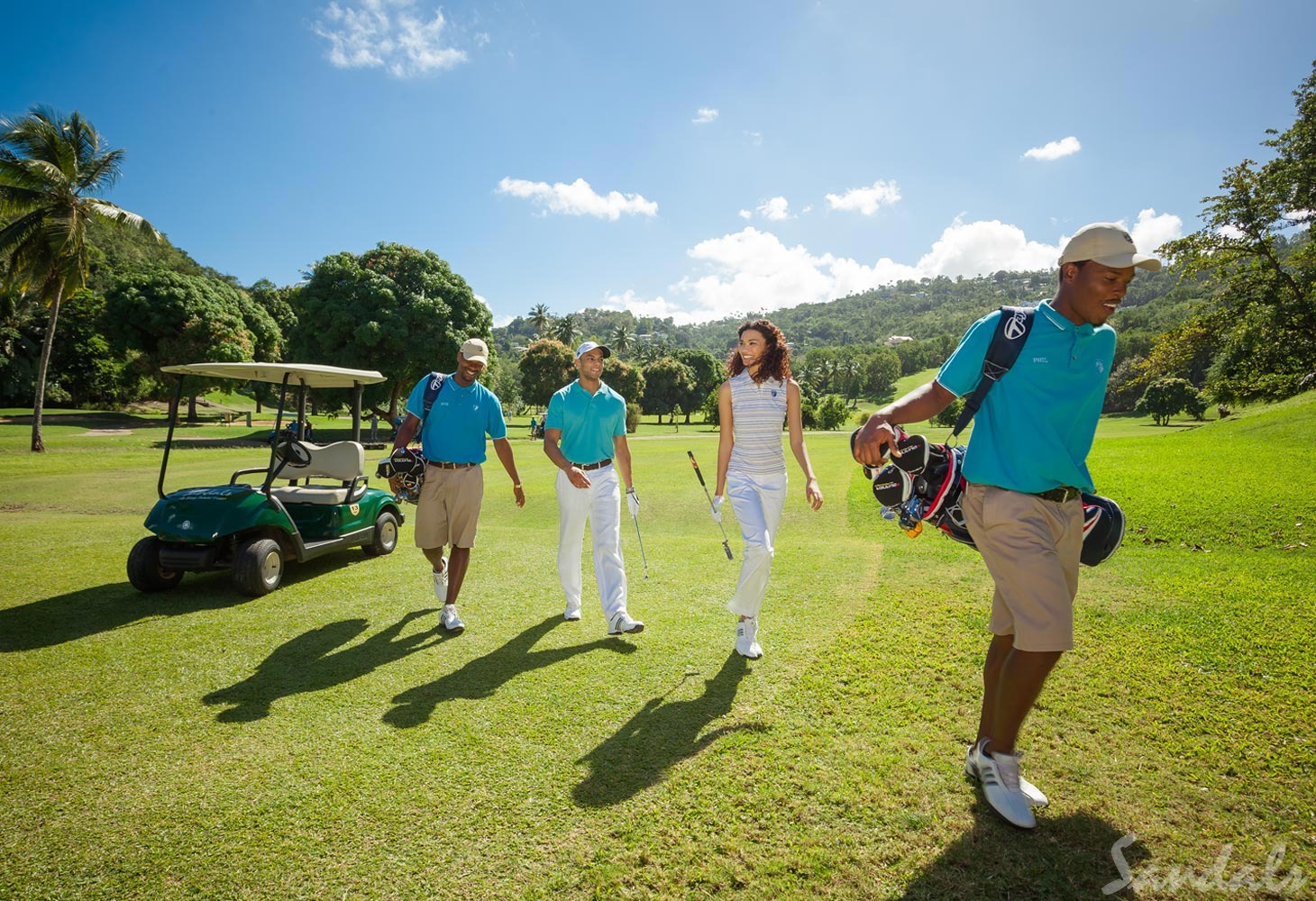 If you are looking for an all-inclusive resort that exudes 'Caribbeanness,' your search will end with Sandals Halcyon Beach resort in St. Lucia. The resort is decked with 3 swimming pools (including 2 swim-up bars), a well-equipped fitness centre, and magnificent beach-facing rooms. 
The most noteworthy feature of this resort is the Beachfront Honeymoon Butler Suite, a spectacular private deck with your own plunge pool. All guests can enjoy some finest local and international delicacies at six restaurants. 
And, of course, a stay at this resort entitles you to access the 9-hole La Toc golf course and the 18-hole championship golf course at the Golf and Country Club. The latter is particularly popular among professionals because the championship-caliber layout is quite challenging for players and spectators alike. 
---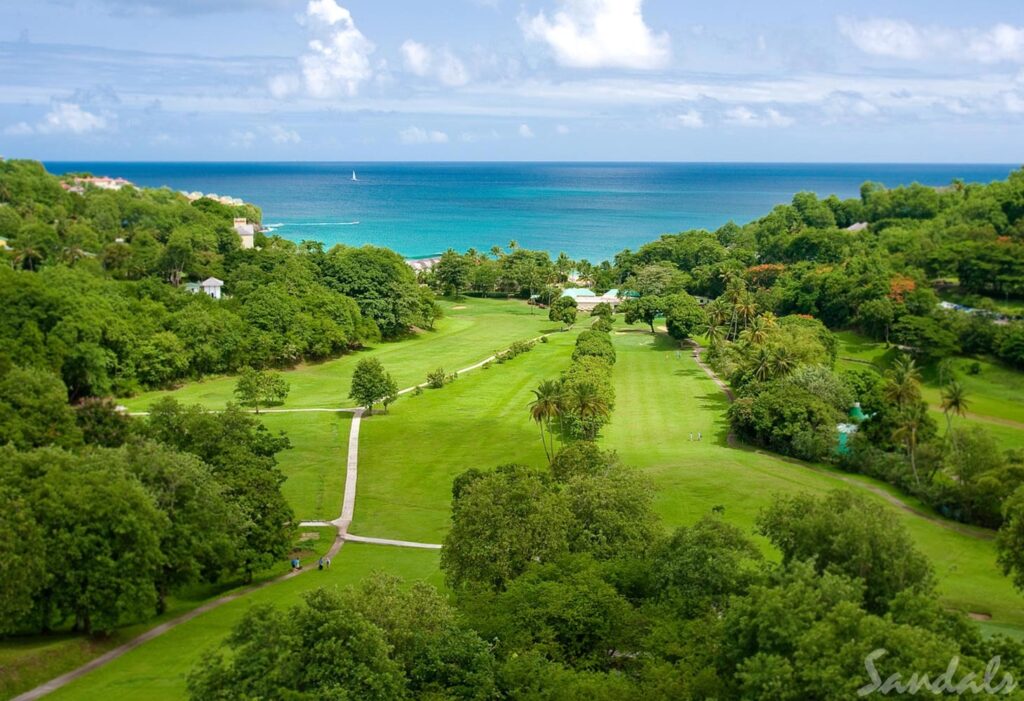 Finding this grand resort in St. Lucia is not difficult as it is located on its own peninsula. This is your final destination if you are searching for a picture-perfect vacation. The best part about this resort is the unique landscape that surrounds it. 
On one side, you have the calmest waters in all of St. Lucia. On the other side, you have the awe-inspiring Atlantic Ocean. Finally, you can witness the gigantic volcanic mountains rising beyond the clear blue seas. The resort is also a recipient of the popular 5-star Diamond Award. 
Like the other Sandals resorts in St Lucia, this resort gives you complete access to both the La Toc golf course and the golf course at the Golf and Country Club. You not only get complimentary transfers but your green fees are covered as part of your accommodation costs. 
Complimentary golf clinics are hosted every week in these courses; you can be a part of them if you stay at least for a week. Beginners and learners of golf can get golf lessons too. But you need to reserve them at an additional cost, either at the resort's gift shop or at the golf pro shop. 
---
7. Sandals Dunn's River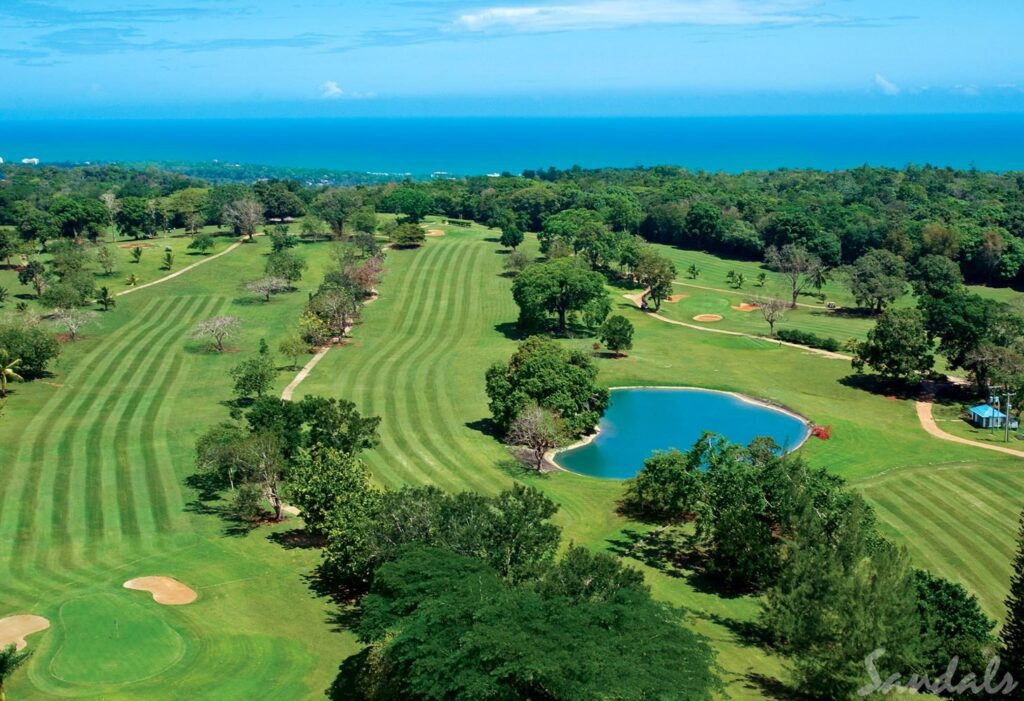 The newest kid on the block is the Dunn's River resort which is expected to be open on May 24, 2023. Though inaccessible right now, guests planning their vacation in the summer of 2023 can enjoy this breathtaking resort that's just minutes away from the alluring Dunn's River Falls. 
All the guests will be able to access the nearby Sandals Golf and Country Club golf course through a short 25-minute complimentary transfer. The club also offers private lessons for all golf enthusiasts who believe they need to fine-tune their skills. Caddies are mandatory, but their fees are not included as part of your stay.
---
Conclusion
And those are the top Sandals resorts that should be a part of your Caribbean itinerary if you love the game of golf. The group of Sandals not only owns some of the most luxurious resorts in this region but also houses some of the most challenging golf resorts in the Caribbean. 
That said, these golf courses are ideal for players of all skills. So it doesn't matter whether you play with the pros or it is the first time you are lifting a club; Sandals has something for everyone.