When it comes to a timeless slice of paradise, nothing says romance and luxury like the best all-inclusive resorts in the Caribbean.
Sun-drenched sand and lilting seas are only half the story – good food, great music, big adventures and lovers' retreats are dotted all over this enticing archipelago.
Spoilt for choice? No need to fret – here are 15 of the best all-inclusive resorts in the Caribbean.
---
Sandals Royal Plantation
Ocho Rios, Jamaica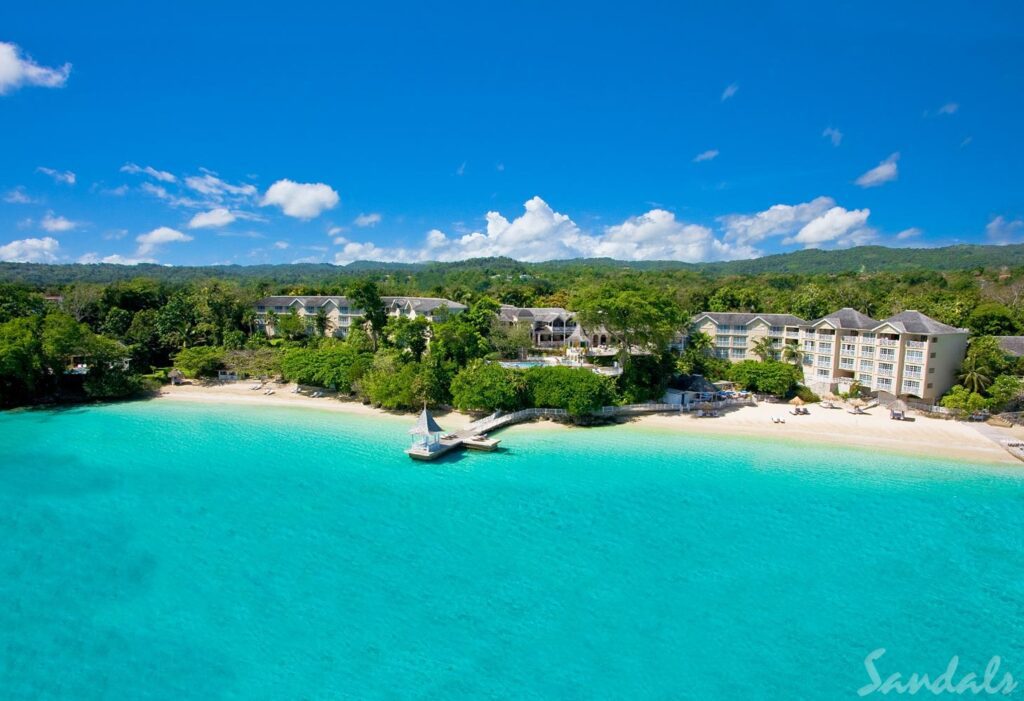 Think the Caribbean, think Jamaica – an island whose food, culture, music, and love of life have captivated the globe. Yet at Sandals Royal Plantation, close to Ocho Rios, honeymooning takes on an air of sunkissed exclusivity few destinations can match.
Being the only luxury hotel in Jamaica to offer champagne and caviar is enough to win it a place on the best all-inclusive resorts in the Caribbean alone. Yet from the perfectly manicured gardens to the attentive service and relaxing sun terrace, Sandals Royal Plantation is opulent and charismatic throughout.
Animal lovers will adore the chance to coo and fawn over the peacocks who share this little slice of heaven with you. They're as free to wander the gardens as you are and fond of strutting their stuff – can you catch the perfect photo of their finery?
Colonial architecture and stunning sea views mingle with a sedate pace of life where indulgence is key. If you get restless though, don't worry – the golf course next door is perfect for honing your swing.
---
Spice Island Beach Resort
Grenada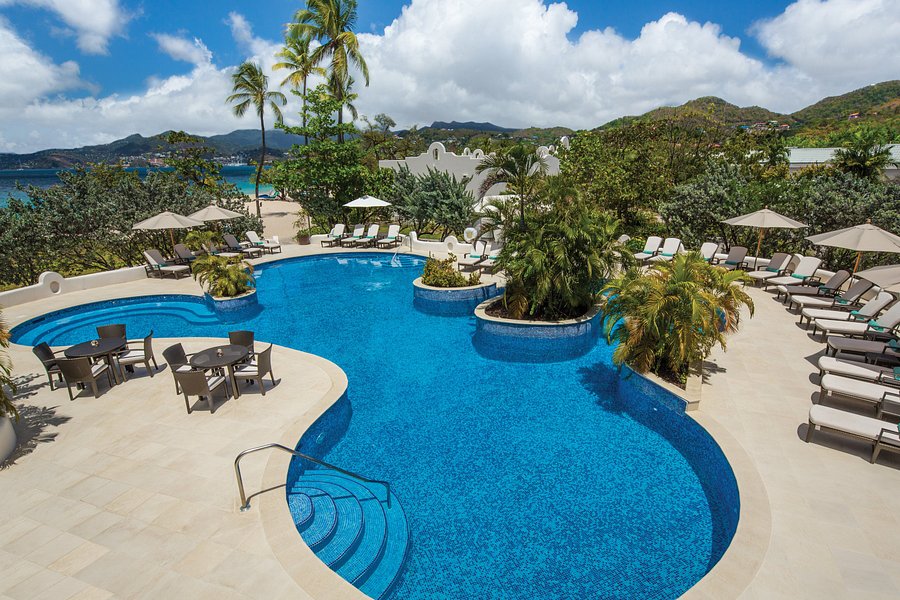 When sea views and rolling stretches of pristine shoreline are an absolute must to wake up to, look no further than Spice Island Beach Resort on Grenada.
With Grand Anse Beach begging to be explored, you'd be forgiven for leaving even one of the best all-inclusive resorts in the Caribbean behind to lounge in the sun. Yet the seclusion promised by the surrounding fruit tree groves means that Spice Island Beach Resort is a wonderfully romantic retreat.
With robes, slippers, minibar access, and a patio or balcony in each suite as standard, indulgence is a way of life here. Plus, if the onsite spa reinvigorates you to the point of restlessness, there's kayaking, diving, and tennis included in your package.
Restless one day and restful the next? That's a fine pace of life to enjoy at Spice Island Beach Resort. True to its name, don't miss the chance for a spiced rum or two at the bar either!
---
Sandals Grenada
Grenada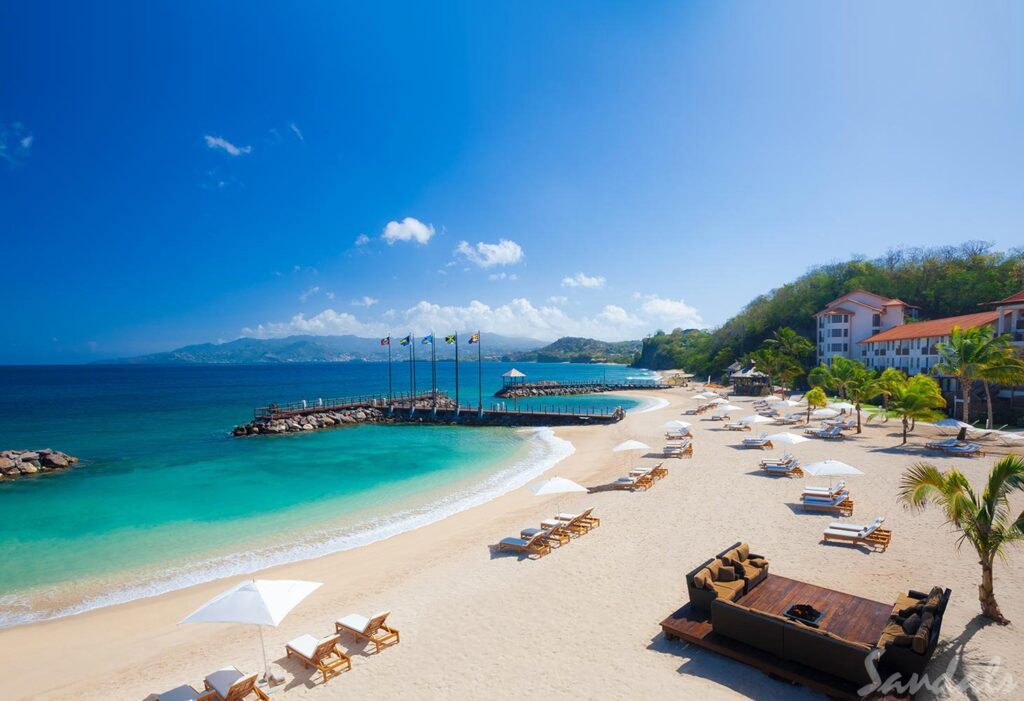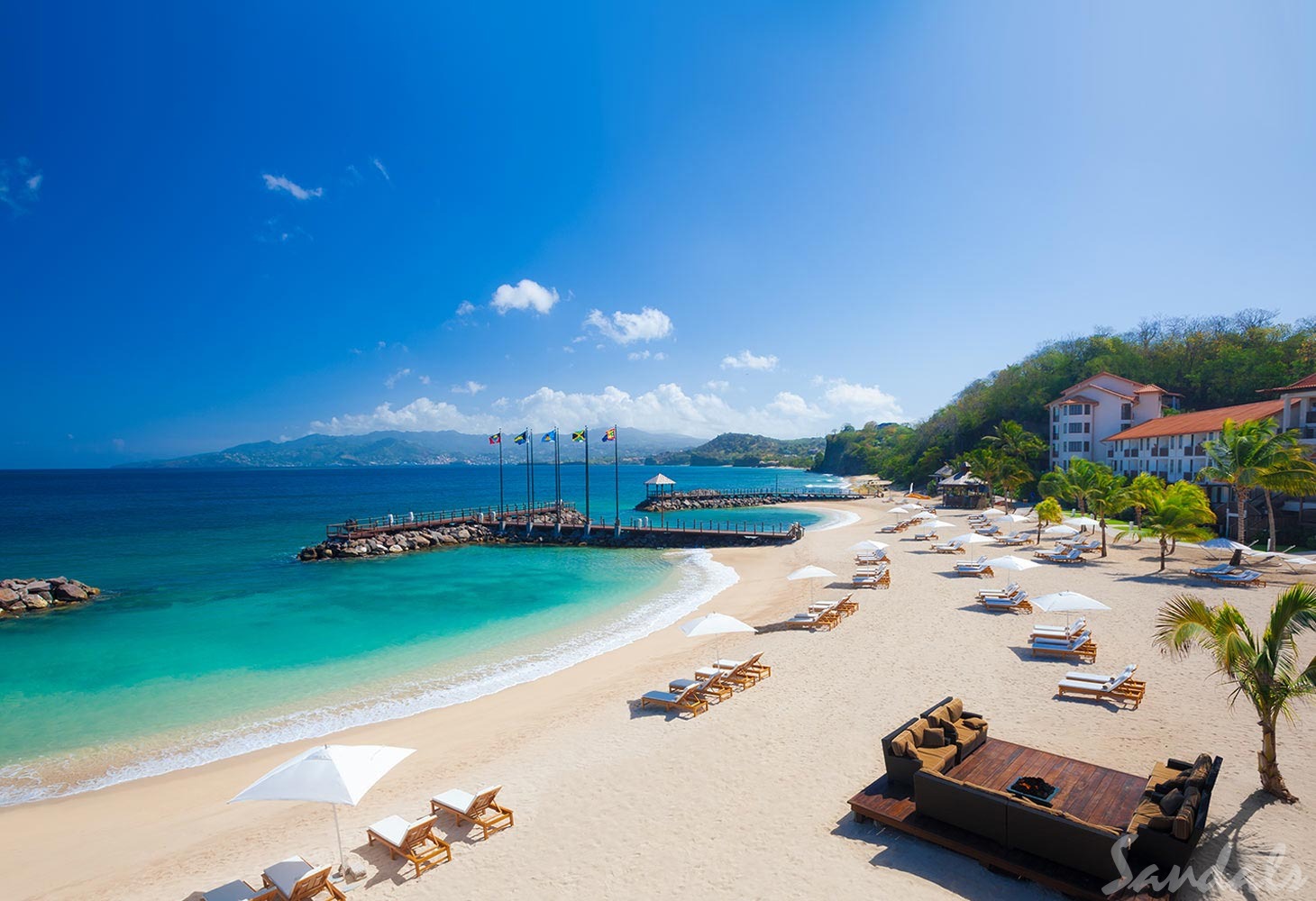 Let's not be in a hurry to leave Grenada in our rundown of the best all-inclusive resorts in the Caribbean. In fact, a stay at Sandals Grenada might be all it takes for you to never want to go home at all!
If the beach access isn't enough to appease all your water babies out there, the design of Sandals Grenada is certain to inspire you. Waterfalls and winding man-made rivers weave around pools suspended up high as if you could swim straight into the sunrise.
Palm trees and open, airy spaces complete the look, giving you a sliver of paradise all your own – romantic and secluded. If you're looking to let the whirlwind by without you as you sink into soft bedding and recline on untouched coastlines, this could just be the answer.
---
Iberostar Grand Bavaro
Punta Cana, Dominican Republic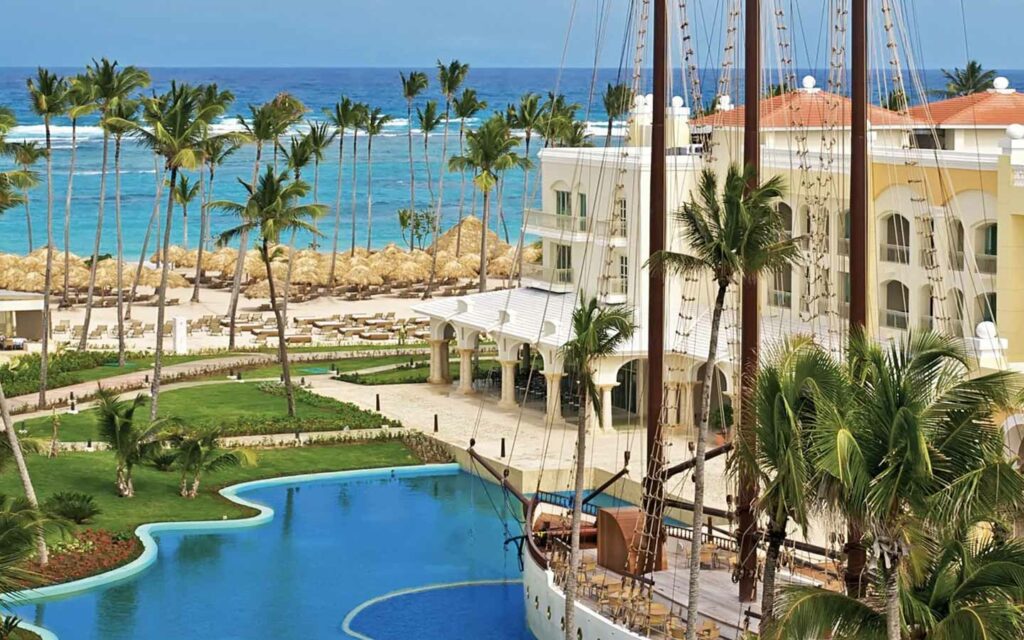 Don't overlook the Dominican Republic when seeking out the best all-inclusive resorts in the Caribbean. If you do, the wonderful Iberostar Grand Bavaro could pass you by.
While passionate Hispanic luxury is infused into every inch of this place, it's actually a wonderfully cosmopolitan retreat. Expect local cuisine to jostle for your palate's attention with Japanese and Italian meals.
This place is perfect for those of you looking to let your hair down to good music and top entertainment too, with an active nightclub onsite. Big tunes and even bigger grins are certain to see you getting your groove on well until sunrise!
Prefer your peace? Easily secured, with more discreet rooms tucked away from the hubbub too. Few of even the best all-inclusive resorts in the Caribbean can boast so much party atmosphere and laid-back living in one perfect package.
---
Boase Luxury Resort
Curacao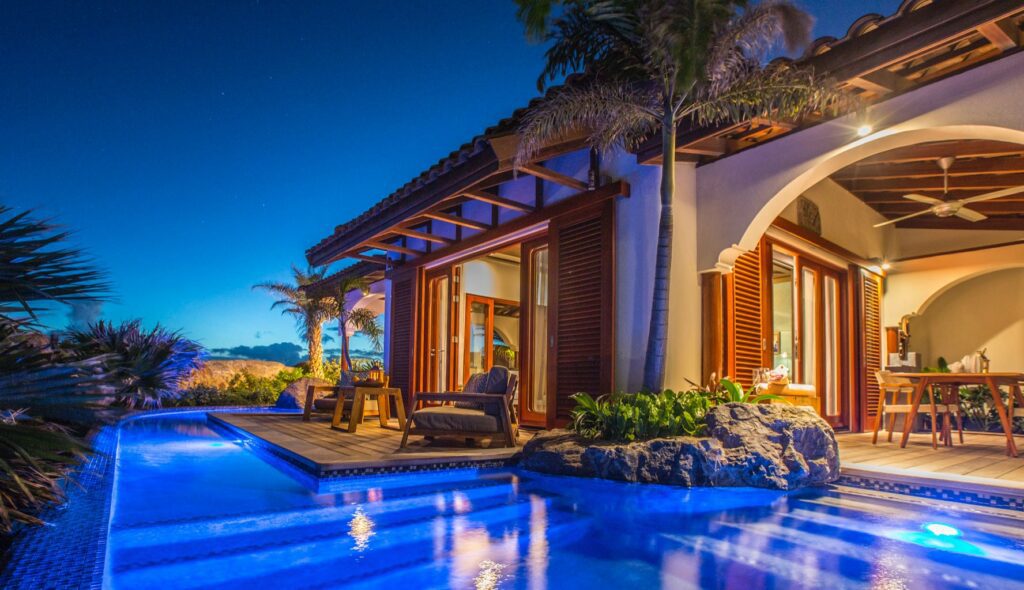 Not enough love is given to Curacao when it comes to the best all-inclusive resorts in the Caribbean – so why not play your part in correcting that trend? Sumptuous and stylish from rooftop to patio tiles, Baoase Luxury Resort near Willemstad boasts a beach all its own, far from the crowds.
In fact, beachfront views are what restaurants here specialize in, all while tingling your tastebuds with flavors from around the world. A spa day here, a dip in stunning pool water there, and you're set for some alone time with your special someone.
All this in just 23 suites still not secluded enough for you? Well, how about an afternoon out at this resort's exclusive private island? Photogenic doesn't even begin to describe the creamy sand and glistening water, quietly luring in your camera's lens.
---
Sandals Montego Bay
Montego Bay, Jamaica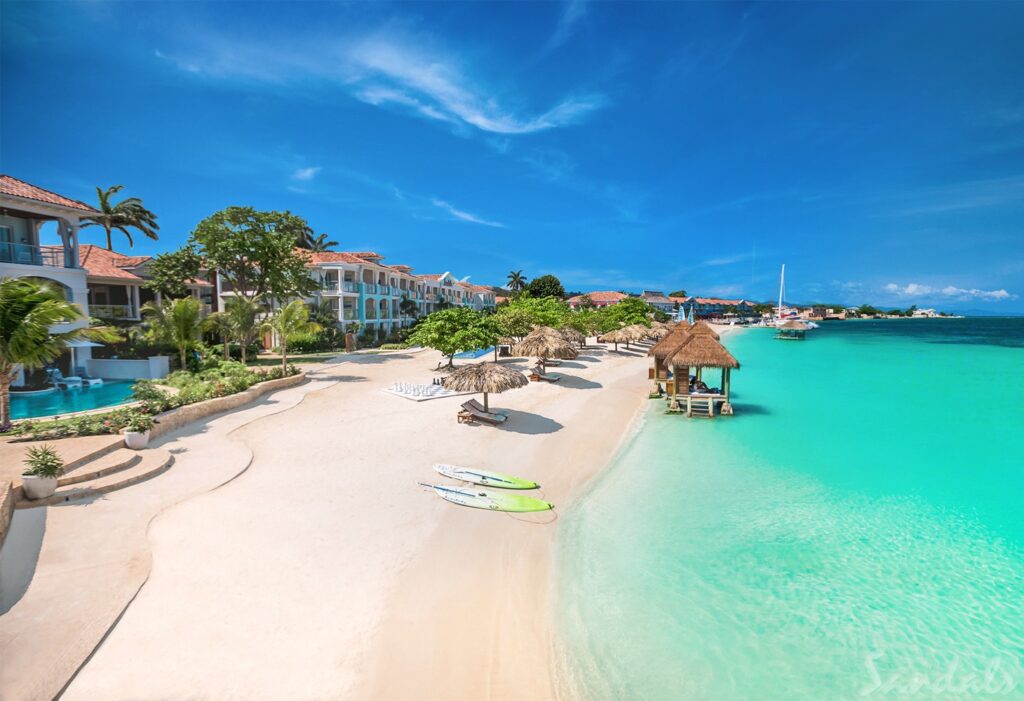 It's back to Jamaica's famous and beloved Montego Bay for this shining example among the best all inclusive resorts in the Caribbean.
Sandals Montego Bay twins shimmering seas with glistening pool water, strips of white sand splitting the two beautifully. This open-plan thinking has been applied to the whole resort, making it airy and wonderfully sunny.
There's an upbeat party atmosphere at Sandals Montego Bay for those looking to let loose – yet also plenty of nooks, snuggle spots and secluded sea view idylls to retire to when the mood takes you.
Jamaica's zest for life is well known all over the world, and you'll find that outlook in plentiful supply here. Then again, that more easygoing perspective is also positively dripping from Sandals Montego Bay too – let the stresses of the world seep away as you contemplate your next cocktail.
---
Ladera Resort
Soufriere, St. Lucia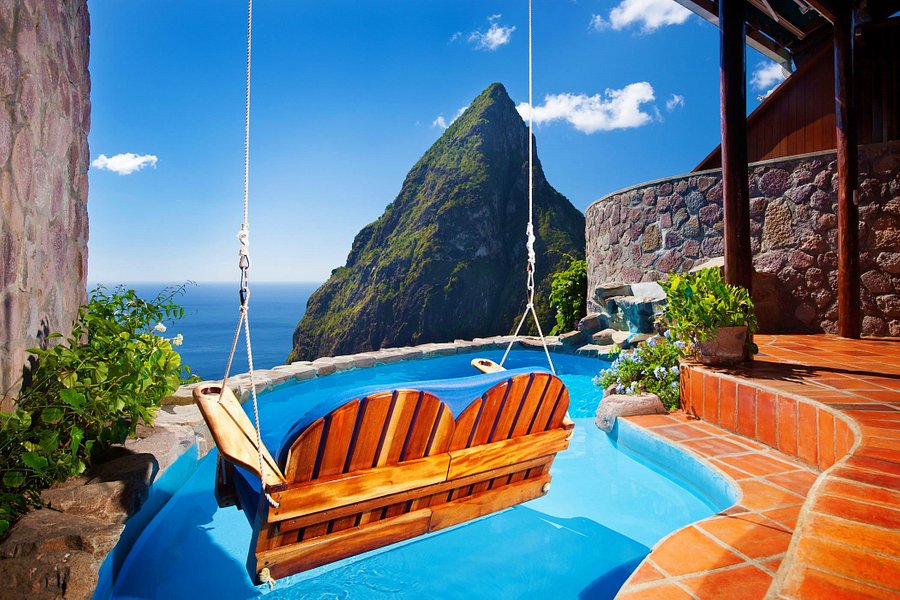 St Lucia boasts beautifully challenging landscapes, with clifftops and mountainsides that boast incredible vistas to the bold. In keeping with that, Ladera Resort is one of the best all-inclusive resorts in the Caribbean thanks to its location.
An uplifting honeymoon is one thing – a honeymoon that lifts you up to some of the Caribbean's most incredible skyscapes is quite another. Incredible terrain sprawls in slopes and lush green mountains away from Ladera Resort, which itself boasts some of St Lucia's finest dining and most exclusive activities.
Free shuttle service to Sugar Beach means you have the best of both worlds here too, with stunning shorelines just a short trip away.
That means you have the high life and the more intimate beachfront luxuries of the island, right at your fingertips. Sweep down to the beach for the afternoon, then retire to touch the clouds just in time to watch the sun setting beneath the horizon – who could ask for more?
---
Jumby Bay Island
Antigua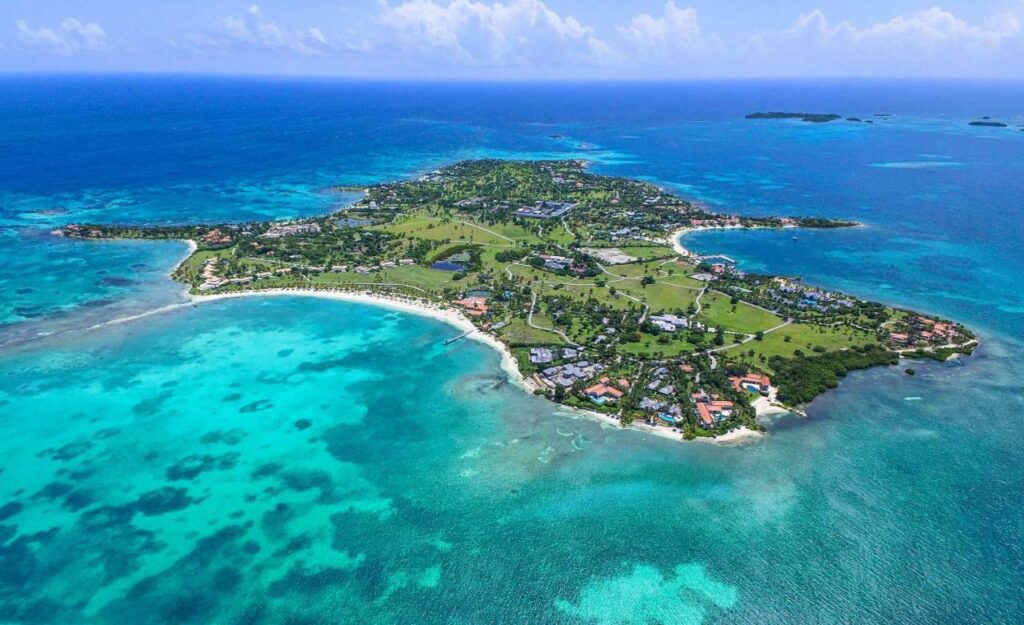 Tucked off the coast of Antigua, Jumby Bay Island is actually a private little cay all its own. If your romantic escape to the Caribbean absolutely has to secure you at the most exclusive escapes imaginable, you can't get much more hidden from the world than this.
Shimmering sea whispers night and day all around you on Jumby Bay Island, but this relaxed hideaway isn't short of things to do when the mood takes you. Tennis and water sports are perfect for burning off all the energy you'll be infused with, thanks to the generous portions of Jumby Bay Island's excellent eateries.
Want to be more exclusive still – money no object? Book a private bungalow with your own pool and garden for your stay – a personal paradise built for two.
---
Sandals Grande St Lucian
Gros Islet, St. Lucia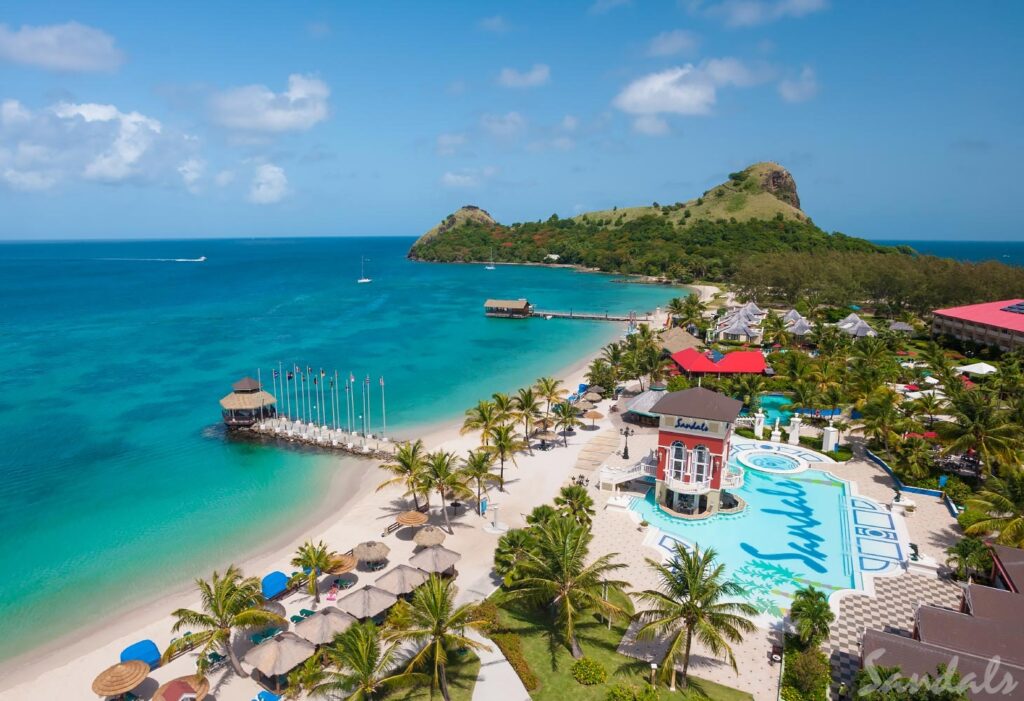 Who could resist another spin around St Lucia while considering all the best all-inclusive resorts in the Caribbean? While boasting all the palm trees and pools you'd expect, replete with beachfront views aplenty, there's plenty to soak in here.
Over the water bungalows suspend you above the lyrical washing of Caribbean waves, while the natural surroundings of the resort have been left unspoiled – more than capable of speaking for themselves. Think blue skies, calm seas and dramatic grassy volcanic hills rising from the deep.
Naturally, food and drink here don't disappoint and cater to even the fussiest eaters. Local delicacies and international favorites pepper the menu, ready to appease appetites that have built up after days spent languishing under a hot sun.
Beach days here are a must, and lean towards the lavish – careful not to overdo it on those complimentary cocktails!
---
Calabash Luxury Boutique Hotel
Grenada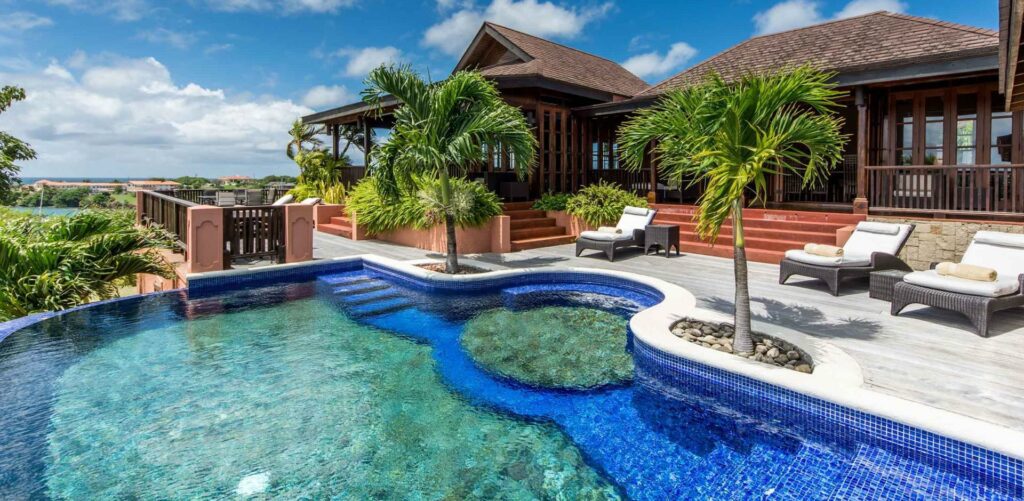 Sumptuous Grenada is the island that the Calabash Luxury Boutique Hotel calls home. A huge swathe of eight acres is intelligently put to use in a fusion of relaxation and recreation – tennis in the afternoon and personalized spa treatments by sunset.
Accordingly, meals are generously portioned and perfect to power up your adventures – from snorkeling and kitesurfing to sailing and yoga. For those couples who love taking life by the horns, Calabash Luxury Boutique Hotel is certain to please.
Being so packed with activities and downtime alike suits this resort well, too. It's tucked out of reach of the main tourist hotspots of Grenada – lending an air of exclusivity to proceedings. It's like you've uncovered your own secret corner of the Caribbean.
---
Curtain Bluff
Antigua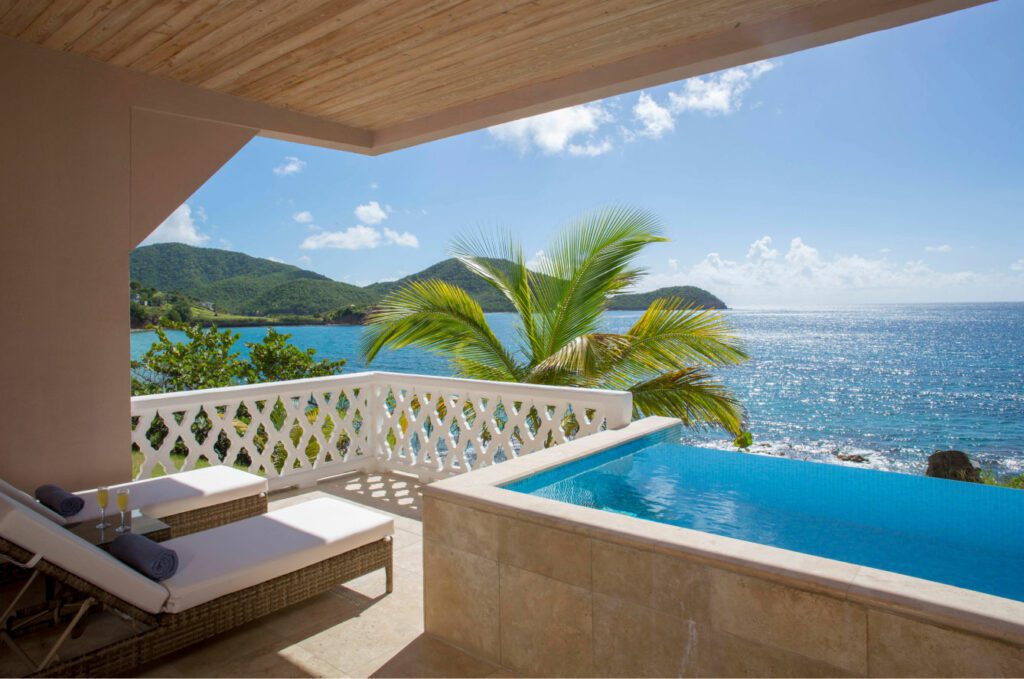 You can feel the history soaked into the stonework of Curtain Bluff – a secluded and relaxed corner of Antigua. In fact, taking things slowly and avoiding the crowds is very much this resort's style.
With just 72 rooms to its name, a sense of exclusivity at Curtain Bluff is all but assured. If you're apt to let your inner sommelier loose, you'll adore the exclusive wines served from Curtain Bluff's special cellar.
Friendly service staff will be on hand to help you pair those tipples with the perfect palate cleansers at mealtimes, and your room boasts vast glass windows that let sprawling sea views do all the talking.
Serenity at a slow-paced hideaway doesn't come much finer than Curtain Bluff in Antigua – truly a jewel among even the best all-inclusive resorts in the Caribbean.
---
Sandals South Coast
South Coast, Jamaica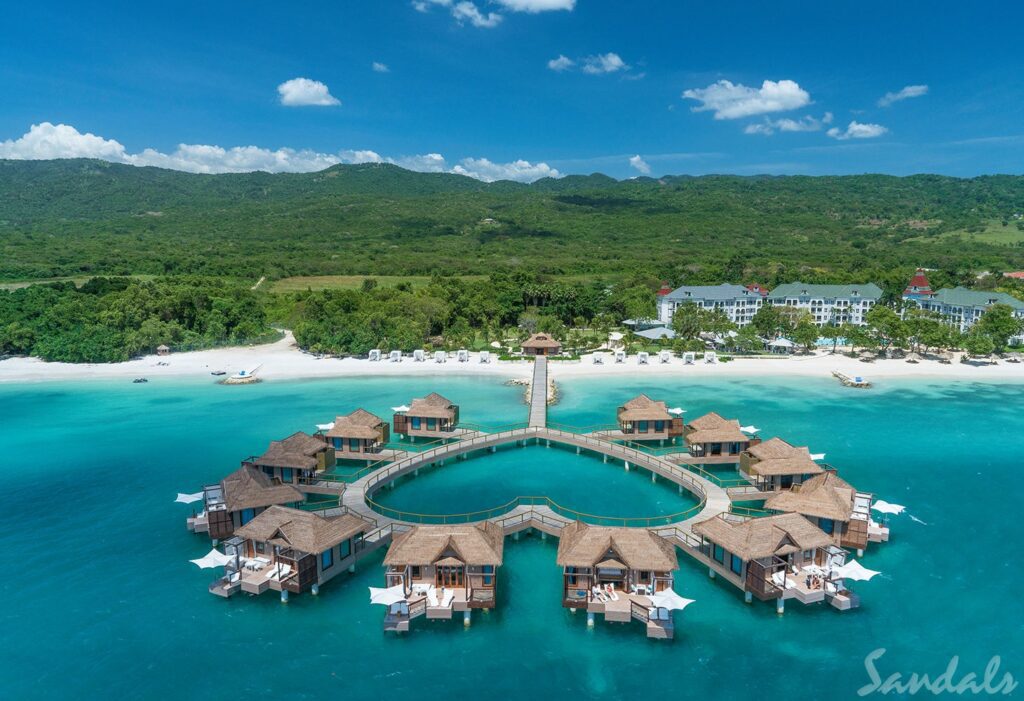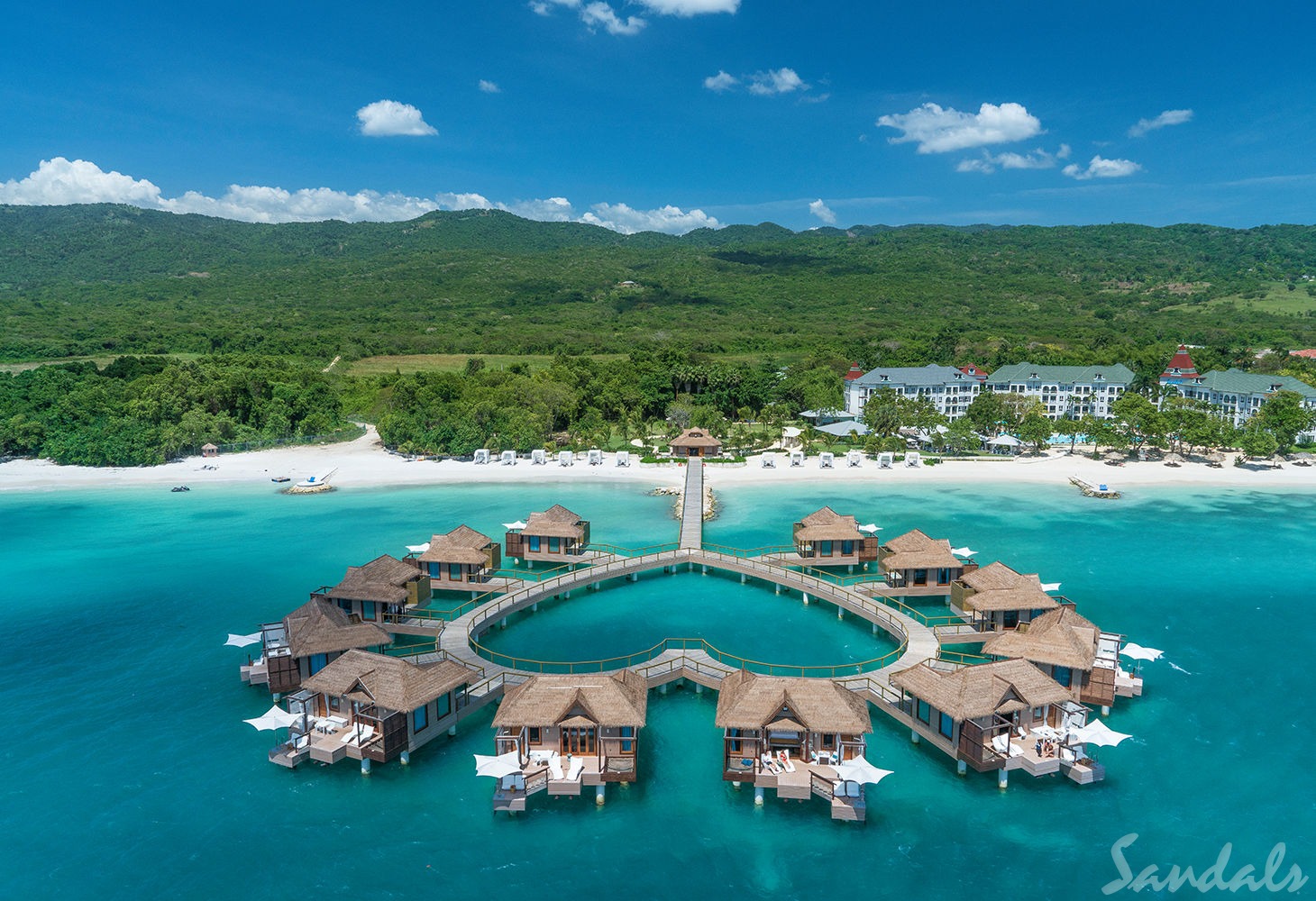 If the vast sapphire blue of the Caribbean Sea isn't enough for you, how about a dip in the largest swimming pool in Jamaica? Sandals South Coast is a more recent addition to the Sandals family in Jamaica, but it takes everything that makes its forebears great – and lays on a little extra luxury besides.
Over the water bungalows, as well as an over the water chapel for ceremonies, make this a fantastic way to connect to the ocean while still keeping plenty of creature comforts close to hand.
With two miles of exclusive Jamaican beach to its name, natural beauty doesn't just extend to the shores here either. Sandals South Coast also has 500 acres of natural preserve waiting to be discovered, with European villages dotted throughout – a must for those couples fond of their privacy.
By night, bonfires and fire pit speckle the sand, beaches quietly ablaze with the warm orange glow of romance. Ignited passions will surely follow…
---
Jade Mountain Resort
Mamin, St. Lucia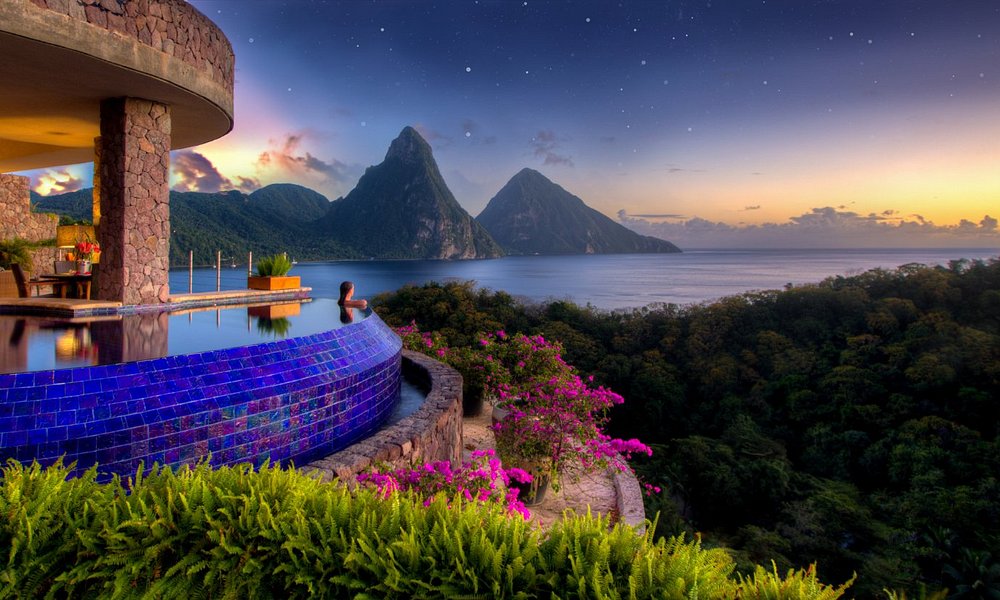 Layered like a wedding cake along the cliffs of St Lucia, Jade Mountain Resort is romantic and enriching.
Open plan living that never sacrifices privacy is the order of the day here, with countless rooms – or 'sanctuaries' boasting only three walls. The open space where the fourth would be is left to let the natural beauty of the Caribbean enthrall you from every angle.
Feeling the need to treat yourself? Have meals and massages right there in your room together, summoned and spirited up from the attentive staff on hand to cater to every whim.
And when all that rejuvenation has worked up your ambitions to explore, you won't be wanting things to do. As one of the best all-inclusive resorts in the Caribbean, Jade Mountain Resort connects you to diving, sailing, swimming, and cycling – all motivated by experienced local guides who can show you the best-kept secrets of this gorgeous corner of the island.
Countless couples have called Jade Mountain Resort their home from home when luxuriating in a honeymoon or a lovers' vacation. Follow in their footsteps, but don't be mistaken – you're not following the crowds here in doing so, but rather experiencing an exclusive resort few ever get to touch.
---
Couples Tower Isle
Ocho Rios, Jamaica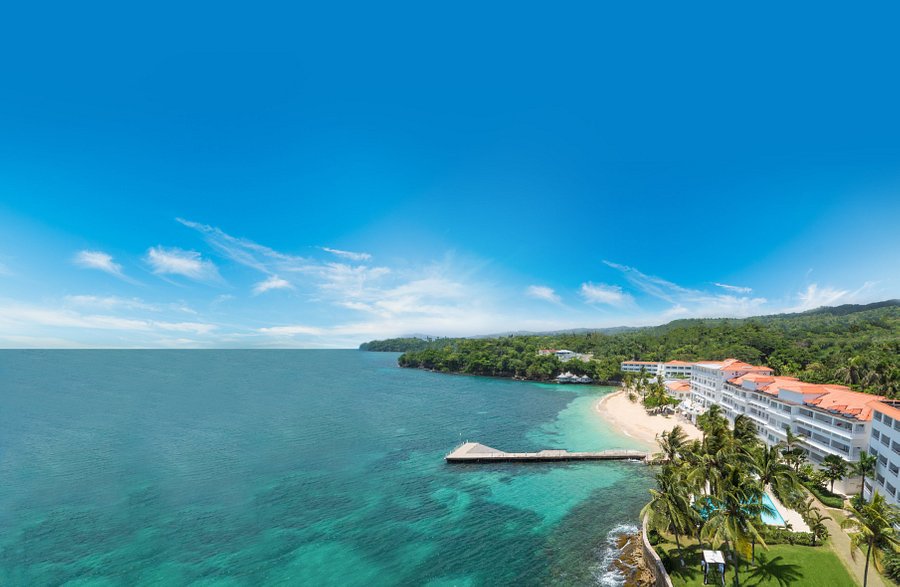 Jamaica has so much to offer, and Couples Tower Isle is a fantastic example of that. It's one of the best all-inclusive resorts in the Caribbean, nestled five miles from Ocho Rios. That puts amenities a stone's throw away but also seclude you somewhere so sumptuous you may never need to venture further afield.
Unless, of course, tours to Margaritaville or catamaran cruises out to sea tickle your fancy. On the more risque side of things, the more confident among you can enjoy nude sunbathing at the resort's own private island – while more mainstream pursuits include tennis, diving, and unlimited spa treatments.
High praise is often paid to Couples Tower Isle for its fantastic dining options – perfectly pleasing for even the most discerning of foodies. Every culture in the world has a proud place on the menu, from Asian spices to creamy Italian pasta and rustic dishes to remind you of home.
Don't overlook the local cuisine for that reason though – seafood here is fresh and satisfying, with the best flavors in Jamaica. Staff are considerate of special dietary requirements too, while glasses clink and toasts are raised to the finer things in life.
---
Excellence Punta Cana
Punta Cana, Dominican Republic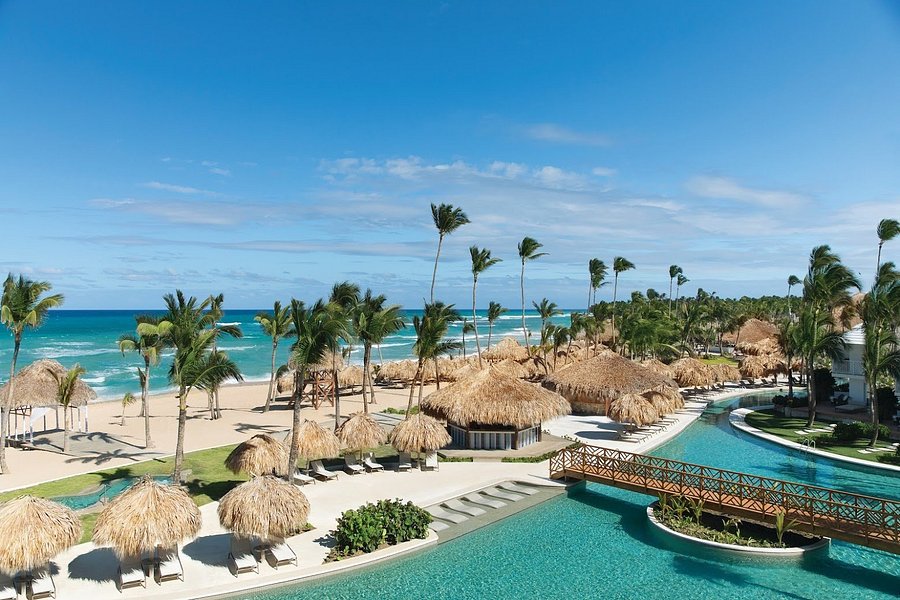 Is the Dominican Republic one of the Caribbean's most overlooked tourist destinations? That's something to lay back and consider as you soak up the soothing pulses and bubbles of your suite's whirlpool bath – included as standard in every room at Excellence Punta Cana.
With 11 restaurants dotted all over the resort complex, there's simply no chance of letting your stomach growl any time soon either. Piled-high portions of every kind of cuisine on the planet are waiting for you around every corner – as are sea views, soft breezes, and soothing sunlight.
Dance lessons let some Latin flavor infuse your stay – who could say no to coming back from honeymoon with a new skill each? In a similar way, there's tennis, volleyball, and water sports awaiting you, while more relaxed options like sunbathing and spa afternoons soothe away any fatigue that could arise.
Need a dash of energy just to keep up with it all? Have no fear – every room has an espresso machine as standard.
---
Conclusion
Couples flock to the best all-inclusive resorts in the Caribbean with good cause. This incredible corner of the world is paradise every which way you slice it, and those seeking to indulge in everything it has to offer are certain to feel spoiled for choice.
With plenty of options in mind from our recommendations, inspiration is sure to be bubbling within you as you plan your magical getaway. Where will it take you?