A romantic Caribbean honeymoon sounds like the perfect way to start your married life together. After all, you and your partner finally get to spend some quality time together after the busy period of wedding planning and arranging is done.
But the Caribbean is quite a large area, consisting of the Caribbean Sea and more than 7,000 islands, islets, cays, and inhabited reefs. I'm not sure anyone has time to visit 7,000 islands during their honeymoon. After all, it's a period for bonding, relaxing, and having fun.
So what are the best Caribbean honeymoon destinations so you can (more) easily choose, book, and plan? I've got the ultimate list of honeymoon spots in the tropical waters of the Caribbean.
My Bottom Line Upfront: What's the Best Destination for Your Caribbean Honeymoon?
Choosing the best Caribbean honeymoon spot isn't easy. There are so many beautiful islands to choose from, after all. But I decided that maybe catering for all honeymooners is best, and that's why I declare Grenada – the Spice Island – the best honeymoon destination in the Caribbean. 
If you want to relax and soak up the soak and get your dose of vitamin-sea, there are plenty of pristine beaches. If you are an adventurous couple, scuba dive and explore the Grenada Underwater Sculpture Park, swim in a waterfall pool, tube down a river, and go hiking. You can also tour the towns, spice and cocoa plantations, and rum distilleries.
Selection Criteria: How to Choose the Best Place for Your Honeymoon?
Choosing between a couple of destinations for a honeymoon or holiday is tough, and deciding between 7,000 islands is near impossible. I decided that having selection criteria would help me sort through the honeymoon spots in the Caribbean. From there, I could narrow down the places until I had a "possible" list of good places.
The best place for a honeymoon in the Caribbean had to meet these requirements:
Easy to travel to:

I looked at flights from the U.S. to your honeymoon location and decided there shouldn't be many layovers. Plus, you shouldn't have to fly from city to city and still take a taxi and boat to get to the perfect romantic spot.

Romantic:

A honeymoon is for romance, so the island should ooze lovey-dovey love.

Great accommodation options:

I made sure you can stay in a bungalow, hotel, or all-inclusive resort with a honeymoon suite (aka love nest).

Amazing beaches:

Besides getting to know each other, I'm sure you chose the Caribbean as your honeymoon destination because you want to soak up some sun, enjoy the teal-blue waters, and walk hand-in-hand along the powdery-fine sandy beaches.

Best honeymoon activities:

Every couple is different, and I wanted to ensure the honeymoon island has something to offer everyone – whether you want to chill at a spa, get your adventure on, or sail to nearby little islets.
7 Best Places in the Caribbean for the Best Honeymoon
Considering a Caribbean honeymoon is perfect since these islands were made for love. Here are the best destinations for your honeymoon: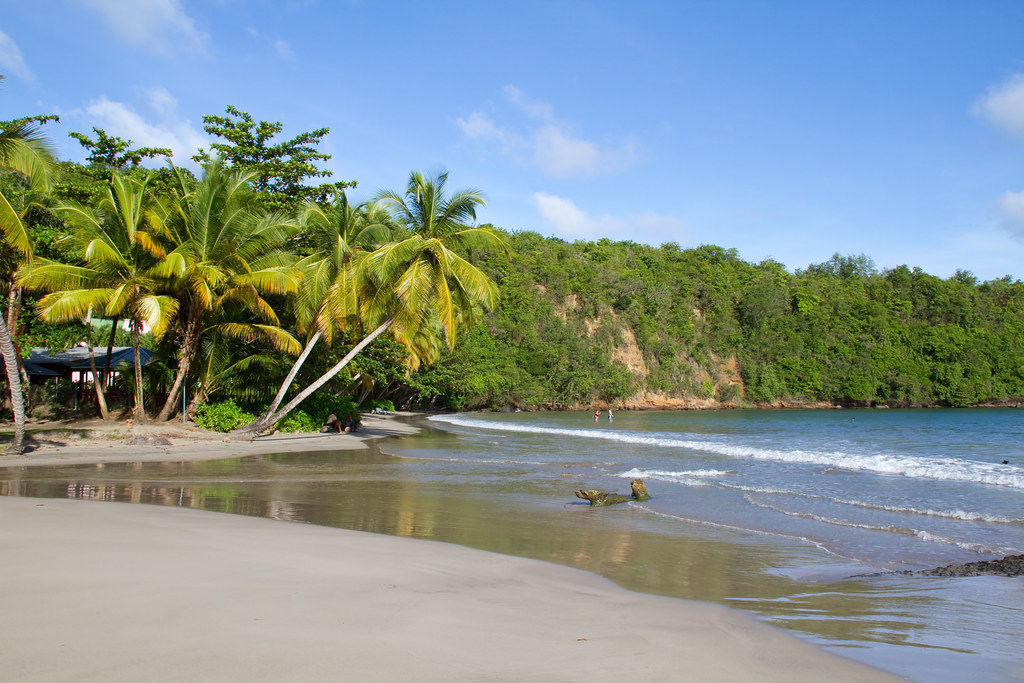 Choose the "Isle of Spice" to spice up your honeymoon. Grenada is known for its spices – cinnamon, nutmeg, mace, and clove- some spices you can enjoy on this Caribbean island paradise.
But there's plenty more to see and explore than just sampling and buying spices, and that's why many honeymooners should choose this underrated honeymoon destination. Psst … it also grows its own chocolate and has rum distilleries.
Fly to Grenada from various U.S. cities like New York, Miami, Atlanta, Washington, D.C., and Boston.
What's Romantic About Granada?
There's something for every couple in Granada—can you get any more romantic than that? (I think not.)
Explore the Grenada Underwater Sculpture Park, the first in the world

Walk the unique streets of the harbor in St. George

Take leisurely walks on the beach

Swim at Seven Sisters Waterfalls
Grand Anse Beach – partake in water sports like kayaking, snorkeling, and sailing

La Sagesse Beach – enjoy boogie boarding, relaxing with a book, and swimming

Levera Beach – watch the turtles, have a beach picnic, and walk along the shoreline
What Can Honeymooners Do in Granada?
Hiking (a top spot is Seven Sisters Waterfalls in Grand Etang National Park)

Tour spice plantations (like Belmont Estate in St. Patrick) and rum distilleries (like River Antoine Rum Distillery)

Enjoy the black and white sandy beaches

Go tubing down the Balthazar River

Shop at the bustling markets in Market Square
Best Hotels or Resorts for a Honeymoon Couple to Stay in Granada
Spice Island Beach Resort

Mount Cinnamon Resort

Calabash Grenada

Laluna Grenada
---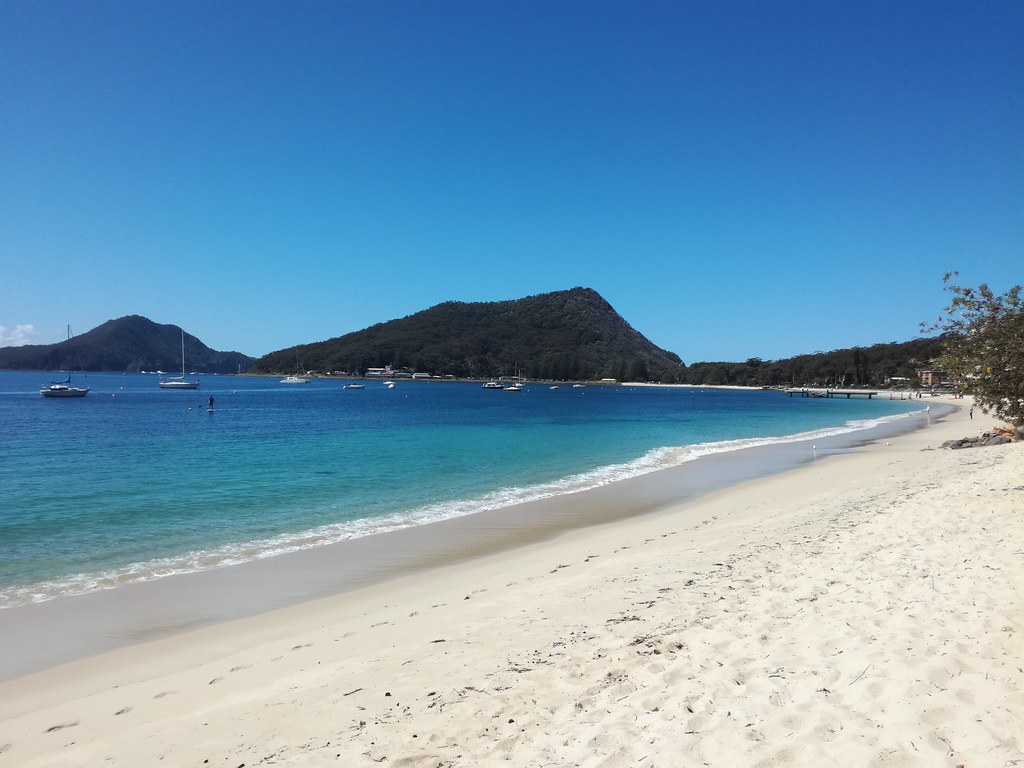 Staying in Anguilla, located in the eastern Caribbean, is like having your own island paradise. The island is low-key since it doesn't have high-rise hotels and casinos.
Imagine 16-long miles of stunning beaches and plenty of activities to keep you and your partner busy in a secluded, romantic getaway.
Anguilla is easily accessible from the East Coast and south of the US. You'll need to fly to Sint Maarten (or Saint Martin) or San Juan (Puerto Rico), and then take a ±30-minute flight to Anguilla or travel by boat.
What's Romantic About Anguilla?
Anguilla offers you the chance to have that idyllic, tranquil, and romantic honeymoon you've been fantasizing about.
This Caribbean island is romantic because of the following:
33 soft sandy beaches with tranquil turquoise-blue waters

Picture-perfect sunsets

Many secluded coves to visit – Little Bay

Exclusive spa treatments

Option to arrange a private dinner for you and your partner

Beach bars with delicious classic rum punches

Coral reefs

Luxurious resorts and villas

Romantic sunset cruises
Best Anguilla Beaches
Shoal Bay Beach – feels like a private beach, but it's open to the public

Rendezvous Bay Beach – for long walks along the shore

Maundays Bay Beach – enjoy the calmer waters
What Can Honeymooners Do in Anguilla?
Beach hopping

Horse riding on the beach

Water sports like snorkeling, kayaking, scuba diving, and windsurfing

Hiking

Visit Sandy Island for a chilled vibe and awesome beaches
Best Hotels or Resorts for a Honeymoon Couple to Stay in Anguilla
Four Seasons Resort and Residences Anguilla

Belmond Cap Juluca

Malliouhana
---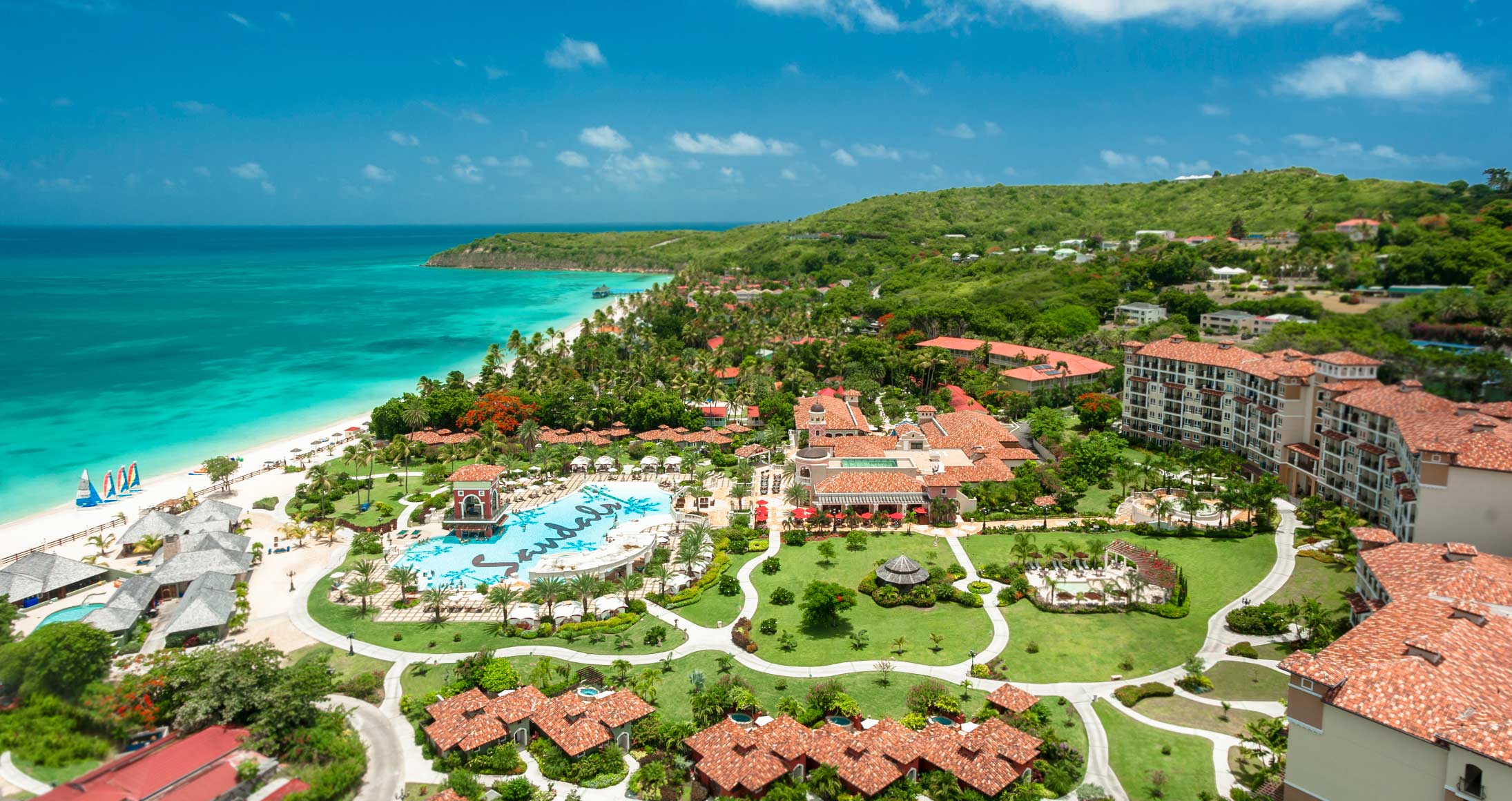 Antigua is one of the main islands of the Caribbean country Antigua and Barbuda. It's best known for being surrounded by coral reefs and its white sand beaches, culinary delicacies, the 18th-century Nelson's Dockyard, rainforests, and sailing.
You can take a direct flight to Antigua from Miami, New York, and other U.S. cities.
What's Romantic About Antigua?
Antigua is a dream come true for many honeymooners, and there are many romantic spots to enjoy.
365 palm-tree-lined beaches so you can find one that isn't crowded

Take long quintessential walks on the beach

Take in the sunset and a one-of-a-kind view of Antigua at Shirley Heights

Sail to Barbuda

Visit Devil's Bridge, a stunning natural arch bridge by the ocean

Take a scenic drive – I recommend Fig Tree Drive
Best Antigua Beaches
Dickenson Bay Beach – a full-service facility 3-mile island beach

Rendezvous Bay Beach – an isolated beach but so worth the journey to get there

Half Moon Bay Beach – a sandy crescent with lunar-like white sand and ocean-turquoise waters
What Can Honeymooners Do in Antigua?
Snorkel or go scuba diving

Beach hop

Climb Mount Obama

Enjoy local delicacies like island fish, Roti, Pepperpot, and Fungee

Visit the Donkey Sanctuary of Antigua

Check out the interesting capital, St. John's

Tour Betty's Hope, a sugar plantation site with two sugar mill towers

Swim with stingrays in Stingray City
Best Hotels or Resorts for a Honeymoon Couple to Stay in Antigua
Hermitage Bay

Galley Bay Resort & Spa

Carlisle Bay
---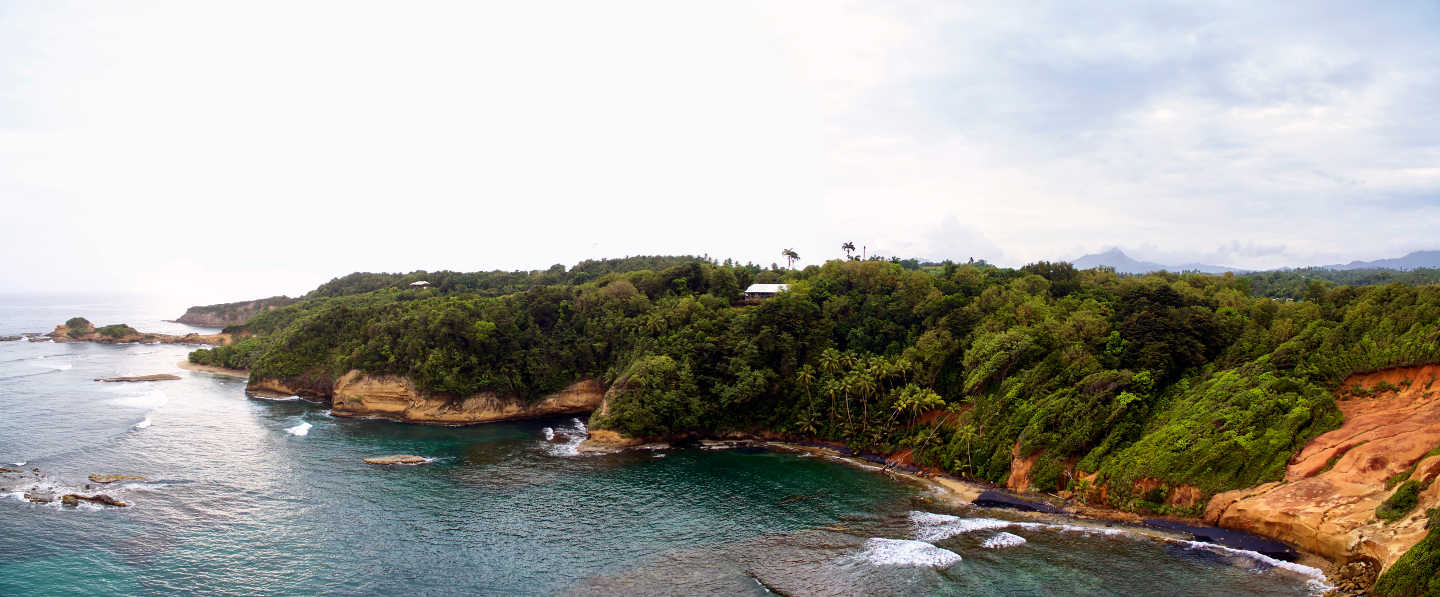 Dominica has been called the Caribbean's "Garden of Eden" since more than half of the island is rainforest and there are more than 365 rivers. It's also known as the "Nature Isle of the Caribbean."
If you are into eco-tourism and saving the planet, Dominica is the honeymoon destination for you. (And even if you aren't in green travel, visiting this island is still worth it.)
To get to Dominica, book a flight from New York, Philadelphia, Houston, Houston Hobby Apt, or Dallas (Ft. Worth).
What's Romantic About Dominica?
There's plenty of romance to be found in Dominica's fauna and flora – and there's a lot of natural beauty here. If you are into chilling at the beach or unique adventure activities, there's time for romance too!
Go on a moonlit canyon tour

Lounge under a swaying palm on a pretty beach

Take a romantic (skinny) dip in the Emerald Pool

Visit a literal bubbling beach (aptly called Bubble Beach)

See exotic seahorses and frogfish in the Champagne Reef

Watch whales and dolphins

Relax in one of the many hot springs and geysers

Enjoy Bois Bande Bush Rum (an island aphrodisiac)
Best Dominica Beaches
Soufriere Bay Beach – enjoy the pebbly beach and geothermal-heated waters

Pointe Baptiste – see the Red Rocks against a coconut tree backdrop

Mero Beach – known for its soft pitch-black sand and crystal clear water
What Can Honeymooners Do in Dominica?
Hike through the rainforests and visit Victoria Falls

Visit Boiling Lake – the second largest bubbling lake in the world

Swim in all water bodies – ocean, rainforest pools, reefs, and pinnacles

See sea turtles nest or hatch
Best Hotels or Resorts for a Honeymoon Couple to Stay in Dominica
Fort Young Hotel

Jungle Bay

Beau Rive
---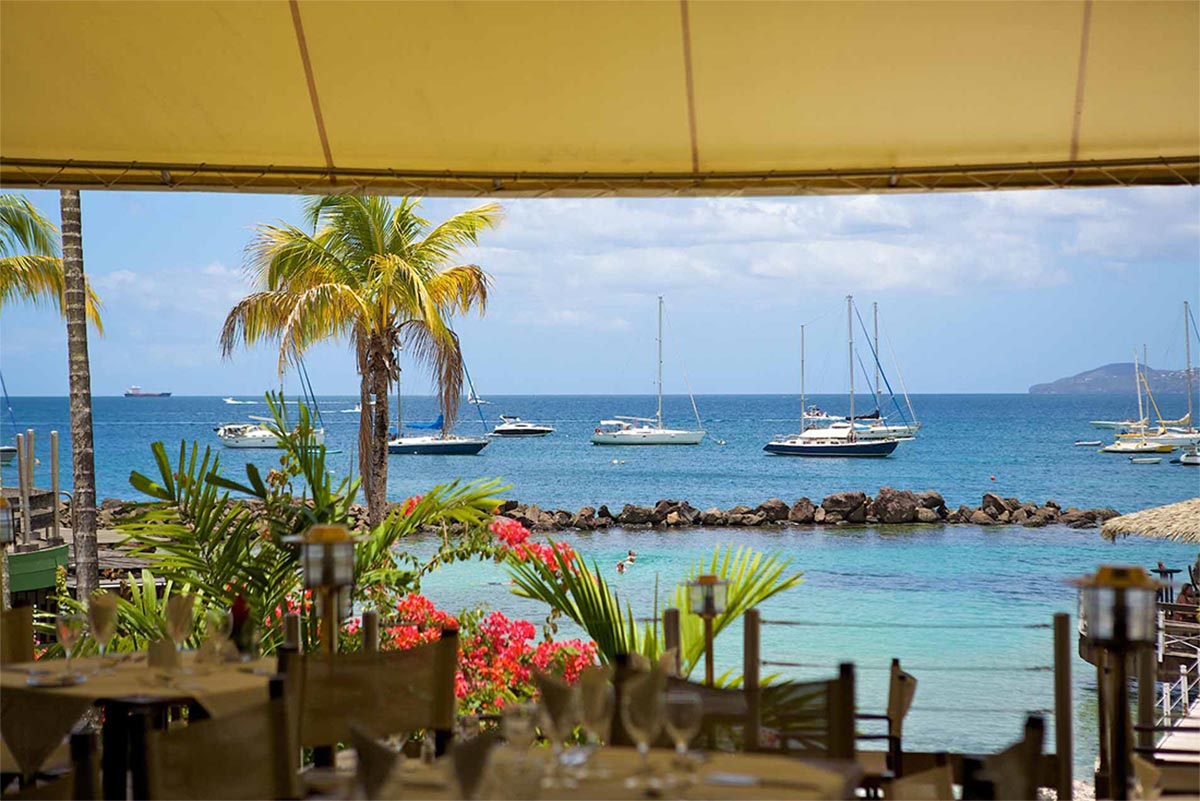 Looking for the South of France but in the Caribbean? Then, Martinique is the place to go.
This little island in the Caribbean (part of the Lesser Antilles) has a Parisian charm but the weather's much nicer (if you like the tropics). It's no surprise that honeymooners choose Martinique as one of the best places to go in the Caribbean.
Getting to Martinique from the U.S. is easy. Take a flight from Boston, Los Angeles, or either of the New York airports to Fort-de-France, or you can fly from New York to St. Lucia and then ferry across to Martinique.
What's Romantic About Martinique?
It's French; need I say more about how romantic a honeymoon in Martinique can be?
Shop with your newlywed at the department stores and boutiques in Fort-de-France, Place de la Savane, and La Galleria

Explore colonial houses turned into museums and rum distilleries

Enjoy beautiful coastal walks

Dive into local Caribbean Creole and French cuisine
Best Martinique Beaches
Diamant Beach – known for its white sand and view of Diamond Rock

Anse Noire – experience the thrill of walking on black sand, or go snorkeling or scuba diving

Anse Ceron – also a black sand beach but it's set against a backdrop of lush greenery
What Can Honeymooners Do in Martinique?
Visit unique places like l'ilet Loup Garou (pink sandy beach and turtle reserve), l'ilet Chancel (an iguana island), and l'ilet Madama (a sand bank swimming pool in the sea)

Discover the fauna and flora at the Balata Botanical Gardens

Check out the quaint shops at Sainte-Anne

Hike Mount Pelee, a volcano, to enjoy panoramic views of Martinique and spot Dominica

Take a boat and visit Diamond Rock
Best Hotels or Resorts for a Honeymoon Couple to Stay in Martinique
Hotel Bakoua

Cap Est Lagoon Resort & Spa

Plein Soleil Hotel
---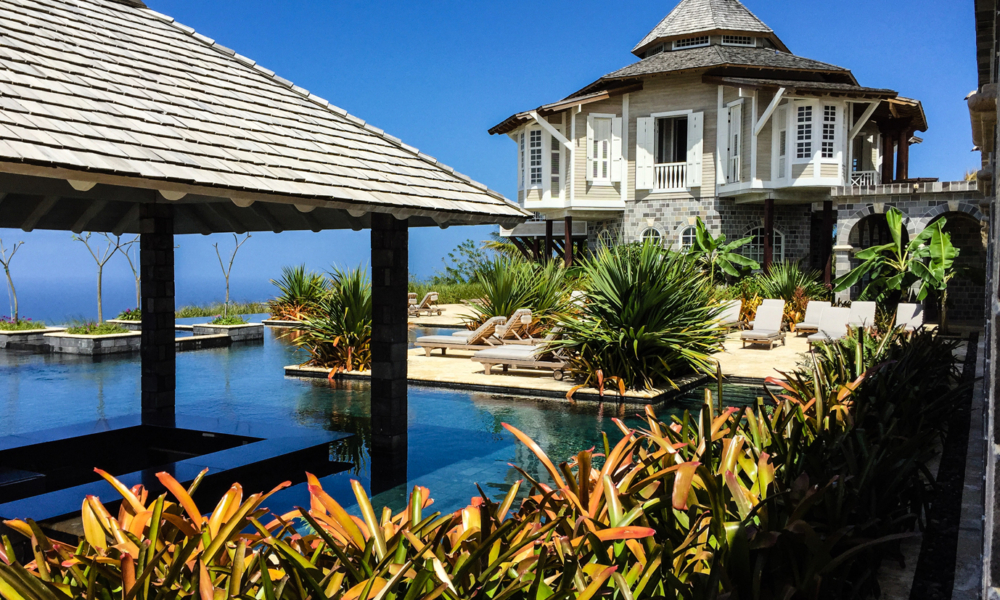 St. Kitts, officially known as Saint Christopher Island, is one part of the dual-island nation called St. Kitts and Nevis. St. Kitts is the larger island and is best known for its crater lake, dormant Mount Liamuiga volcano, mountainside rainforests, and green vervet monkeys.
St. Kitts is a wonderful honeymoon spot in the Caribbean if you love nature. You'll get to do a lot of limin' (hanging out, having a good time, or chilling).
Non-stop flights from the U.S. are available. For example, you can fly from Atlanta, Miami, or New York to Robert Llewellyn Bradshaw International Airport in Basseterre, the capital city of St. Kitts.
What's Romantic About St. Kitts?
Just the landscape on St. Kitts is enough to tell you how romantic this setting is for a honeymoon.
Swim in the blue Caribbean waters and lounge on the warm sandy beaches

Tour the lava formations and blue-green lagoons

Enjoy a lazy day of shopping in the quaint towns
Best St. Kitts Beaches
Cockleshell Bay – a curved beach with fine-grained sand; enjoy the local Kittitian cuisine at one of the restaurants or bars

South Friars Bay Beach – known for its gray sand and warm swimming water

Majors Bay – an idyllic and isolated beach that's ideal for honeymooners
What Can Honeymooners Do in St. Kitts?
Tee off at St. Kitts Royal Golf Club (but don't lose your balls in the Atlantic!)

Hop aboard a catamaran to enjoy snorkeling and the St. Kitts sea life

Island hop to Nevis, St. Kitts' sister island

Explore the historical attractions in Basseterre (like the Victorian clock tower)

Go zip lining

Buy Batik

at the Romney Manor Estate
Best Hotels or Resorts for a Honeymoon Couple to Stay in St. Kitts
Ottley's Plantation Inn

Belle Mont Farm

Park Hyatt St. Kitts Christophe Harbour

St. Kitts Marriott Resort & Royal Beach Casino
---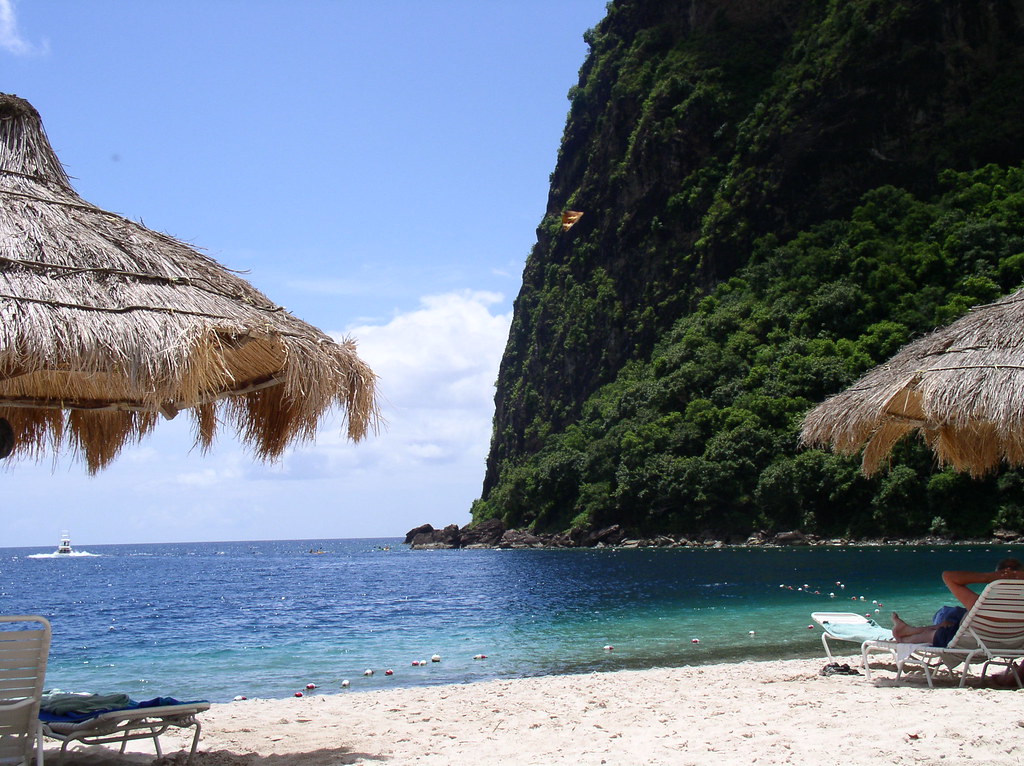 St. Lucia offers a gorgeous honeymoon retreat, and it's known as one of the sexiest islands. You get a picturesque paradise with golden sand, lush vegetation, iconic Piton Mountains, and crystal-clear waters.
You don't need to worry about more interconnecting flights than you can count to get to St. Lucia. There are a few direct service flights from Miami, Charlotte, Philadelphia, New York, Boston, Chicago, and New Jersey.
What's Romantic About St. Lucia?
The first holiday as a married couple needs to be extra special, and St. Lucia delivers on all fronts.
Romantic sunsets

Warm weather

French, African, and English culture and heritage

Sulfur springs, rain forests, waterfalls, and botanical gardens
Sugar Beach (or Jalousie) – best known for its epic views of the twin peaks

Cas en Bas Beach – to get in "the local zone," enjoy delicious food at Marjorie's, and ride a horse on the beach

Anse Chastanet Beach – a stunning beach with black sand, tall palm trees, lush foliage, and the bluest of blue waters
What Can Honeymooners Do in St. Lucia?
Visit Pigeon National Park

Zipline through the rainforest

Go to a rum tasting

Drink Sundowners at Rodney Bay

Dip in a volcanic mud bath

Explore Marigot Bay and Soufriere

Hike the Fond Gens Libre Nature Trail or the Tet Paul Nature Trail and chase waterfalls
Best Hotels or Resorts for a Honeymoon Couple to Stay in St. Lucia
Jade Mountain Resort

Ladera Resort

Sugar Beach, a Viceroy Resort
Caribbean Honeymoon FAQs
Question: Is the Caribbean a good choice for a honeymoon destination?
Answer: The Caribbean is an excellent honeymoon destination. There are over 7,000 islands (including 13 countries) to choose from, and there's something for every honeymoon couple in the Caribbean – shopping, relaxing, water sports, hiking, and much more!
Question: Which is the prettiest of the Caribbean islands?
Answer: All of the Caribbean islands are pretty – in their own right. And, of course, beauty is always in the eye of the beholder. St. Lucia is frequently considered the prettiest Caribbean island with its golden sandy beaches, lush rainforests, and UNESCO World Heritage designation Pitons.
Other picture-pretty islands in the Caribbean are St. Kitts, Anguilla, Antigua, Dominica, Grenada, and Martinique.
Question: What are the safest Caribbean islands for my honeymoon?
Answer: Some Caribbean islands have gained a reputation for being crime hot spots. However, you can stay safe by ensuring you stay at a reputable luxury hotel and book your activities and tours through their concierge desk. However, if you are looking to visit the safest of islands during your Caribbean honeymoon stay, consider St. Barts, the Cayman Islands, Antigua, Martinique, Barbados, St. Martin, Aruba, Anguilla, and the Virgin Islands.
Question: When is the best time to visit the Caribbean for my honeymoon?
Answer: The best time to visit the Caribbean is from November until April. You'll enjoy great weather with suitable daily average temperatures and sunny days. You want to ensure you miss hurricane season.
My Final Thoughts on a Tropical Caribbean Honeymoon
The Caribbean has many diverse honeymoon destinations. When you narrow down your options, you'll know which spot is ideal for you and your partner.
I love Grenada for its versatility – there's something for every newlywed couple, whether you just want to chill or be adventurous.
Want to learn more about Grenada so you can fine-tune your honeymoon planning? Check out our Caribbean destination guide on the Isle of Spice.