Anyone who has had their try at planning a romantic getaway for themselves and their special someone knows the challenges it brings. If you're now doubting yourself whether or not a Caribbean vacation with you're partner is worth it, don't fret. Sandals Resort is the solution to all of these common vacation planning blunders, especially when they have the perfect Sandals locations to choose from.
The only detail you'll have to worry about is choosing which Sandals locations in the Caribbean will best bring your romantic dream vacation to life. Don't worry. Here are the most important details you need to know about all the Sandals Resorts locations so you can book the perfect place during your stay.
Sandals Locations In The Best Caribbean Islands
A dream honeymoon or romantic Caribbean vacation is one where you and your partner don't have to stress or worry about anything. The goal is to sit back, relax, soak up some sun, and enjoy the clear blue waters without a single care. The only way to make that possible is to book an all-inclusive, adults-only getaway at one of Sandals best locations.
Thankfully all Sandals Resorts promise 5-star service, world-class experience, and luxurious activities for couples. The best part, these luxury, all-inclusive, world-famous resorts can be found on eight different islands in the Caribbean, giving you a number of great choices. Here's a quick rundown of the many Sandals adults-only resorts locations in the Caribbean and what they offer: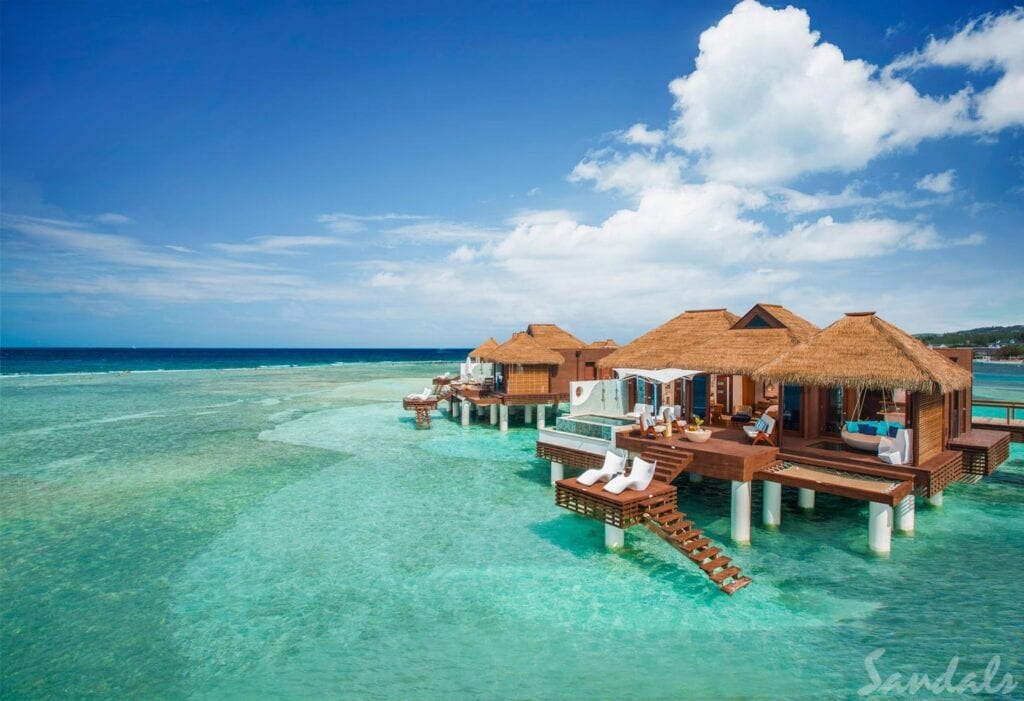 The island where Sandals first started is at the top of the list. Jamaica boasts stunning views, friendly locals, and rich heritage, making it a popular choice for many visitors. Couples who want to experience vibrant Caribbean life while also enjoying beautiful beaches in privacy must stay at one of these Sandals Resorts locations in Jamaica:
As the first-ever all-inclusive resort of Sandals, this location earns a spot on this list. This 5-star resort is famous for its stunning views of the Jamaican coastline and the option of staying at a beachfront Butler suite where guests have their own swim-up platform and many more luxurious innovations. The cost of staying at Sandals Montego Bay range from $300 to $500 per night, a reasonable price for luxury.
Sandals Royal Caribbean perfectly blends Jamaican hospitality and elegant British heritage. The resort is known for its magnificently manicured gardens, free-roaming peacocks, and traditional afternoon teas. Of course, guests can easily take a ferry to the private island where Sandals has recreated a luxurious Balinese experience. Best of all, a night at the Royal Caribbean resort ranges just between $270 to $375.
Located right at the heart of Jamaica, Ochi Beach Resort is known for its modern chic vibe and private elegance. This resort is best for couples who want to party the night away without sacrificing any of the luxury offered by Sandals locations. A night at Ochi Beach is considered the most affordable at only $230.
Negril's expansive seven-mile beach is the best choice for couples who want to be near the water as much as possible. It is one of Jamaica's most relaxing and laid-back Sandals adult-only resorts. It is also an affordable resort starting at just $230 a night.
What is a visit to Jamaica without enjoying the Caribbean waters? At Sandals South Coast, the theme is water, and it is made extra opulent by the resort's over-the-water bungalows, one of the most luxurious accommodations on the island. Depending on your room, a night can range between $250 to $510.
An award-winning resort on the island, Royal Plantations allows guests to experience amazing butler service while marveling at the Caribbean Sea. This boutique resort is a preferred spot for jet-setters looking to unwind. With the promise of royal treatment, it's a surprise that a night at this resort costs an affordable rate of $350.
---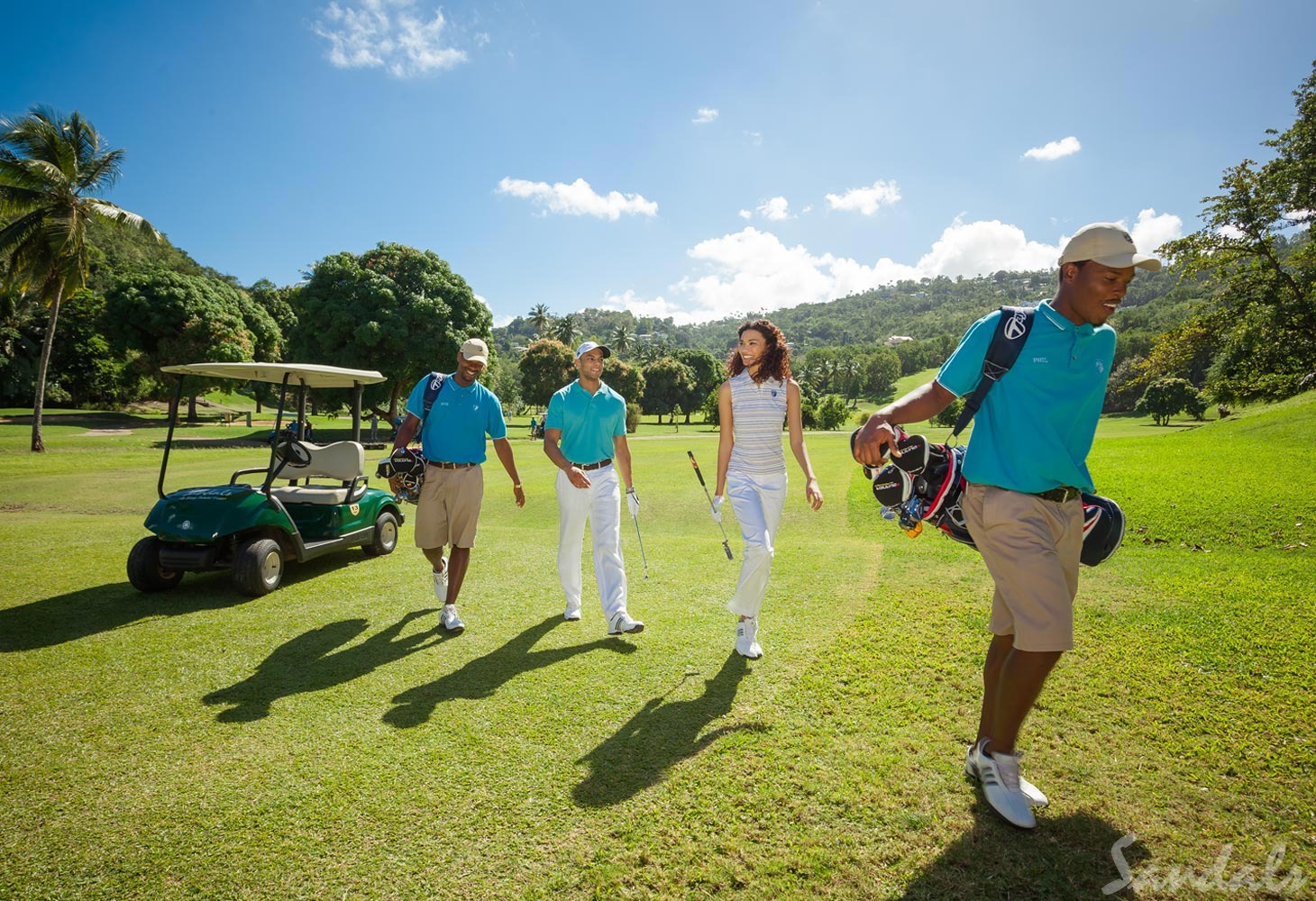 Another island where there are a few of Sandals best locations is the lush tropical paradise that is Saint Lucia. On the island, guests can enjoy the Caribbean beaches and a trek through rainforests. These Sandals adults-only resort locations on the island will appeal to nature lovers on a romantic getaway.
Are you looking to enjoy the stunning ocean and mountain views while swimming in warm, calm waters? Grande St. Lucian Spa and Beach Resort is the best location to experience all that and more. As the Caribbean's leading honeymoon resort, one night here costs $335.
Hailed as one of the most glamorous resorts on the island, the Regency La Toc mixes golf and luxury. Another name for the resort is the "Emerald of the Caribbean" promising guests alluring emerald waters. Guests have the option to choose all-inclusive packages ranging from $265 to $450 a night.
Guests who want to enjoy all the best food and drinks during their Caribbean honeymoon must book their stay at Halcyon St. Lucia. With six Global Gourment restaurants and an impressive seven different bar concepts, your palate will be dancing non-stop. One night at this Sandals resort costs about $305.
---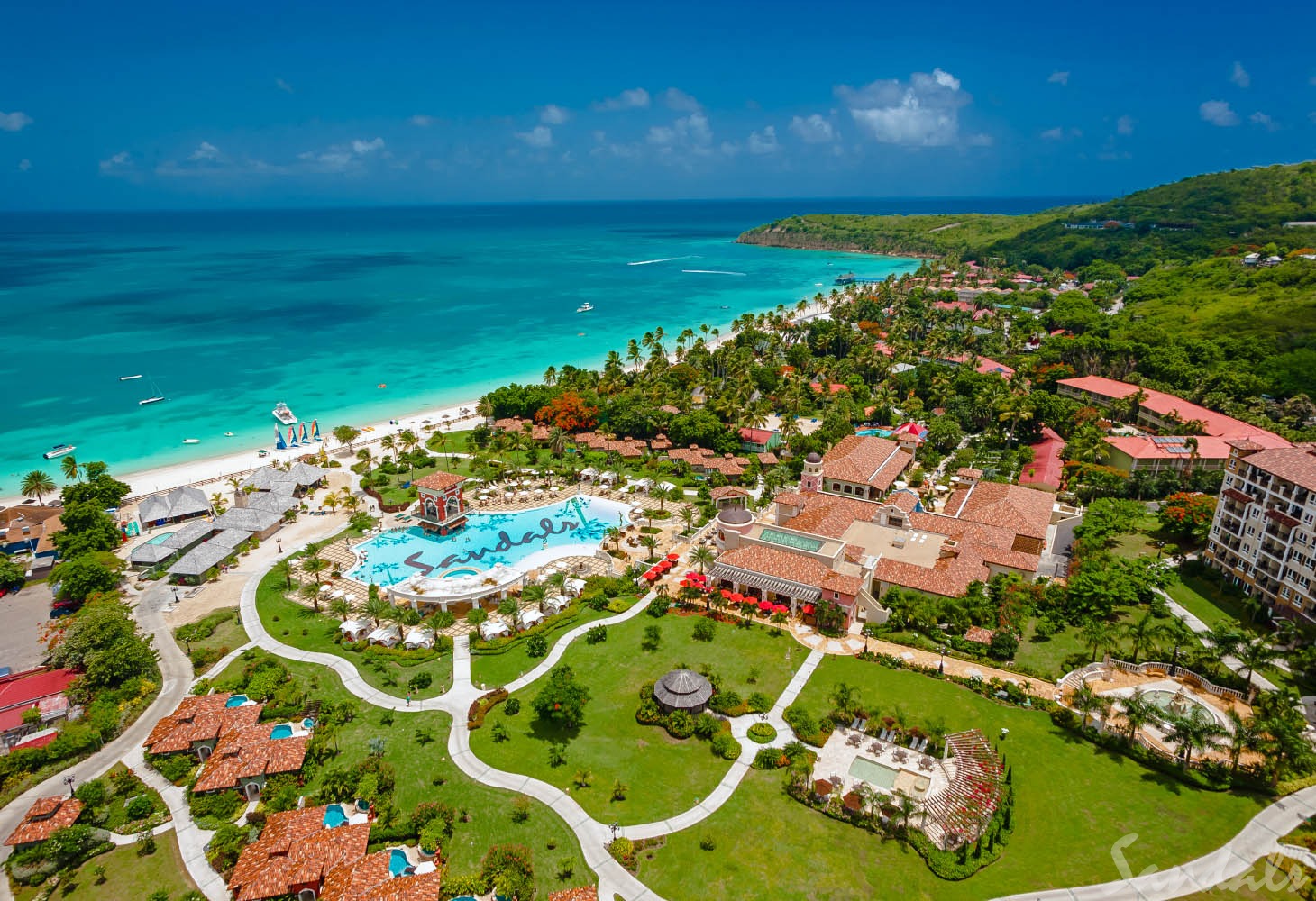 Antigua has a rich history, a heritage of culture, and well-preserved historical and architectural sites. It's the best island for adventurous and outdoorsy couples who enjoy sailing, hiking, and snorkeling activities. All of which can be done with the help of Sandals resort staff.
As the only all-inclusive, adults-only Sandals resort in Antigua, couples must stay at Grande Antigua. Voted as the "World's Most Romantic Resort" couples are sure to have the best time during their stay. The standard luxury package at Sandals Grande starts at $325.
---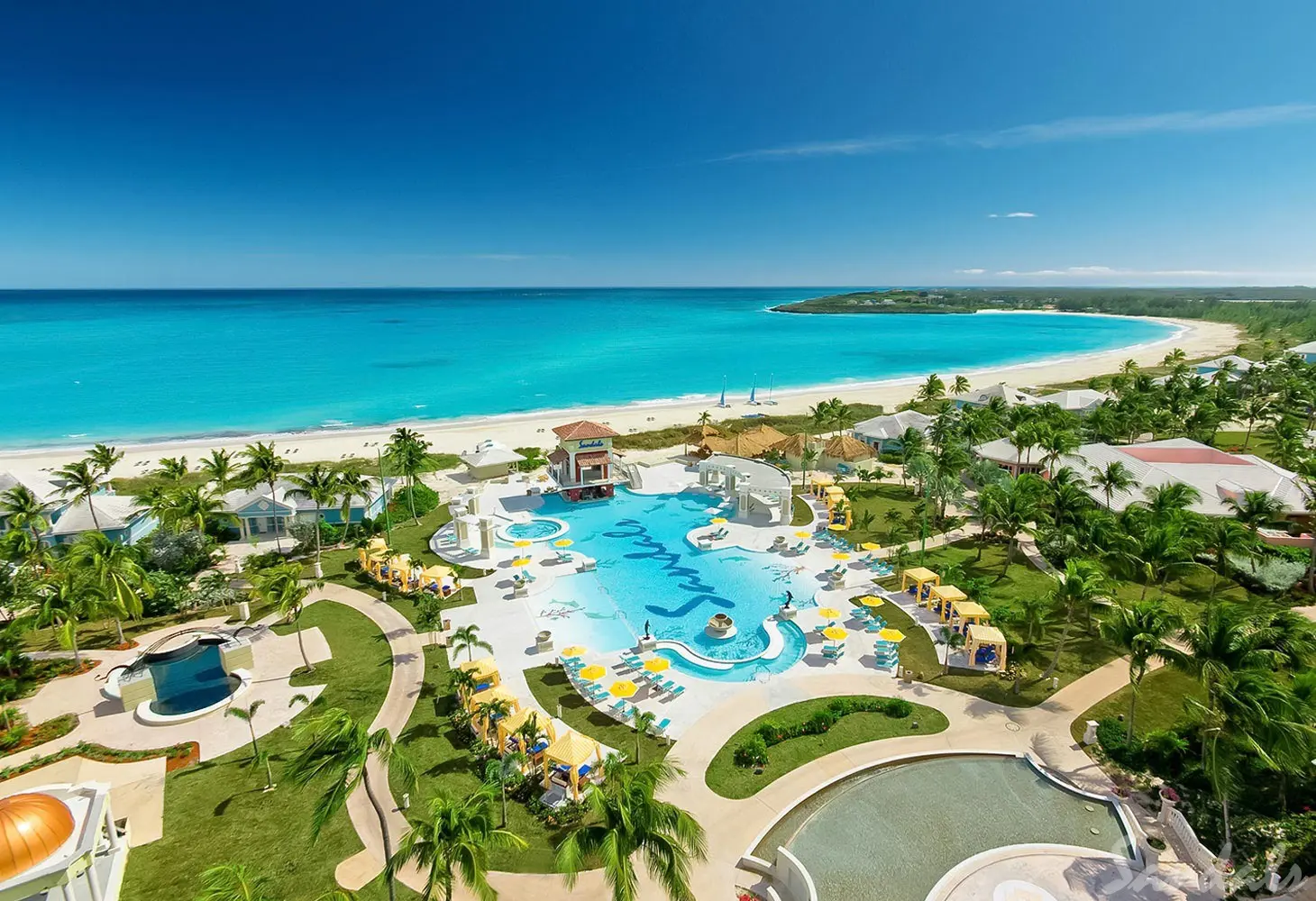 The Bahamas is known for beaches, sandbars, coral reefs, and clear waters, but the island offers so much more. The island is also known for its vibrant African and Caribbean influences and booming nightlife, a great way to immerse in the Bahamian culture fully.
Two words that best describe the Royal Bahamian is elegant and exotic. The resort offers 12 dining options which are all part of the all-inclusive package. Foodies and couples who just want to enjoy life in luxury will find the $350 per night price tag very reasonable.
Do you and your partner want to feel like celebrities? The Emerald Bay Great Exuma is the perfect all-inclusive resort for you. Not only do you get access to a mile-long beach, but everything in the resort is exclusive for guests, ensuring privacy and seclusion. As one of Sandals Resorts most exclusive locations, one night will cost at least $2,300.
---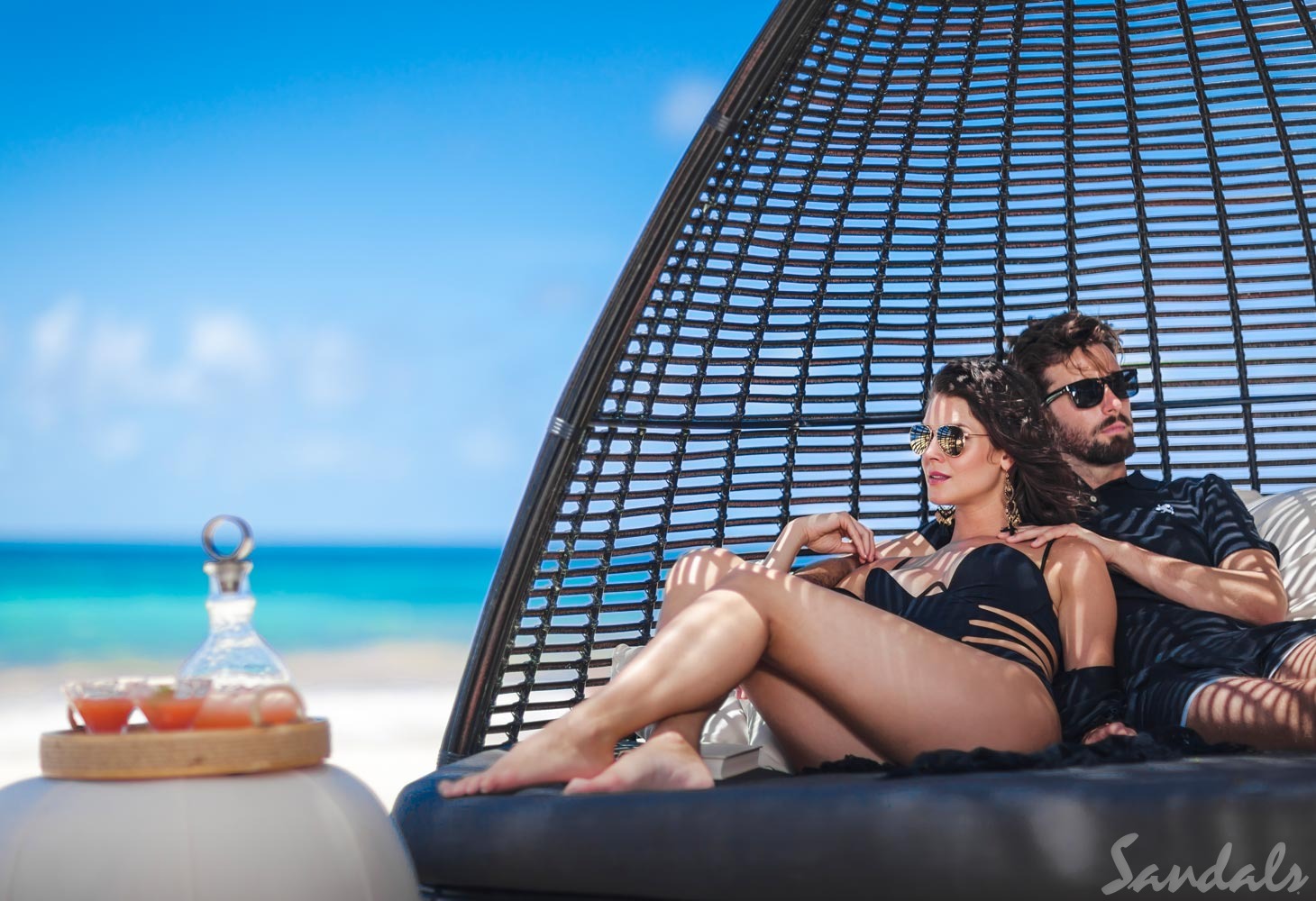 Although Barbados is one of the smaller Caribbean islands, what it lacks in space makes up for in history, music, heritage, and more. Tourists can try several watersports, such as SCUBA diving and surfing during their stay to make their getaway extra memorable.
When it comes to exclusive all-inclusive resorts in Barbados Sandals Barbados is the place to go. It is a sophisticated 5-star resort that offers several dining options, lounges, and bars. One night at this resort starts at $300.
Indulge in elegance and world-class amenities at Sandals Royal Barbados. This all-inclusive resort gives guests access to swim-up suites and SkyPool Suites to make their stay feel even more luxurious. All for the fair price of $345 a night.
---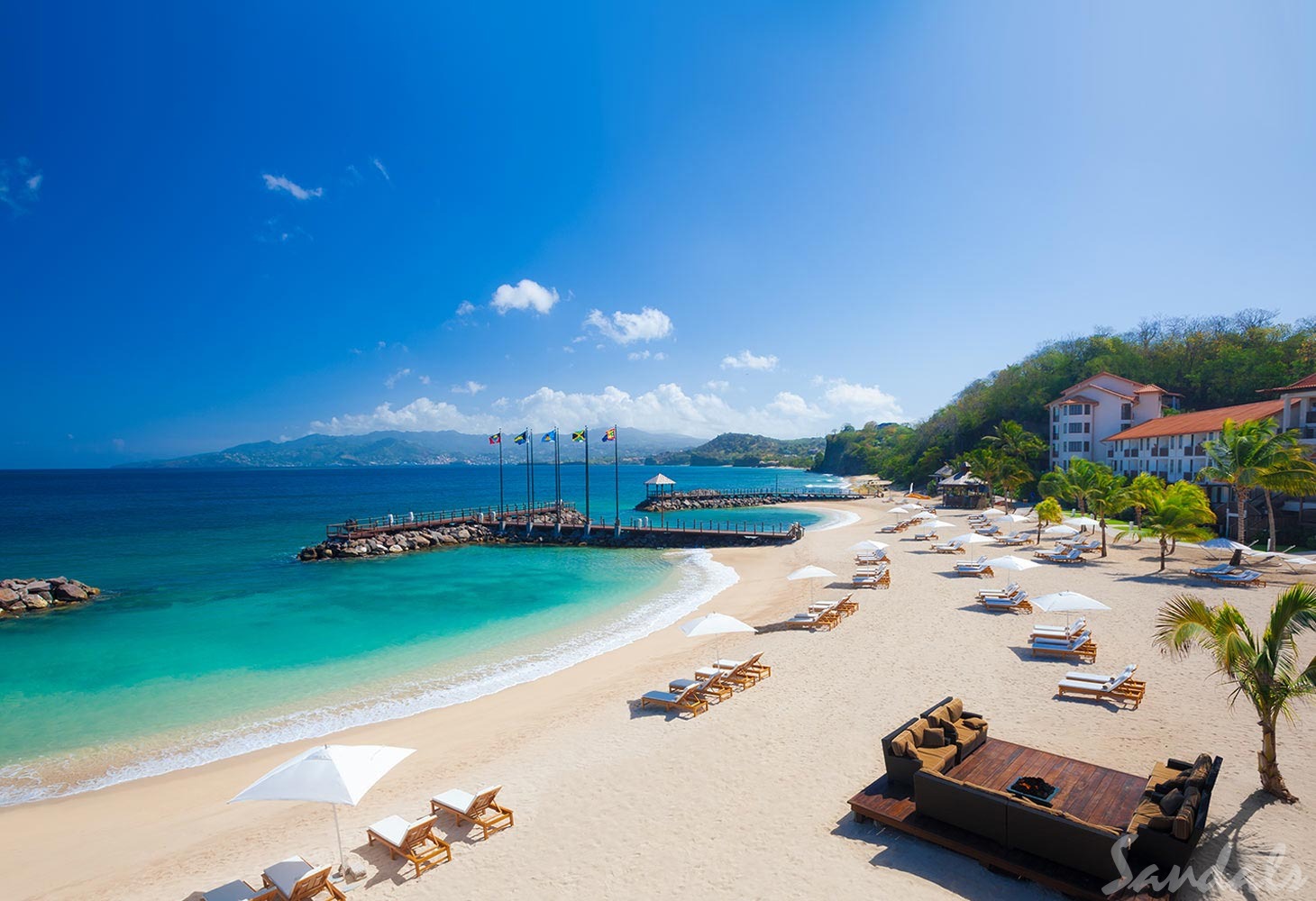 Grenada is where you can expect a more Latin influence as it is located 100 miles off the coast of Venezuela. However, since it is still part of the Caribbean, you can also expect the same sun, sand, and beach vibes.
As the only Sandals resort in Grenada, there is no other place to be on the island. Considered as the "Sandals of Tomorrow," there is nothing simple or traditional about Sandals Grenada. You can experience all the amazing modern innovations for just $325 a night.
---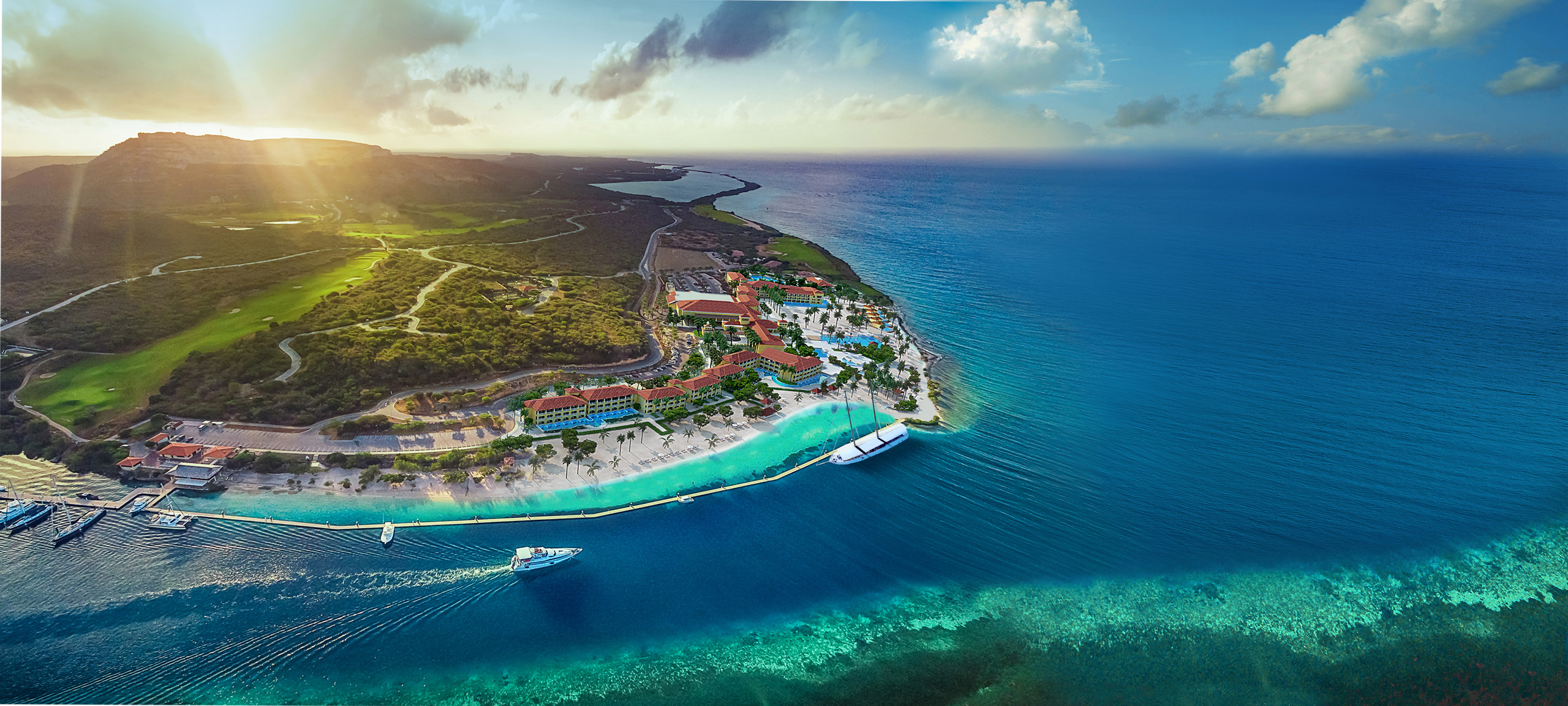 The iconic Dutch colonial architecture sets Curacao apart from the other islands. Thanks to the many European influences, Curacao boasts as one of the most diverse places in the Caribbean, perfect for tourists who want to experience more of the world during their travels.
As Sandals' newest resort on the island, Sandals Royal offers an ambiance of romance and intimacy. Here couples can enjoy the welcoming warm Caribbean waters and several cultural wonders unique to Curacao. One night here starts at $340 up to $540.
Why Choose A Sandals Resort For Your Romantic Getaway Or Honeymoon?
There's no debate that when it comes to romantic resorts, Sandals offer the best options. Not only are the resorts adult-only, but they are also all-inclusive packages with a range of services provided. Guests can choose to stay simple but still feel pampered with the basic luxury package or go all-out with the butler package. When staying at Sandals, you and your partner can forget about your worries and just be with each other. There is nothing more romantic than giving your full attention to your loved one.
Whether you're planning a honeymoon or just a surprise romantic getaway, Sandals is guaranteed to live up to your expectations and more.
Are Sandals Resorts Worth The Cost?
Considering that most romantic getaways require a lot of planning and coordinating, a few extra dollars to make your vacation hassle-free is worth every penny. You get to savor your entire vacation and don't have to worry about the costs at the end. The all-inclusive fee means everything is included. All you need is time to enjoy yourself truly. After all, you and your partner deserve the best.