Sandals Montego Bay has the coveted title of being the very first Sandals. But what you get today is far from what was first opened. This resort has been reimagined and also offers a 5-star luxury included experience for adults only, turning it into one of Sandals' best resorts. Situated on its own private beach, you will find a casual and chic oasis perfect for a romantic and luxurious getaway. Stay at Sandals Montego Bay and take advantage of play privileges close by at the Sandals Royal Caribbean Resort. In fact, fun and Luxury simultaneously await.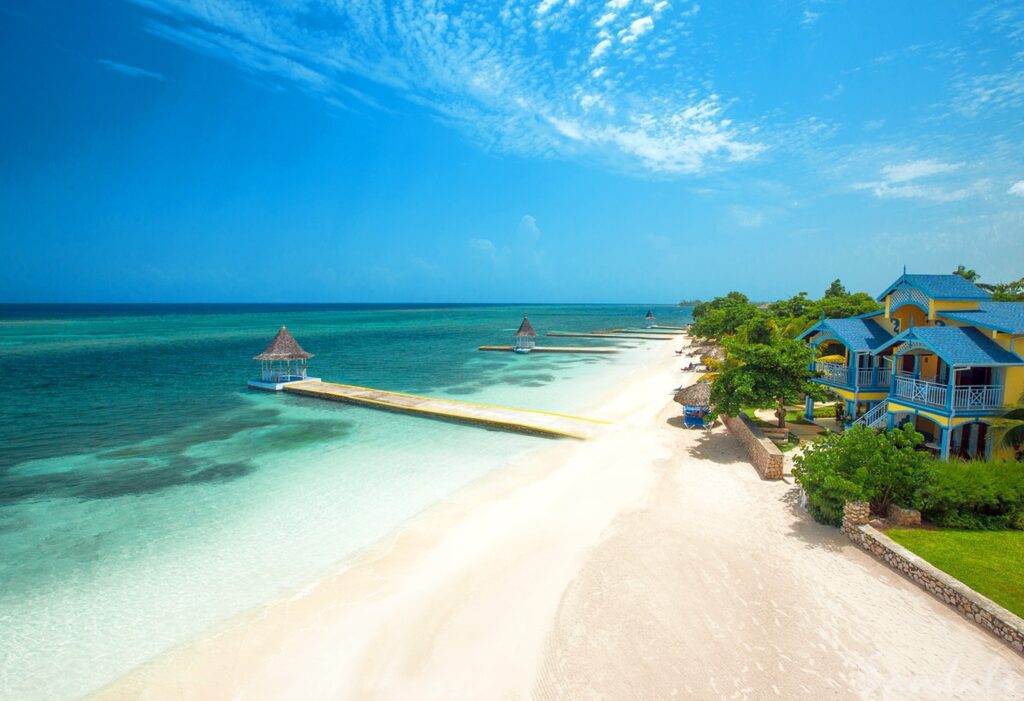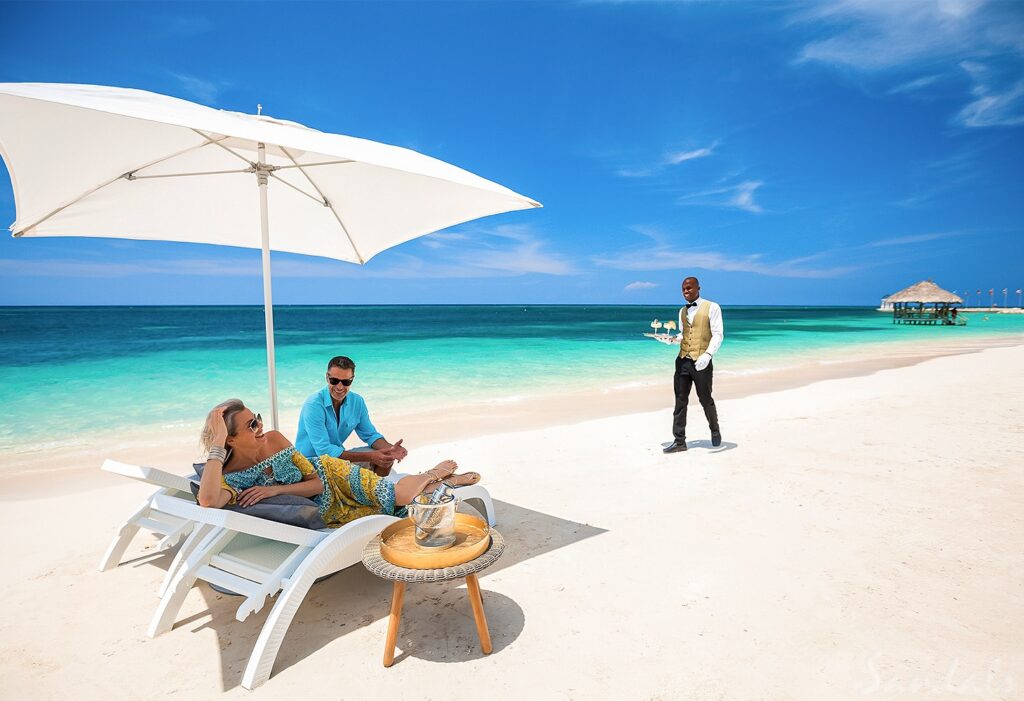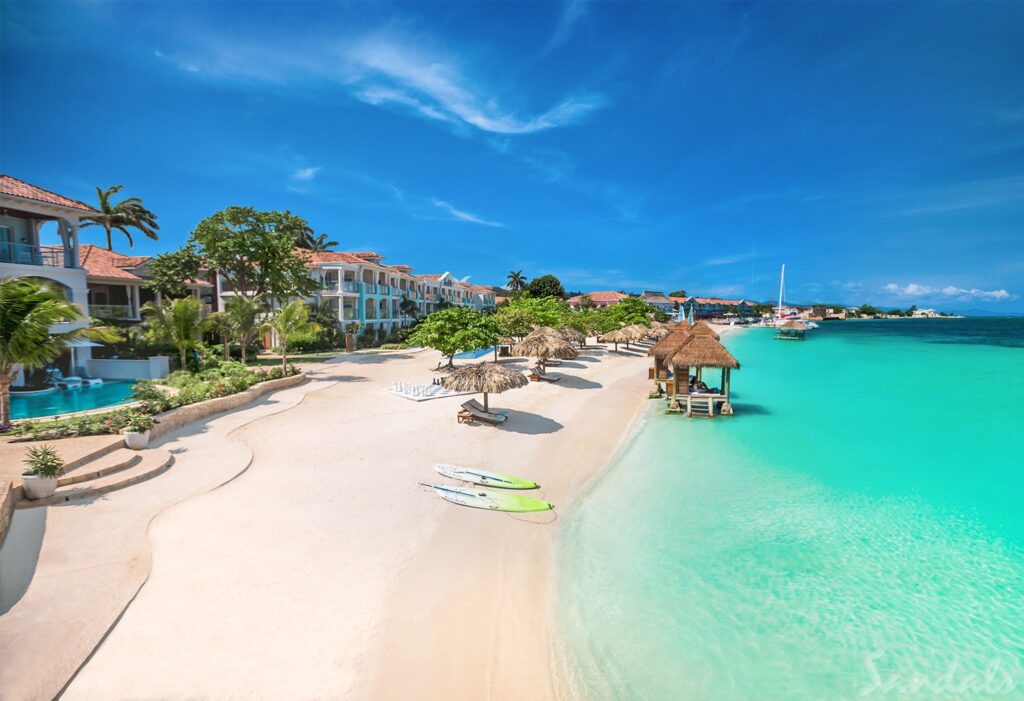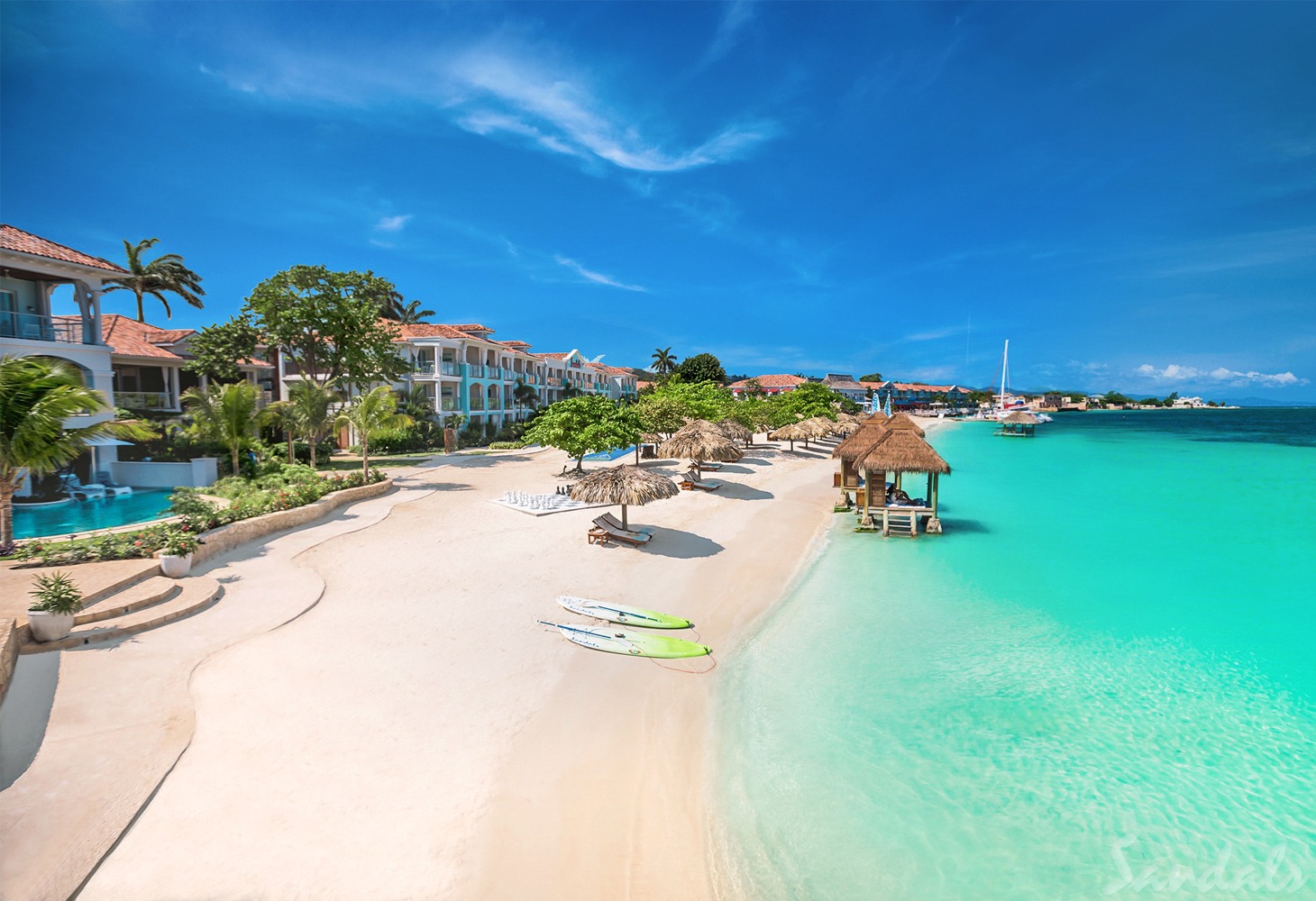 About Sandals Montego Bay
Where is Sandals Montego Bay?
Sandals Montego Bay is located just 4 km from the Sangster International Airport and just 7 km from Montego Bay Hip Strip. Situated on a private beach, your Caribbean beach vacation won't likely get any better than here. 
Getting to Sandals Montego Bay 
To get to Sandals Montego Bay, you will fly into the Sangster International Airport in Montego Bay, Jamaica. Actually, this is the airport you fly into when staying at any Sandals Resort on the Island. You can find major airlines flying into this airport from across the United States, Canada, as well as all across Europe. 
When you arrive at the airport and clear customs and immigration, you will proceed to the Sandals desk. A complimentary transfer to and from the resort is already arranged. You may have to wait, but once en route, you should get to the resort within 15 minutes. Individuals with a Butler category room are transported in private transfers, and there is typically little to no wait time after arriving at the Sandals desk. 
Best Time to Visit Sandals Montego Bay
Jamaica sports great weather all year round, but some months may offer more of what you would like than others. Montego Bay tends to sport its warmest temperatures in July, where you will find a maximum temperature of 91F. The coldest temperature you will find is 82F in January – nice and warm. 
Because Jamaica is in the tropics, you will get some rain. But the heaviest rains come between September and November. Montego Bay receives approximately 37 inches of rain per year, with September to December being the months you will experience the most rain. It is still a great time to enjoy the island, as the rains do not fall all day. During these times, you can subsequently find lower-priced accommodations and less crowded beaches.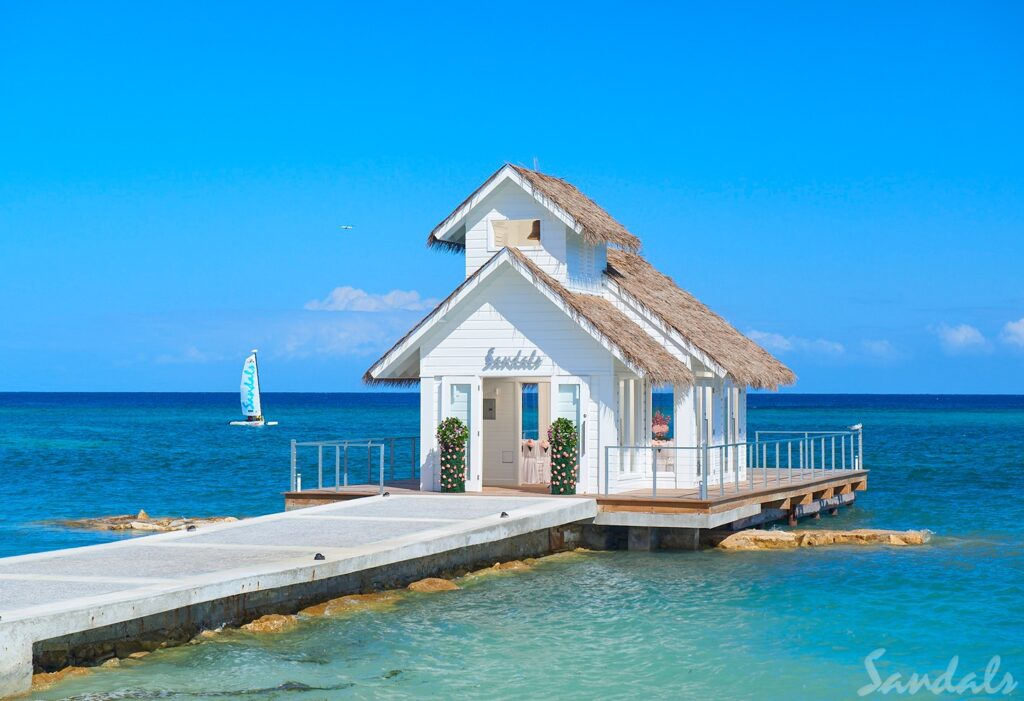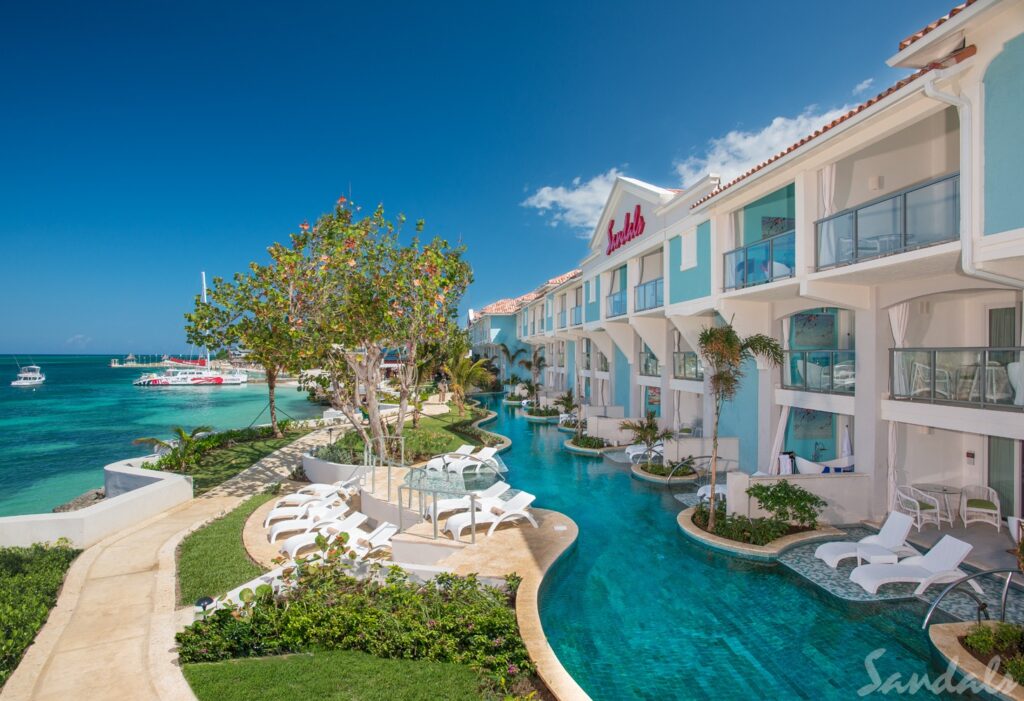 What's Included at Sandals Montego Bay 
Guests staying at Sandals resorts all over experience an all-inclusive experience like no other. All-inclusive doesn't start when you get to the resort. It starts the minute you clear customs and immigration at the airport. Transfers to and from your resort are included in your booking. 
Once at the resort, all drinks and food are included and unlimited. This also includes premium spirits and the top-rated Robert Mondavi Twin Oaks wines. All tips and gratuities are also included as well. 
When it comes to things to do, you will find PADI-Certified SCUBA diving with all equipment included. There is also snorkeling, along with all necessary equipment, the use of paddle boards, kayaks, Hobie Cats, pool tables, bocce ball, beach volleyball. You will have access to a 24 hour fitness center, and daily/nightly entertainment. Also enjoy free WIFI in all common areas and in your room. 
Not everything is included, you will have to pay extra for spa treatments, candlelight dinners, photo packages and excursions. 
Pros and Cons of Sandals Montego Bay
The Pros
Friendly staff are always happy to ensure your vacation is enjoyed to the fullest. They will do their best to get you what you want within reason, even if it is not within their job duties. 
Rooms are always clean, and housekeeping will leave flowers or flower arrangements on beds after cleaning and servicing the room. 
Amazing food at every restaurant, with lots of restaurants to choose from. 
Enjoy a clean beach, because the staff are raking it in the morning, and subsequently again in the evening. 
 Thanks to the coral reef, the waves are small, and as such, the water is nice and relaxing. 
Watersports staff are great, as well as patient. 
Pools and gardens are well kept.
The Cons
As a result of being close to the airport, you will hear planes taking off and landing.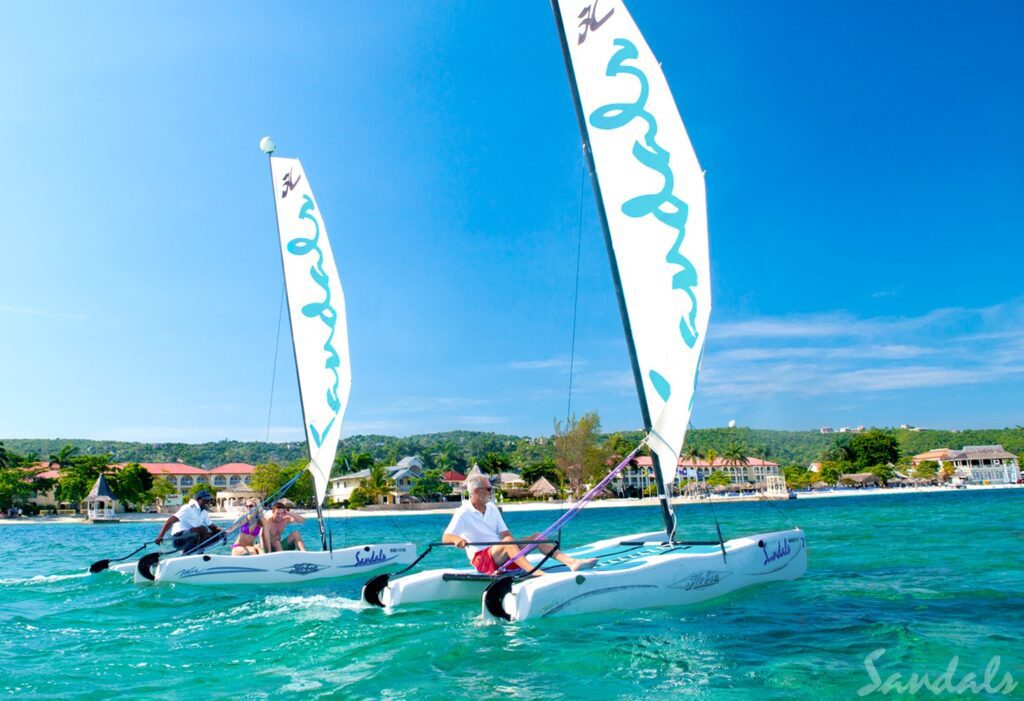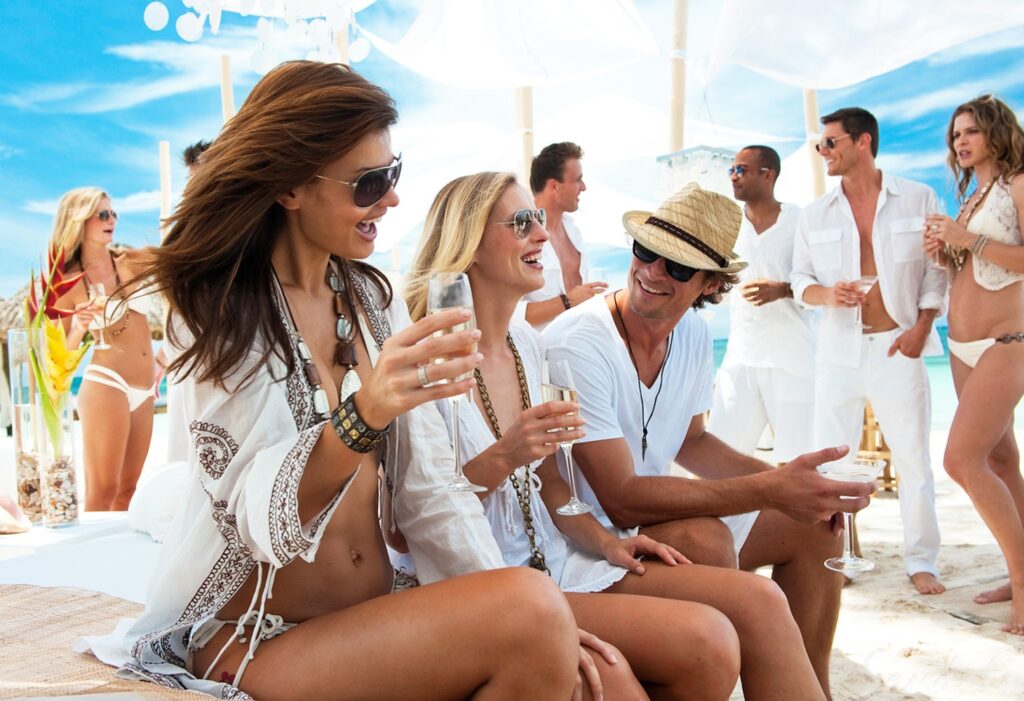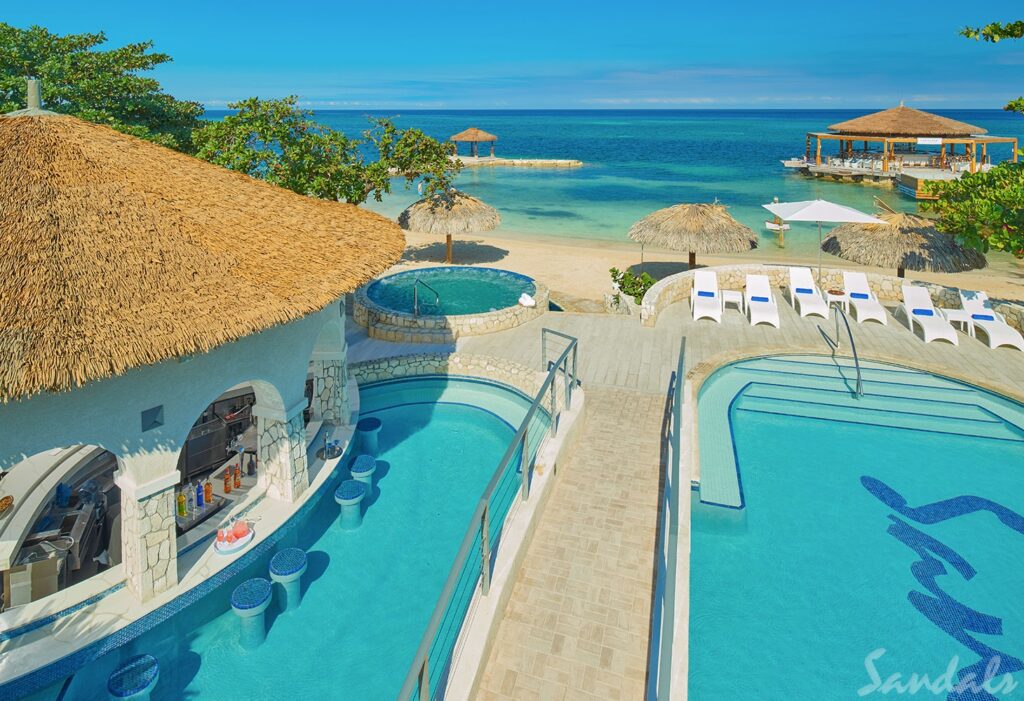 What To Do at Sandals Montego Bay
Sandals Montego Bay has a plethora of water and land activities to engage in. There are also multiple bars and restaurants to enjoy great food and drinks. And since it's all included, there is no limit to anything but the limit you place on yourself. 
Restaurants at Sandals Montego Bay 
There are 12 restaurants on site at Sandals Montego Bay. In addition to those, with stay and play privileges, you can enjoy dining at the nearby Sandals Royal Caribbean. Here are the restaurants you will find at Sandals Montego Bay and what they serve, in addition to dress codes and opening hours.
Bayside 
This restaurant is in front of the pool, offering a view of the pool and the sea past that. The dress code for this restaurant is resort casual. Reservations are not required, and no smoking is allowed. 
You can find continental breakfast here from 5:00 am to 7:00 am. Then from 7:00 am to 11:00 am, you can enjoy a regular breakfast. Lunch is served from 12:30 pm to 2:30 pm, and dinner is served from 5:30 pm to 10:00 pm.  
Oleander 
Here you will find refined Jamaican cuisine served alongside ocean views. This restaurant seats only 42 guests, subsequently reservations are required. The dress code is resort evening attire, and dinner runs from 5:30 pm to 9:30 pm. Come taste authentic Jamaican cuisine in a beautifully appointed dining room overlooking an endless waterscape. 
Cucina Romana 
This is another restaurant overlooking the sea, but this one serves up favorites from the Italian regions at dinner. There is also a la carte breakfast served here. Breakfast is served during the morning hours of 7:00 am to 11:00 am, and later dinner is served from 5:30 pm to 9:30 pm. Reservations are required at Cucina Romana, and the dress code is resort casual. 
Tokyo Jo's 
Find your favorite stir fried menu items here in this over water restaurant. Reservations are not required for this restaurant, and the dress code is resort casual. The restaurant is a no smoking zone, and dinner is served from 5:30 pm to 9:30 pm. 
Stewfish 
This is found right along the edge of the beach and is a shoes optional restaurant. It serves up authentic Jamaican and Caribbean seafood dishes with a resort casual dress code. Reservations are required for dinner during the hours of 5:30 pm until 9:00 pm. 
Cricketer's Pint 
This restaurant is a pub offering traditional British food options. The dress code is casual, and reservations are not required. Eat some fish and chips here from 4:00 pm to 10: 00 pm. 
Dino's Pizzeria 
Here you can find traditionally prepared gourmet pizzas. Subsequently, no reservations are required here, and the dress code is resort casual. Get your fill of pizza from 11: 00 am to 6: 00 pm. 
The Mariner 
The Mariner restaurant is within sight of the beautiful Caribbean sea. Here you will find your pick of grilled food, along with an accompanying bar alongside the restaurant. The dress code is casual, and reservations are not required. Enjoy lunch during the hours of 11: 00 am and 4: 00 pm, and later enjoy a plate or snack between 10:00 pm and 5:00 am. 
Cafe de Paris 
This is where you come to enjoy a selection of coffee and tea, along with crepes and other pastries. The dress code is resort casual, and this sweet treat restaurant serves you during the day from 6:30 am to 10:00 pm. 
The Jerk Shack 
Find all your favorite traditional jerk style cuisine, along with some contemporary menu options here. Experience the Caribbean between 11:00 am and 6:00 pm. Dress code is resort casual, and no reservations are necessary to dine here. 
Butch's Steak & Seafood 
This restaurant offers the best cuts of steak and seafood. Reservations are required for dinner from 5:30 pm to 9:30 pm, with a resort evening attire dress code. 
Soy Sushi Bar 
Reservations are not required for enjoying sushi at the Soy Sushi Bar. Come by for dinner from 5:30 pm to 9:30 pm.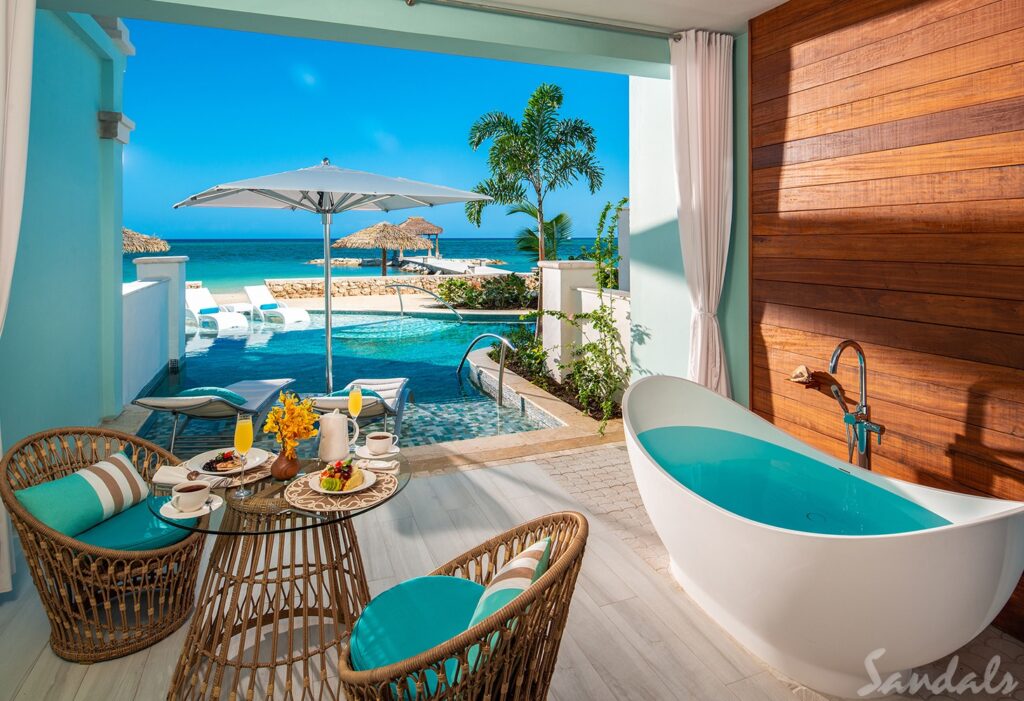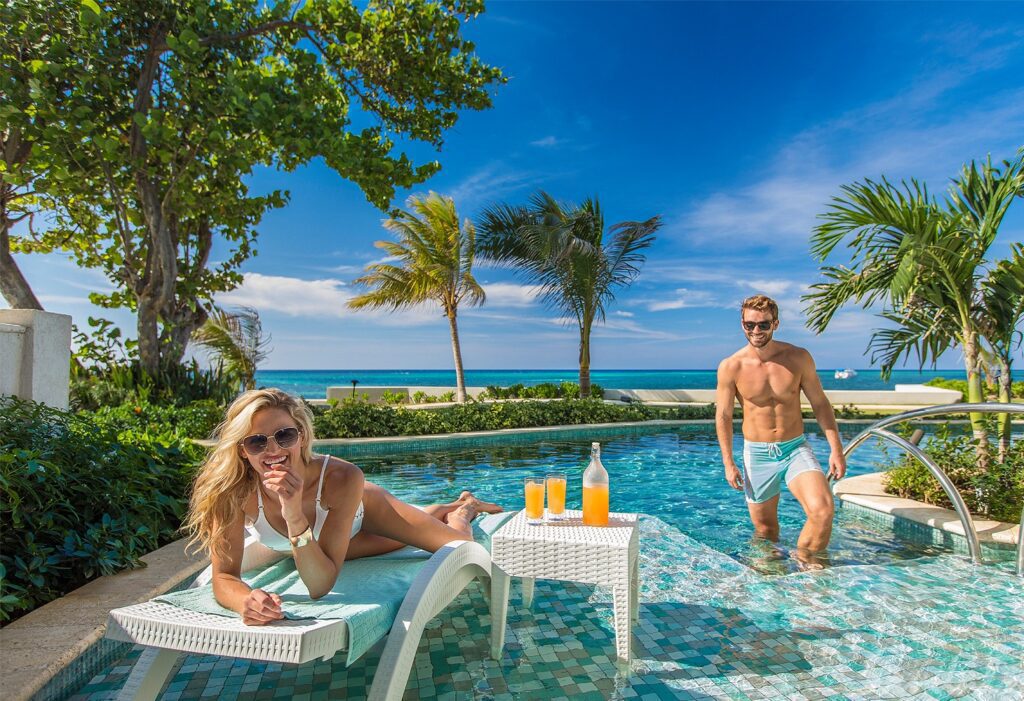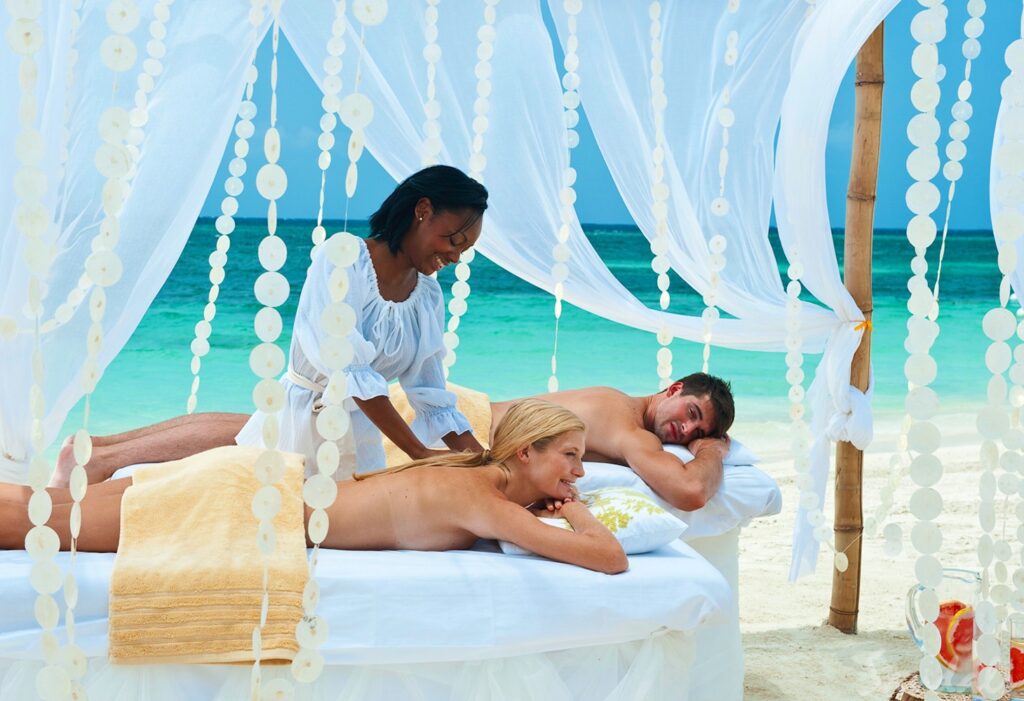 Pools at Sandals Montego Bay
You will find a total of seven pools and three whirlpools at Sandals Montego Bay.
Bars at Sandals Montego Bay
There are a total of 8 bars at Sandals Montego Bay, so you can stay right there at the resort and enjoy a bar hopping experience. 
Latitudes Bar 
This is an over the water bar with a 360 degree view of the Caribbean Sea. You will find hammocks suspended on the water and fire pits to set a nice ambience at night. 
The Bar at Soy Sushi 
Here you will find fun infused sake as well as sake cocktails. Check out their tropical sake infused with mango and pineapple for 24 hours. 
The Crickerter's Pint 
The Main Bar
Mariners Seaside Bar and Grill 
Beach Bar
Palms Bar
Piano Bar Swim Up Pool Bar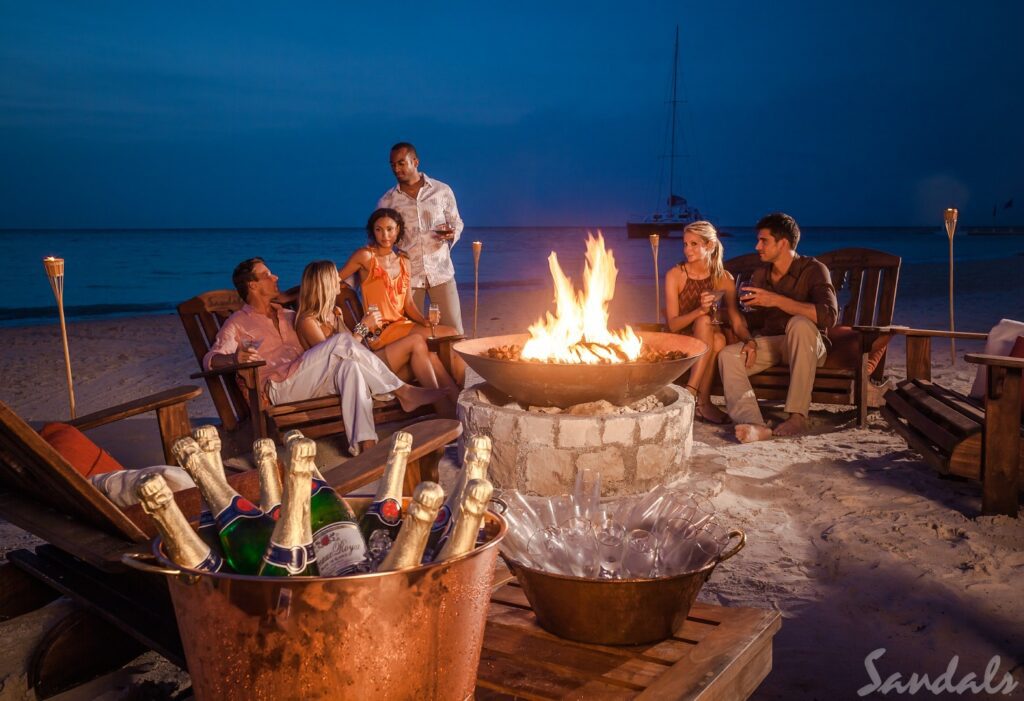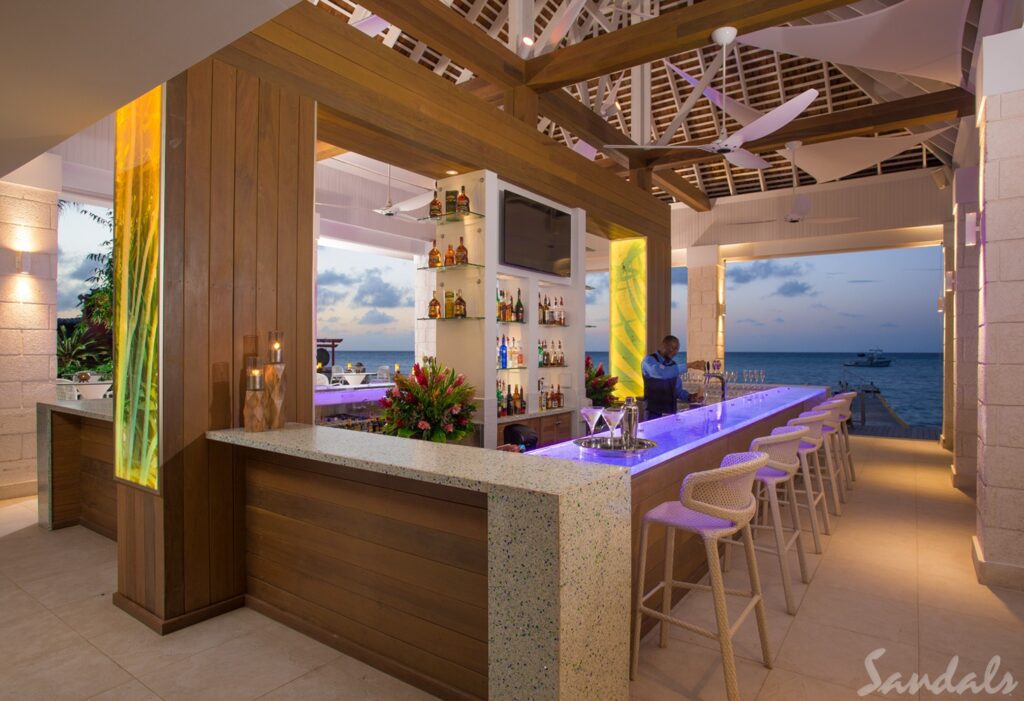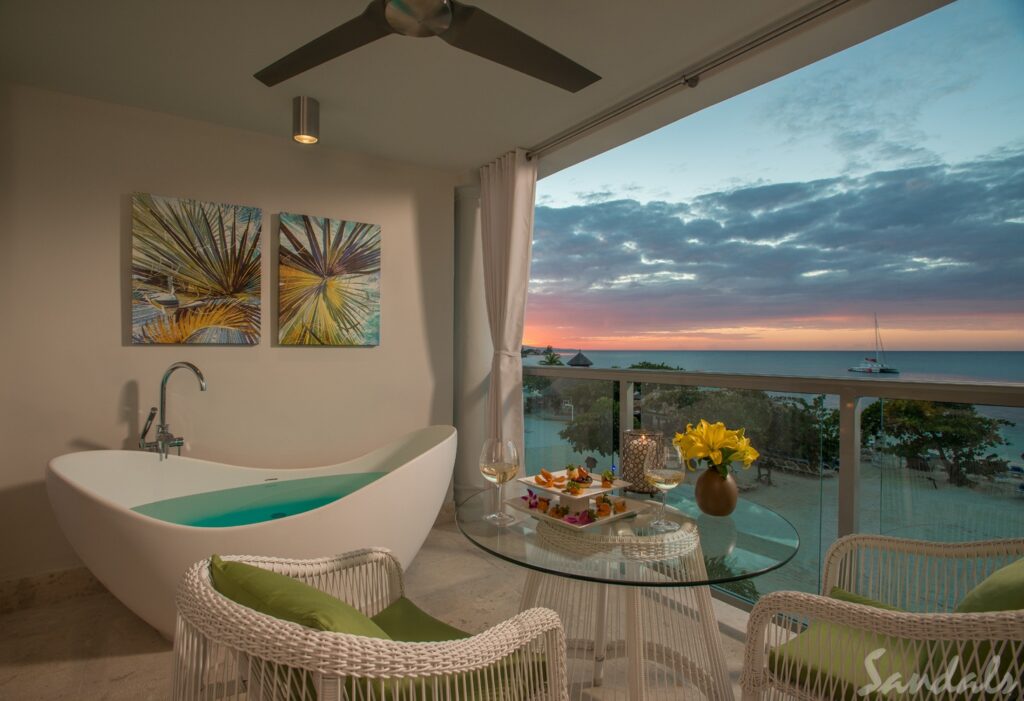 Activities at Sandals Montego Bay 
You will find a variety of activities to engage in at Sandals Montego Bay on both land and also in the water. Here are some of the activities you will be able to enjoy on your stay. 
Padi Certified Scuba Diving
Padi Certified Scuba Diving is included with all necessary equipment. It's a fun experience, and you may even get the chance to swim alongside a stingray. Be sure to bring your underwater cameras to capture the memories. 
Water Sports 
If diving is not your thing, you can nonetheless have fun in the water with multiple water sports activities to choose from. Each sandals staff member in the water sports department is professionally trained to operate water sports equipment, so you can enjoy the water safely even if you are not a swimmer. 
Land Entertainment 
If you would rather entertain yourself on land, you can find a variety of options to choose from. There is almost always some kind of party happening by the pool or beach, with different activities every day of the week. Enjoy live shows, fashion shows, talent night, street party night and so much more. 
There's also the gym and activities, such as bocce ball, table tennis, volleyball, pool tables and table tennis, to name a few. 
If that is not your crowd, you can enjoy land activities like table tennis, bocce ball, table tennis, volleyball and pool tables, among others. 
The Red Lane Spa 
Book a spa treatment at the spa for you and your partner if your trip is all about relaxing and luxury. 
The Boutique 
Enjoy duty free shopping at the onsite boutique, where you can find souvenirs, mementos and keepsakes to take home for yourself or as gifts for your friends and family members. 
Island Routes Adventure Tours 
If you want to experience Jamaica outside of your resort, a great way to do this safely and hassle free is by booking a tour at the Island Routes desk. 
FAQ
Is Sandals Montego Bay private beach?
Sandals Montego Bay is an adults only resort on its own stretch of private white sand beach. Along with that, the offshore reefs create waters that are calm and relaxing, so you will definitely want to enjoy a swim in the warm Caribbean waters. 
What airport do you fly into for Sandals Montego Bay?
You fly into the Sangster International Airport to arrive at Sandals Montego Bay. The airport code for said airport is MBJ. 
Are there two Sandals in Montego Bay?
Yes, there are two Sandals resorts in Montego Bay, Jamaica. Therefore, you can stay at one and play at both by booking your stay at Sandals Montego Bay, and then venturing over to Sandals Royal Caribbean with round trip transportation between the two resorts also included in your booking. 
How Far Apart are the Two Sandals in Montego Bay?
Both Sandals Montego Bay and Sandals Royal Caribbean are approximately 3.1 km apart. This is an approximate 5 minute drive or a 37 minute walk. You'd never have to walk, though, since transportation is included. Let the reception desk know before if you plan on heading over to the other resort.